In Wonder Woman: Come Back To Me #5, Steve Trevor goes missing after a test flight and ends up in the Bermuda Triangle.
Wonder Woman and Etta Candy follow his trail and find him on a mysterious island. Wonder Woman's foe, Cheetah arrives, as well as Sibella, a mysterious alien princess. The group is captured by ill-tempered aliens and boarded on their ship, heading for a distant galaxy. Once they reach their destination, they discover they are on a planet that hosts gladiatorial battles to the death between the galaxies' worst criminals. Who is the mysterious alien princess Sibella and why does she not remember who she is and where she comes from?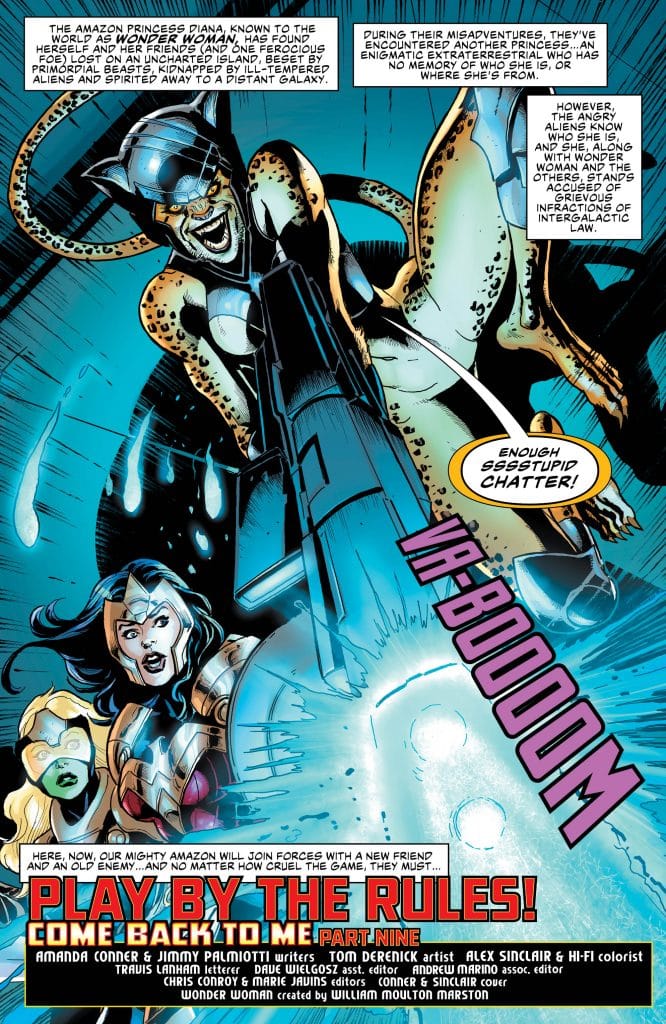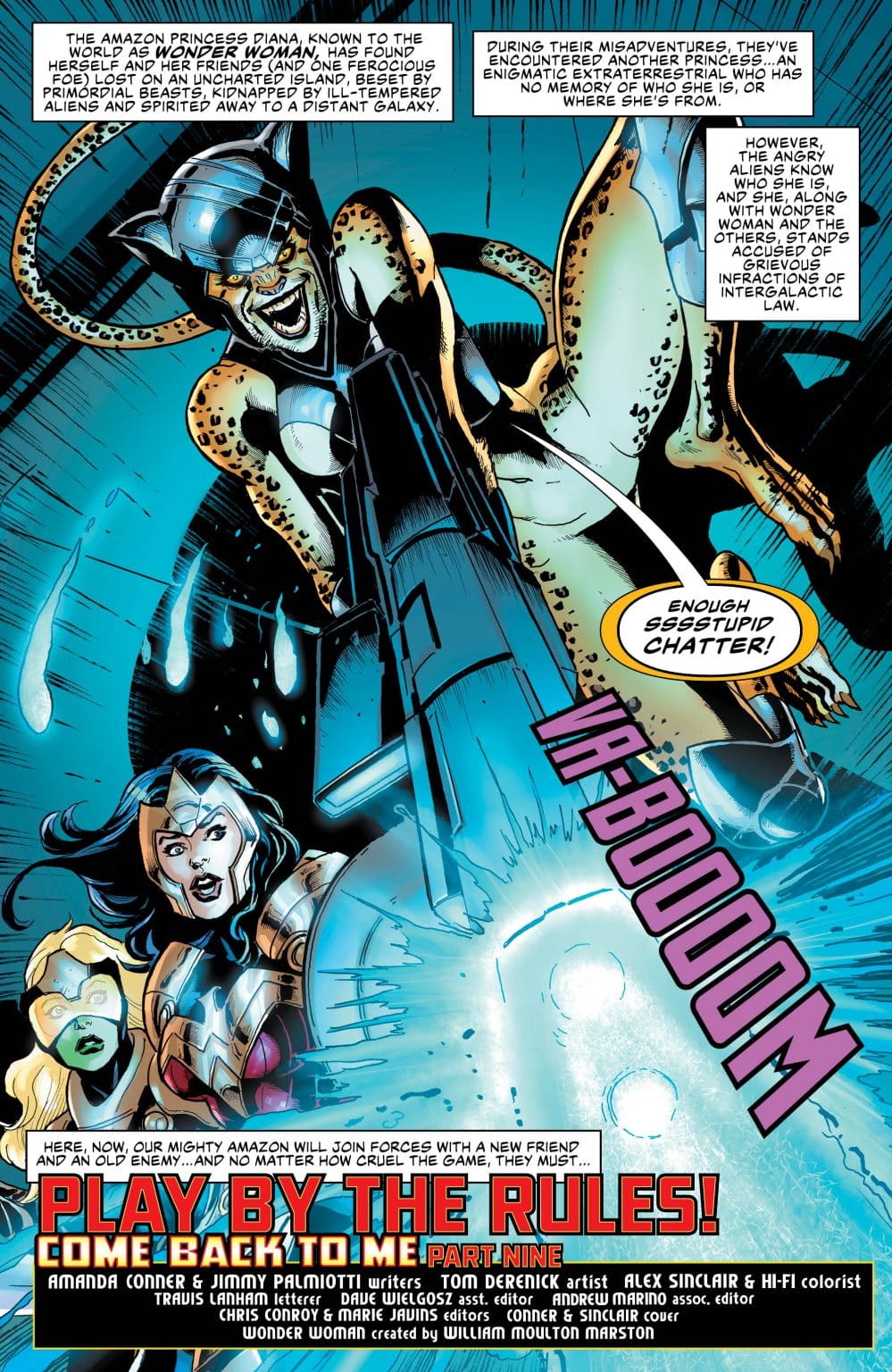 Reading this series has been great fun and Wonder Woman: Come Back To Me #5 does not disappoint. It has so much adventure, moving between various intriguing locations, from the Bermuda Triangle to far off galaxies.
The generic elements in the plot, like the hostage trope as well as the gladiator arena face-off, are still exciting and fun to read. The writers are aware of these clichés and poke fun at it like when Diana and her accomplices are held against their will and concoct a contrived escape plan. Even so, it works really well. The story also has an enjoyable pace, something is always happening and there are plenty of twists and turns. This issue especially has quite a twist towards the end.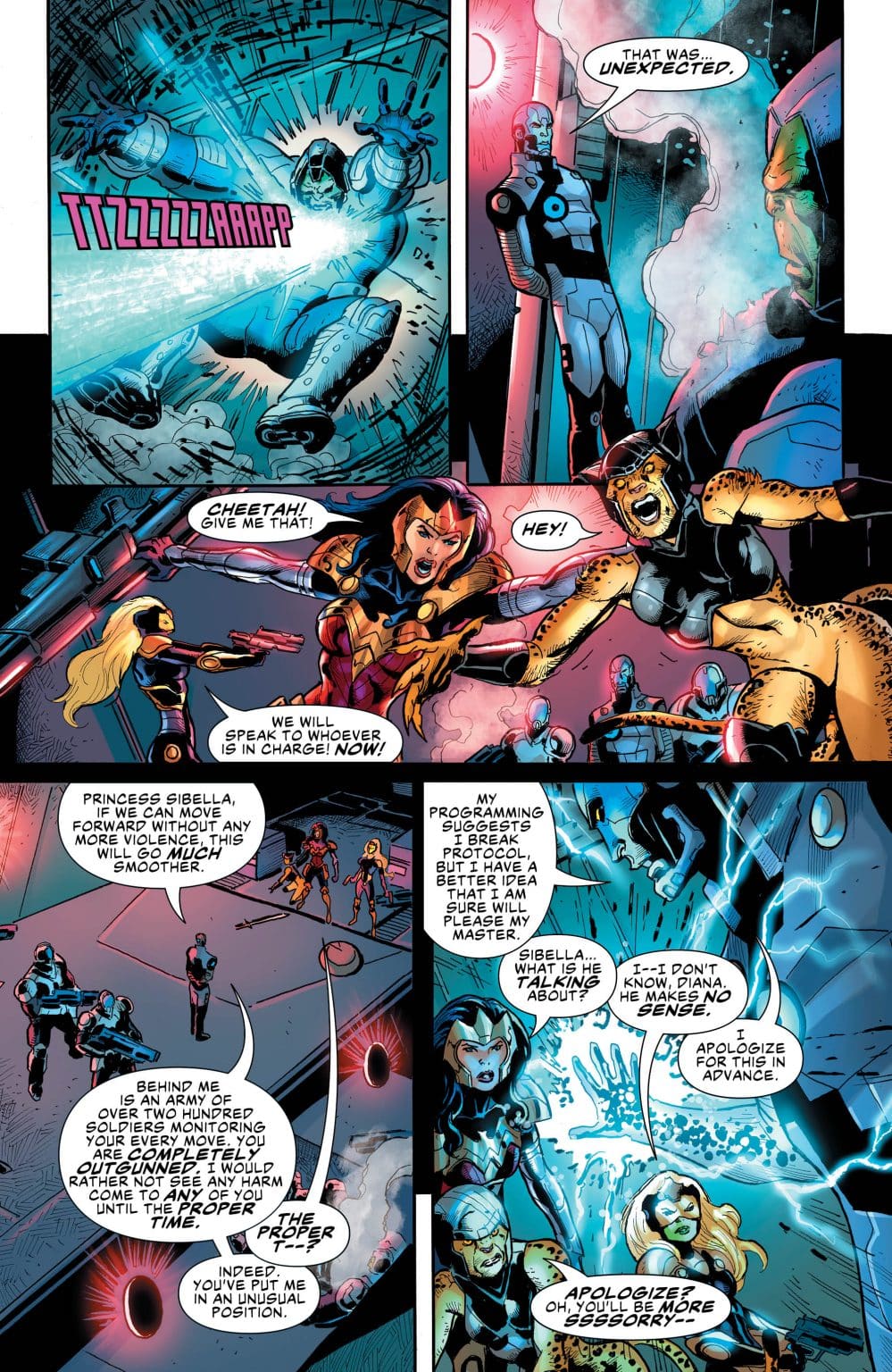 The artwork in Wonder Woman: Come Back To Me #5 is energetic and fits the swashbuckling storyline. The panels are easy to follow and not too cluttered which always makes for better reading and comprehension. Derenick is great with fighting scenes, he captures movement and visceral action really well. The colours are vibrant with a medium to heavy darkness for the inks. This gives the art some gravitas but not too serious or sombre.
The Review
Wonder Woman: Come Back to Me #5
Overall, Wonder Woman: Come Back To Me #5 is a great addition to the series.