DC's animated films have been on something of a roll lately. While they've not been as consistently impressive as they could be (and have been in the past), they've still been entertaining and mostly good. Just as importantly, the core films have actually created a regular continuity, which has allowed for better storytelling opportunities as the rich texture of the DCU has slowly been unfurled. The good news is that Wonder Woman: Bloodlines continues that pattern for the most part. The bad news is that, sadly, that also includes it being a bit of a disappointment as much as being good.
Years ago, a fighter pilot named Steve Trevor crashed on the paradise island of Themyscira, home of the Amazons. Diana, princess of the Amazons, took it upon herself to return Steve safely back to the world of man… and to join his fight to protect it from all threats. Leaving her home behind, she became the superhero known as Wonder Woman.
Now, this member of the Justice League faces her greatest – and most personal – challenge yet. In the past she may have battled parademons and supervillains, but now she must face old and new foes as she attempts to save the life of her former friend-turned-enemy Silver Swan. As Diana races to find a cure for the virus that is killing Silver Swan, she must reconcile with the woman who blames her for the personal tragedies she's suffered. The solution to saving Silver Swan, however, may lie in the one place Diana can't go: home.
It's fair to expect a lot from Wonder Woman: Bloodlines. As a character, she's got a legacy to live up to, and her current status – in terms of both comics and films – is that she's been a breakout star and a real cornerstone of the DCU. However, that isn't quite what lets this film down.
Instead, this is an odd case of having all the right tools but seemingly not knowing how best to use them. Because, frankly, Wonder Woman: Bloodlines has all the right elements.
In terms of the cast, there are some genuinely impressive names on the roster. Rosario Dawson is a true star and once again shines as Diana, while Jeffrey Donovan brings his trademark charm to the role of Steve Trevor. There's an easy chemistry between them which makes their banter enjoyable. Likewise, the array of characters on display is great to see, establishing that Diana's world beyond Themyscira is populated with fascinating people – many of whom the viewers may not be too familiar with.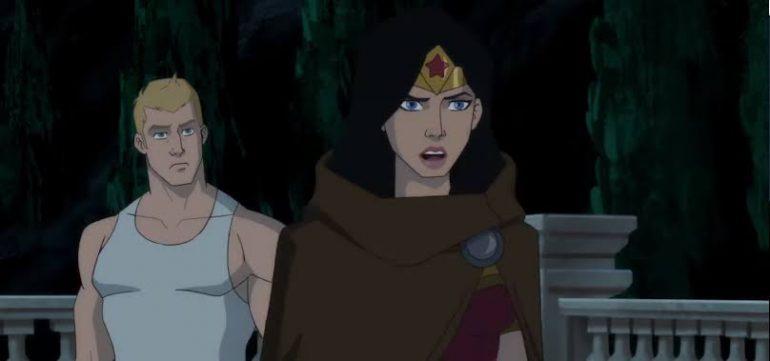 Yes, fan-favourite Etta Candy is here, along with Giganta and Cheetah, and you also get to see characters like Veronica Cale, along with Julia and Vanessa Kapatelis. Seeing them all, and the kind of world-building that's going on here, should give hope to any Wonder Woman fan.
Also, as expected, every fight scene in Wonder Woman: Bloodlines delivers plenty of action. Even better, it's the more personal moments that makes Wonder Woman stories work in general and there are a few of them here. The focus on Vanessa's tragic tale early on is beautifully told and incredibly personal. Moments like this will linger with fans, and it's a fantastic piece of storytelling.
The problem, however, is that so many of these elements which should work together simply… don't.
The cast, as great as they are, sometimes have to deliver clunky dialogue and many of the deliveries sound flat and impersonal – while the animation fails to convey the correct emotions even further. Meanwhile, it's great having so many classic WW characters show up, but the coverage most of them get is superficial with the exception of Vanessa. The action is good, but it's also by-the-numbers, and the pacing is an uneven stop-start affair which focuses on the wrong things at the wrong times. Because of that, the story itself comes across as uninspired and unengaging.
It's hard to pinpoint exactly what's wrong with Wonder Woman: Bloodlines, but it never quite feels satisfying. It's like it's missing a beat somewhere.
A great example of this is the motivation (or lack thereof) of the villains and some unexplained leaps of logic. Yes, there's more going on than initially meets the eye, but it's handled so clumsily that they look like bungling incompetents making up their plans as they go along… while simultaneously being so smart that they're two steps ahead of the heroes. It's a bad balance. It's too late to have Wonder Woman seize upon all the dangling plot threads only as the credits roll by, because the chance for a satisfying conclusion has already passed.
Another example is that no matter how touching Vanessa's backstory is – and here it's delivered with heartfelt emotional impact – the timing of it so soon after Diana's arrival in man's world is a problem. It slows the story down, drawing attention away from Diana at a time when the audience is just getting to relate to her and needs to see what makes her a hero. It isn't bad or wrong – far from it; but it's poorly timed.
Again, there a so many things that are right with Wonder Woman: Bloodlines, and some which are absolutely fantastic. There are probably going to be plenty of people who enjoy this, because there really is a lot to appreciate. Unfortunately though it fails to live up to its potential, and in the end it feels like a bit of a disappointment.
The Review
Wonder Woman: Bloodlines
There's nothing bad here, but it's not also not that great.