An experiment as much as a new game, Wolfenstein: Youngblood tries out a whole lot of new ideas, and while they don't always stick, it carries them off with a certain amount of charm.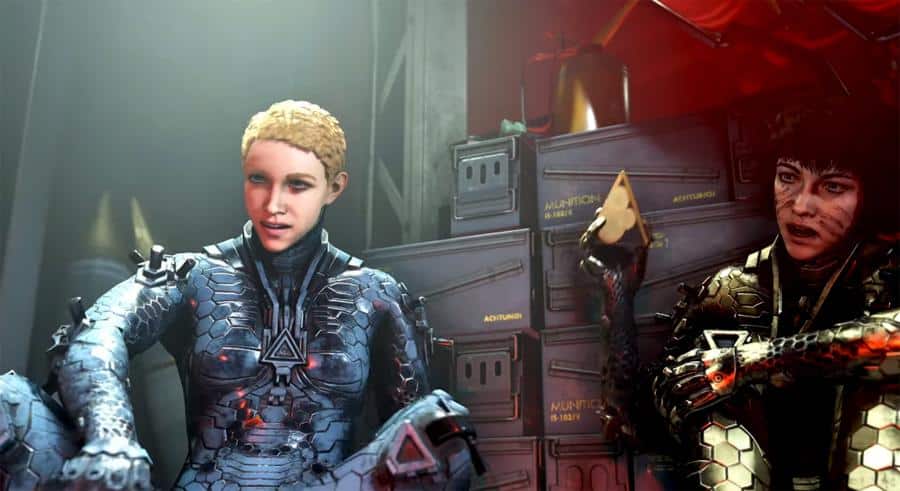 Wolfenstein: Youngblood is not quite a sequel to 2017's Wolfenstein: The New Colossus. In a narrative sense, it pretty much exists to set up Wolfenstein 3, which will be no doubt coming in the next couple of years. Gameplay-wise, it also very much does its own thing, being framed around a co-op campaign and lite-RPG elements. Showing some respect to the fanbase though, it is also positioned at a lower price, coming in at about half the cost or so of what a full Triple-A title would be. That alone made me respect the game going in, as it seems to accept that its more a fun little diversion than a fully-fledged entry in the franchise.
For those uninitiated, Wolfenstein is a franchise set in an alternate universe where the Nazis survived much longer, conquering most of Europe and even the USA. After liberating the US in the previous title, Wolfenstein: Youngblood is set in 1980, nineteen years after The New Colossus. You play as Soph and Jess Blazcowicz, the twin teenage daughters of series mainstay BJ Blazcowicz. BJ has gone missing, and the twins travel to Nazi-occupied Paris to try and find him.
After an initial set-up mission, where the twins get hold of a pair of powered armour suits, they find themselves in Neu-Paris, where their overall goal is to access three towers. However, to get inside of each, they must gather intel and build up their own strength, with help from the resistance. The game is, therefore, more of an open experience, where you select side-missions that take you from area to area until you are strong enough to take on the main missions.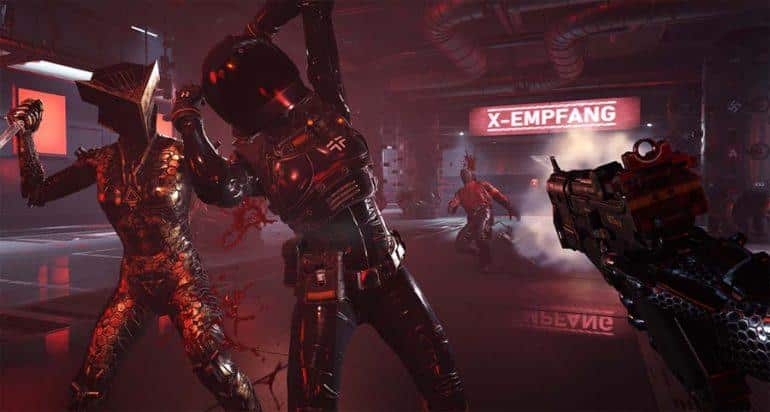 Wolfenstein: Youngblood is played entirely co-operatively, with drop-in and drop-out gameplay – if no human is present to act as your ally, then the AI takes over. However, while the AI is serviceable, I really don't recommend it unless you only want to play on the very lowest difficulty. There are fights and bosses designed specifically to take advantage of the fact that you should be coordinating with another human, and when you can't do that, the game suffers. Also, there are plenty of dual actions you need to take to advance, like opening doors and moving objects, and waiting for the AI to catch up can feel like a pain at times. This is a co-op game by design, and you should take it up on its offer. With a friend, it can be rather fun, and while I know many things can be fun with friends, I feel the gameplay has been designed well around it.
The game is, therefore, more of an open experience, where you select side-missions that take you from area to area until you are strong enough to take on the main missions.
Adding bang to your buck is that if you purchase the Deluxe Edition, you get the Buddy Pass system, which allows a friend who doesn't own the game to be invited to your co-op session. Basically, they download the trial version, connect a Bethesda Account, and then you invite them from your menu. You can invite any number of friends, but only one at a time. Your friend also doesn't earn any trophies during their sessions. I personally like this idea a lot, as the Deluxe Edition wasn't too much more expensive than the basic version, and it adds a lot of extra value to the game, encouraging the co-op system. To be honest, I don't have a lot of friends who would buy this game and have time to play co-op, but I do have friends who own a PS4 and who would enjoy the chance to try it out for free.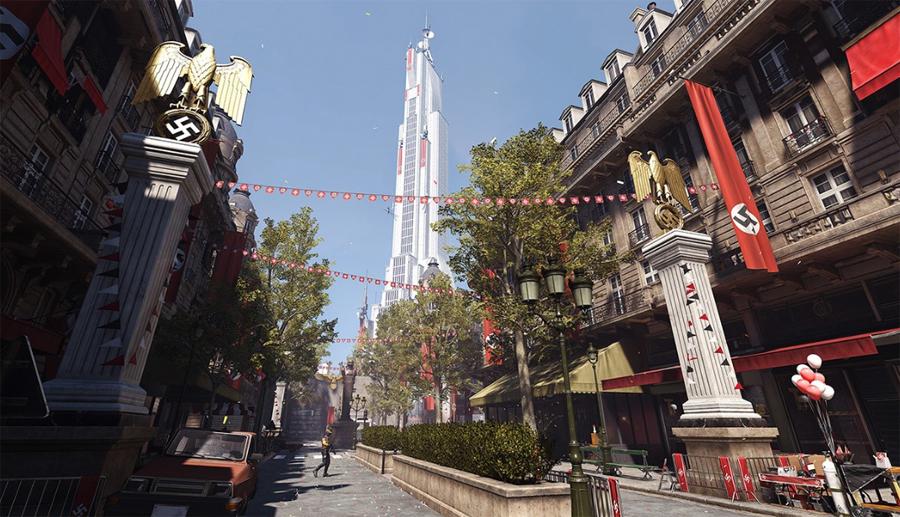 The gunplay is still the same as the main Wolfenstein series, with visceral, satisfying combat that packs a punch. However, there have been some RPG elements added, and while they make things more complex, I somehow feel they make the experience slightly worse on average. First up, there's a lot of customisable options, in terms of your characters appearance and their weapons. These are mostly okay but being able to add a red dot sight to a rifle isn't exactly inspiring stuff and feels more like busywork. Secondly, you can unlock skills and basically design your character to focus on specific abilities and combat styles that you like, and which complement your ally. This too, in theory, is okay, until you remember that in previous titles you could be stealthy and gung-ho in equal measure, and basically you are now working to unlock fewer options than you had in previous experiences in the franchise.
Finally, enemies have scaling of the same kind that there was in Far Cry New Dawn, where basically you can be out levelled by enemies and be unable to even scratch them. While this serves to gate progress and control movement, I really don't like it. It ruins my immersion completely, feeling like enemies have just been reduced to numbers that you must surpass. Furthermore, I think I would prefer it if it was really hard to get into those areas early on, but a possibility for skilled players. Think of Breath of the Wild. In that game, you could theoretically run straight to the final boss after the tutorial, but it would just be really hard to beat. In Wolfenstein: Youngblood, the scaling makes it feel worthless to try and do the same, because of the artificially inflated enemies. And while I know speedrunners would find ways, I still don't feel comfortable with enemies being levelled and having stats so explicitly. When I shoot a bullet, I don't want a level set to stop it.
The gunplay is still the same as the main Wolfenstein series, with visceral, satisfying combat that packs a punch.
There are more reasons to enjoy the game though. One of the definite strengths of the game which shines through, as it does in the entire franchise, is in the worldbuilding and small, humanizing details. The levels do look gorgeous, and thanks to the contribution of Dishonored developer Arkane, there's a great sense of verticality. There's a lot of interiors to explore, and it feels a lot like a fully fleshed out world. The notes and objects you can collect to add context and funny little side stories work as well as ever and give you incentives to go into places and look around.
As for the rest, there's not much more to report on. The teenage protagonists can be a bit irritating at times, but that's because they're teenagers. They have a bit of charm too, but I don't think they're going to replace BJ in our hearts just yet. The missions can be a bit repetitive at times, but there is freedom in how you choose to approach them. There are microtransactions, but they are not very obtrusive, and not the worst I've ever seen. The story is serviceable but not inspiring, and rather predictable.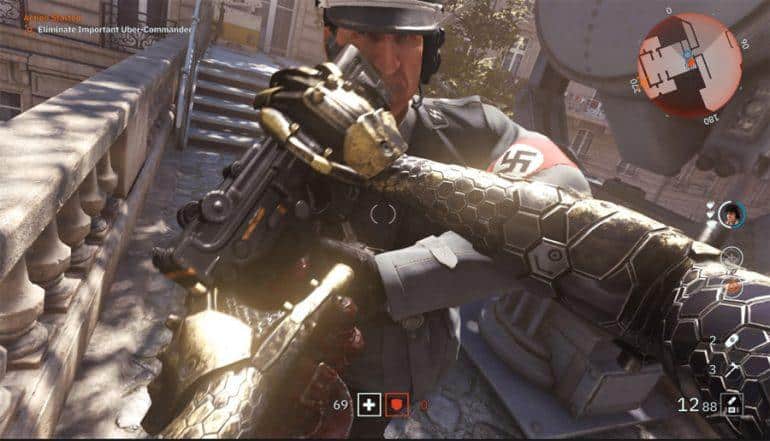 Wolfenstein: Youngblood tries out a lot and is fun with a friend, but I really hope the RPG elements don't make their way in this form into the main release. Find more creative ways to control movement and exploration in an open world, please. Putting a skull above an enemy's head and telling me I can't kill them no matter how many bullets I put into them is just depressing. Still, the Buddy Pass system is one of the better ideas I've seen from a big studio recently, and the low entry cost plus that feature make this title much more inviting
The Review
Wolfenstein: Youngblood
Wolfenstein: Youngblood is great fun with a friend, but unfortunately the game stumbles when it comes to the implementation of some of its new mechanics.
PROS
Satisfying gunplay
Engaging and detailed world
Buddy Pass system
CONS
RPG elements
Weak story
Repetitive missions
Review Breakdown
Storyline

0%

Gameplay

0%

Graphics

0%

Replay Value

0%

Sound and Music

0%