To the average person, a video file is just a video file. Most users don't really pay attention or even care to know, as long as the videos they wish to watch works. That said, however, there is a lot of inner workings behind the scenes when it comes to the various video files – or formats to be more specific – in regards to the compression rates and overheads for example. Most importantly, though, having the video file work on the device you choose to play it back on is where the biggest differences lie.
MOV and MP4 are the two most widely used video formats today. Both of these formats are file containers for MPEG-4 content – a method of compression for digital audio and visual data. There are, however, a few differences between these two formats. MOV was originally developed by Apple and is the default format on all Apple products. Its popularity isn't limited to Apple products, with many other camera manufacturers also in favour of the format, such as Nikon, Canon, Fujifilm and Olympus. The reason for their choice is that, in layman's terms, it's easier to edit MOV files because of how it's able to handle the isolation of various elements in relation to the digital data.

Because some standalone media players don't offer support for MOV files, the easiest option would be to convert these files into a more common format – MP4. The MP4 format has seen a much wider acceptance as a result of different video standards it adopts in addition to MPEG-4, which made it ideal for manufacturers who were, at one time, all using different standards. The MP4 format is used in most Android smartphones, as well as supported on media players, gaming consoles (PlayStation, Xbox, Switch, etc) and many others.
Choosing a video converter isn't always the easiest task for many users, often concerned about the technicalities and know-how that may be required to perform this task. A tool that allows users to easily perform this task is WinX HD Video Converter Deluxe. This tool is an all-in-one HD video converter, 4K/HD video downloader, video editor and slideshow maker for Windows.
What's really great about WinX is that it supports just under 400 different video formats and codecs as inputs, with over 400 formats as outputs/exports. The top formats include MOV, MP4, MKV, AVI, WMV, M2TS, the HEVC codec, H.264, as well as a few additional supported formats used by smartphones, tablets, drones, cameras and the likes. Even with my above-average knowledge of the tech industry, I was surprised at the number of formats the software supports. You cannot oversell this wide spectrum of choice of file formats, it is immense. In addition to the multitude of format options, users can also opt to upscale or downscale their videos. Apart from slight pixelation in certain frames on the upscaling (which is to be expected), changing the resolution of the video
Having such a variety of choice, however, won't help the average user much if they're unable to make use of the software. Thankfully, the WinX software is as easy to use as 1-2-3. It's an easy, three-step process. First, click the button to select the file you wish to convert. In this case, your MOV file. Second, select your output file format – MP4 here, with the H.264 preset. Finally, hit the "RUN" button to start the conversion.
The software makes use of GPU acceleration to run the conversion, allowing for higher speeds without overloading the CPU and also maintaining the same, high-quality video file. I tested the software on two different setups, one with a dedicated, high-end graphics card, with the second relying more on CPU performance with an integrated GPU. The first setup performed quite a lot better overall. Testing a 30-minute MOV video file for conversion across all scenarios, it completed the job in half the time almost always. This is a difference of 5-10 minutes versus 20-30 minutes. This may not be good news for everyone, but, with fast conversions, times for any computer with a GPU makes it quite impressive.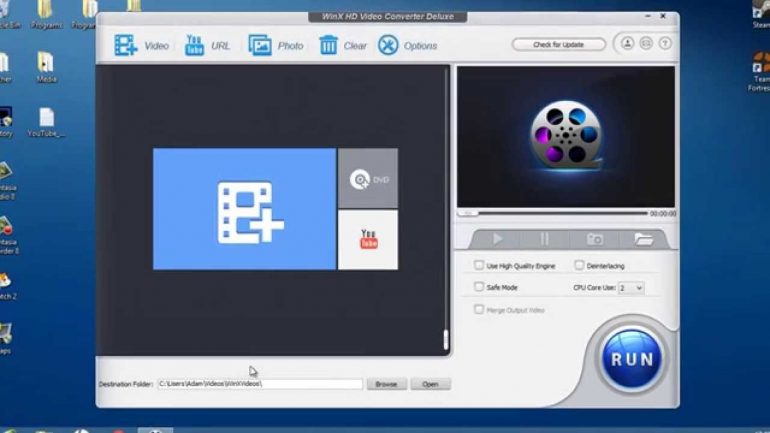 The conversion from MOV to MP4 could potentially reduce the file size of a 4K video by up to 90%. During the same tests as performed above, the average storage saved was around 40-50%, which is a great benefit.
There are a few additional benefits using the WinX software, in that it allows for basic editing, including cropping and trimming, in the event you may need it. It's not anywhere near the level of other professional tools, but is helpful when converting files where there may be additional footage you may not need or want. While other video conversion tools offer additional features such as adding filters, watermarks, adjust the colour saturation and brightness levels, these aren't always of major concern when all you're trying to do is allow for playback on your media player. It would have been great, but it's definitely not a must-have. Another omission to note is that there isn't a direct option to burn the newly converted files to DVD. That said, not many people still make use of a disk drive, with neither of my setups used for testing having a DVD drive to begin with.
At the end of the day, the WinX HD Video Converter is a great video conversion tool that's easy to use. With its wide selection of formats to choose from, both as input and output, users won't be left wanting when it comes to their format of preference. It is worth noting that the software is better suited to GPU-based PCs and laptops for faster conversion times, but it isn't a necessity.
Download WinX HD Video Converter free trial & get special discounts.