Placing yourself in the shoes of bird collectors and ornithologists has always been challenging. Wingspan is an interactive bird-collecting and engine-building game that takes the mechanics of making a well-thought-out and well-oiled machine to a place where it meets competitive bird knowledge and cooperative playing. Even if you know nothing about birds, this sweet, beautifully illustrated board game is perfect for any friend group.
RELATED: Everdell Review – A Charming Workerplacment Board Game
What's in the box?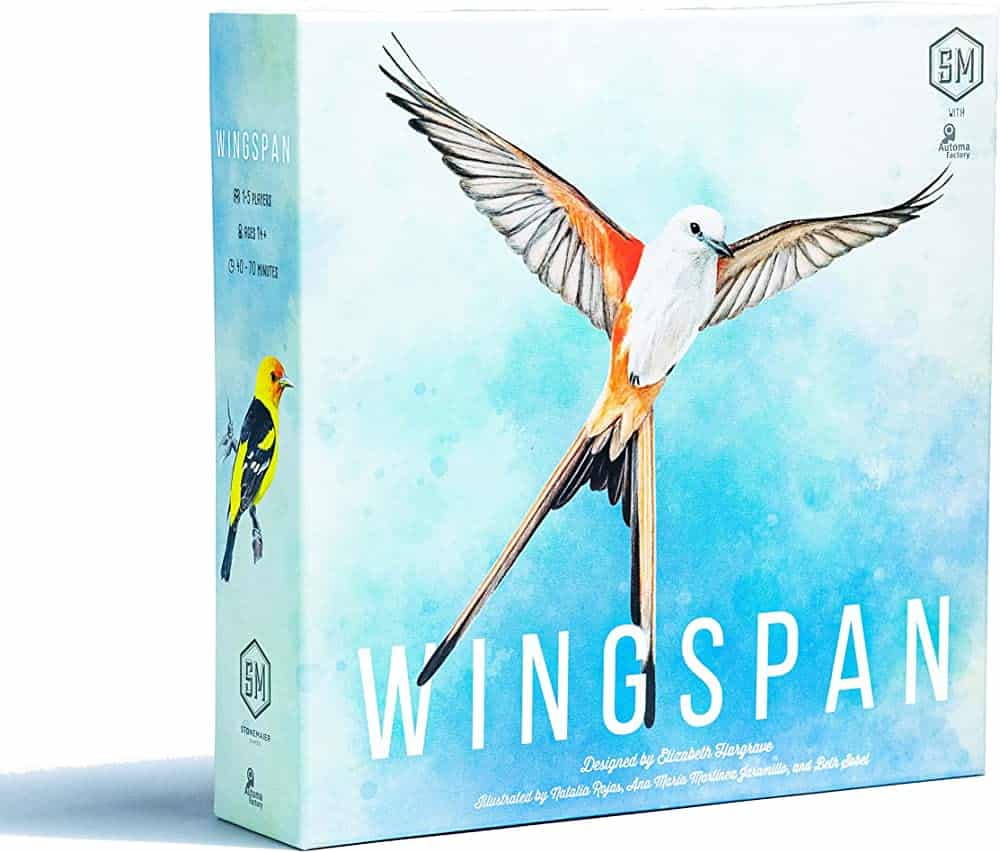 Don't be intimidated when you see all the gorgeous goodies you get in this box. Wingspan isn't nearly as complicated as it seems at first glance.
Made for up to five players, each player gets a colourful placemat that explains the different habitats where you can place your birds and actions that players can take each turn. Speaking of actions, each player gets to choose a colour to represent their actions with wooden action cubes, each spent as players take turns and used as part of the scoring system at the end of the game.
The box includes a sturdy cardboard birdfeeder dice tower which houses the custom wooden dice that players use to gain food and the cardboard tokens that represent food. There is also a beautifully illustrated bird token to represent the first player of each round.
Wingspan could only be a bird-collecting game with a collection of egg miniatures painted a pastel variant of each player's chosen action cube colour.
Several cards and manuals are included in the box, most of which are the different birds that can be played throughout the game. There are also bonus cards and a stunning plastic tray to display the cards.
Point scoring is helped with a goal board and a scorepad, but I'll explain all that later, along with the goal tiles included in the box.
For those totally new to Wingspan, a little Swift-Start pack has been added with a few guides and cards that quickly explain the game's mechanics. Still, it includes all appendixes and rules books you need to play and set up the game. To top it off, there are also four plastic trays with lids; there isn't any rule about using them, so they are probably included for storage purposes and to make players' lives a little easier.
All this seems overwhelming at first glance (and surprisingly, all of this comes out of one box) but everything has a thoughtful purpose and adds to make the game fun.
RELATED: Qwirkle Review – A Colourful Tile-Matching Board Game
How do you play it?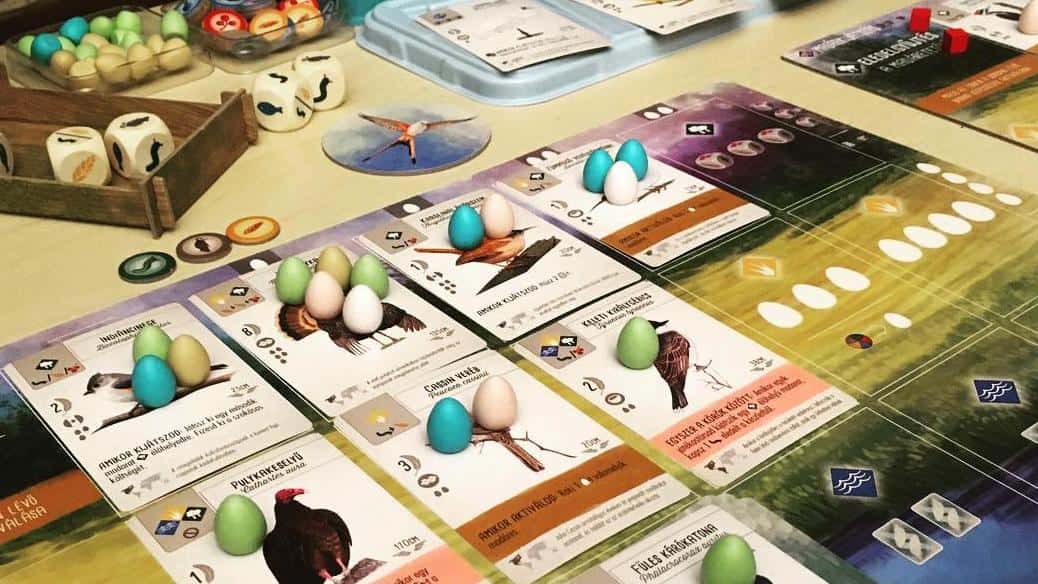 As budding bird enthusiasts, the whole aim of Wingspan is to gain as many points as possible throughout the game to beat your friends.
Set-up is explained in the rule books: where all players get their mats, action cubes, choice of birds and food, and one of two bonus cards with goals to help players get a few extra points at the end of the game.
The player mat is split up into four different sections or lanes, which are the four different actions that players can do during the game:
Play a bird
Gain food from the birdfeeder (the woodland habitat)
Lay eggs on birds (the grassland habitat)
Draw bird cards (the wetland habitat)
Each action is tied with all the others and will cost certain elements.
Playing a bird allows you to place a bird from your hand onto your mat. Each bird has a habitat that can be played in and a food cost that needs to be paid so you can play it on your mat. As you place more birds on your mat, you will have to pay the cost of eggs, which keeps players taking varied actions to play their birds.
Gaining food from the birdfeeder is precisely what it sounds like. Five custom wooden dice sit within the dice tower that players can choose from, collecting what they need to pay for the cost of playing a new bird. Certain birds interact with the birdfeeder to give their players more points.
Laying eggs on birds is also precisely what it sounds like, allowing you to lay eggs. Each bird you play with has a different nest type and a capacity of eggs to hold. Specific goals of the game incentivise players to collect eggs on their birds, as well as the cost of playing more birds on your mat.
RELATED: Khôra: Rise of an Empire Review – A Fun European-Style Board Game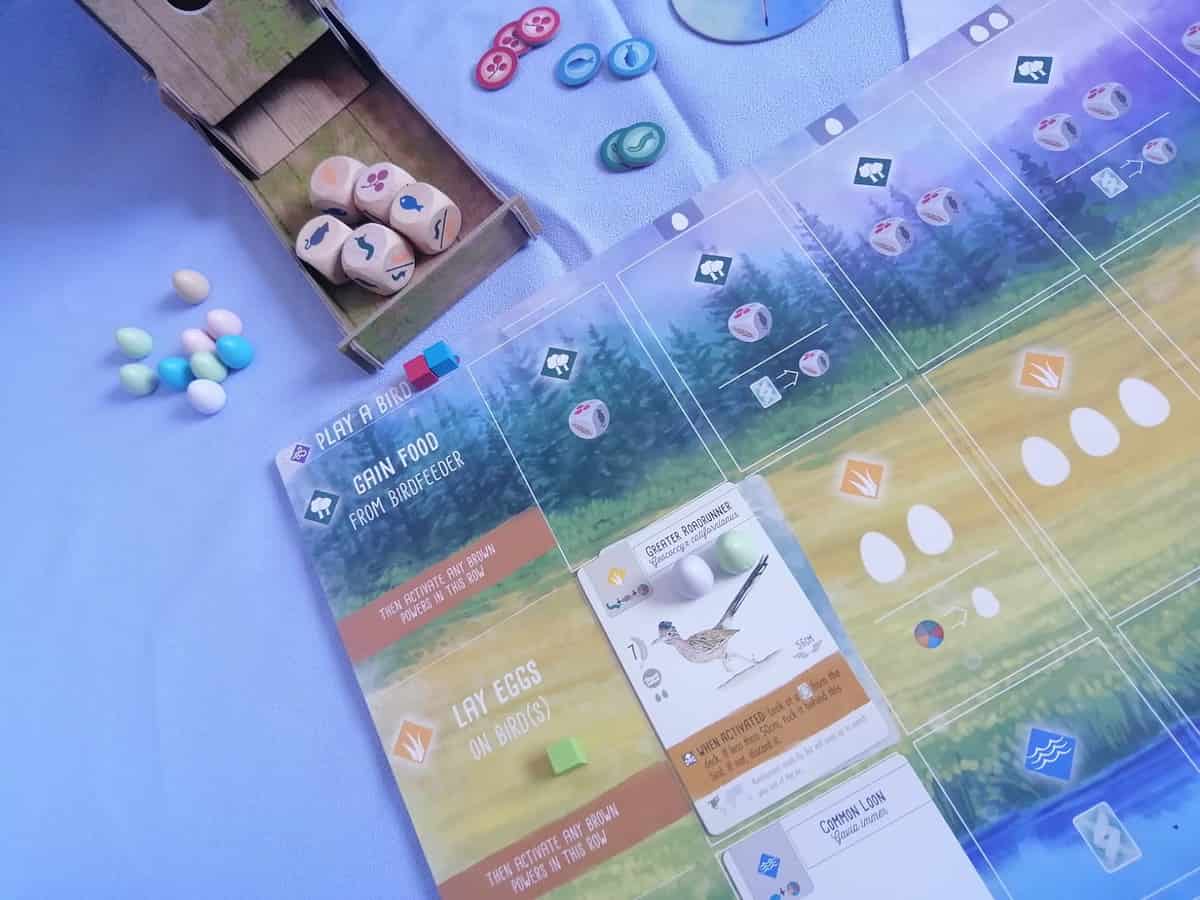 Lastly, you can draw bird cards if you need birds to play with. When drawing bird cards, there are always three on display in the bird tray that you can choose from, allowing an aspect of strategy when choosing your cards. If you are still waiting for those birds to catch your eye, you can always take a card from the deck, not knowing what you might get.
Aside from playing birds to get more points, as you play more birds in your different habitats, you get more rewards for each action you take. Playing your action from right to left, you get to gain food, eggs or cards while also activating your birds' abilities, all to get as many points as possible and satisfy the goals of each round.
You gain points by having the most on your board, but also with the goal board that comes in the box and the goal tiles. You might get a goal tile that wants you to have the most eggs in a particular type of nest, giving you the most points at the end.
Adding all of your birds, your eggs, the points you scored throughout the rounds, and your bonus points, and see who emerges victorious over all your friends.
RELATED: Dune: Imperium Review – A Spicey Board Game
What did we think of Wingspan?
Wingspan is intimidating at first glance but surprisingly easy to get the hang of once you understand how to play. The game makes it easy to love and understand, thanks to all the manuals, videos that explain how to play, and the Swift-Start guides.
Our playtest group knows next to nothing about birds, and we found ourselves playing for hours and hours and starting a new game each time we finished. This is proof that you don't need to love birds to find joy in this board game.
The recommended age for Wingspan is 14+. And it's easy to see why. While it's easy to understand, once you get into the swing of things, there are a lot of little objects to choke on. Also, at the end of the day, Wingspan is a strategic game that might be difficult for younger players to fully understand.
For more information on Wingspan and to get the game for yourself, head over to solarpop.co.za.
The Review
Wingspan
Wingspan, despite its intricate nature, exudes an alluring charm that effortlessly captivates the minds of board gamers, rendering it a delightful and engaging pastime. Its remarkable ability to ensnare the hearts of board gaming enthusiasts is a testament to its ingenuity and allure.
PROS
Really fun despite seeming intimidating
Can captivate players for hours
An extensive deck of birds, making each playthrough different
CONS
Strategic elements are unsuitable for younger players
Review Breakdown
Gameplay

0%

Components

0%

Complexity vs Depth

0%

Theme

0%