Don't miss your chance to win tickets to an early screening of Scream VI! Enter now for a chance to experience the horror before everyone else.
RELATED: A Teletubbies Horror Movie Is Coming?
When you think about horror movie classics, killers like Pyramid head, Jason Vorhees, Michael Myers, and Freddy Krueger come to mind. However, let's not forget one of the most prolific killers of horror movie history, Ghostface. Ghostface is the star killer of the Scream franchise, which has seen a ton of popularity throughout the decades and has many spin-offs and video game appearances. He just became one of the most well-known horror genre killers out there. It looks like he is striking again in Scream VI, and it might be the biggest box-office opener in the franchise's history.
Here's your chance to win tickets to a special early screening of Scream VI.
RELATED: Ranking Jenna Ortega's Best Movies & TV Shows
What is Scream VI about?
The sixth edition of the film franchise sees the survivors of the Ghostface killings travelling from the town of Woodsboro to New York City. Still, their misfortunes follow them out to the big city. The film stars Melissa Berrera, Jasmin Savoy Brown, Jack Champion, Courteney Cox, Henry Czerny, Mason Gooding, Liana Liberato, Dermot Mulroney, Devyn Nekoda, Jenna Ortega, Hayden Panettiere, Tony Revolori, Josh Segarra, and Samara Weaving. The film is directed by Matt Bettinelli-Olpin and Tyler Gillet and produced by William Sherak, Paul Neinstein, and Vanderbilt at Project X Entertainment. Guy Vanderbilt and Guy Busick also wrote the screenplay.
The last entrance into the series, Scream V, reinvigorated everyone's appreciation for the series, as it garnered $140 million worldwide. It seems that this is going to be the case with Scream VI as well. Many people think everyone is excited about the movie because of the vast diversity seen in the cast and the appearance of Wednesday's Jenna Ortega.
Industry experts think Scream VI will have a franchise opening record of $37 million stateside. This will beat the current record holder, Scream 3, which debuted at $34.7 million stateside in 2000.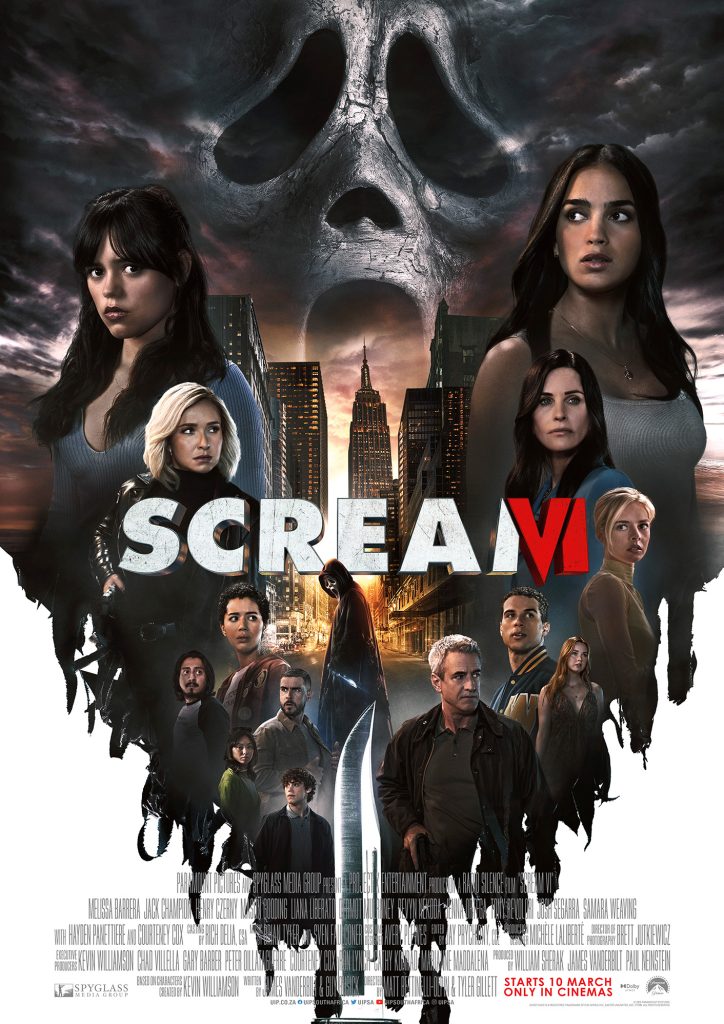 Scream Franchise Success
Paramount and Spyglass Media must know what they are doing because the franchise has grossed over $744 million worldwide. The first movie, Scream, in 1996, brought in $173 million worldwide, and critics think the latest franchise addition might even overtake that.
It is thought that the demographic that is going to be driving these ratings through the roof is around the ages of eighteen to their early thirties, but that they are also joined by the legacy demographic who loved the originals in the series and will be returning to see more of the story.
It is unclear right now if more movies will be in the series. Still, it doesn't seem like Ghostface's story will ever end, as his legacy lives on in an almost supernatural way.
RELATED: The 42 Best Horror Movies of 2022
When does it open in cinemas?
Scream VI will be hitting theatres on March 10th, 2023. Then we will be able to see precisely how well the movie will do and whether or not it will be the biggest box-office opener of the franchise yet.
Will you be among the eager crowd watching Scream VI when it hits theatres?
About the early screening
Date: 08TH MARCH 2023 at 8PM
Venues: STER KINEKOR V@A 10 (Cape Town), STER KINEKOR ZONE 4 ROSEBANK (Johannesburg), STER KINEKOR GATEWAY 8 (Durban)
To stand a chance of winning (double movie tickets) to attend the early screening of Scream IV:
Please complete the form below.
[rafflepress id="44″]
The competition closes on 06 March 2023. Winners will be contacted via email on this date. Please use a working email address.
The giveaway is restricted to readers who reside in South Africa only. Terms and conditions/Site disclaimer rules apply. One entry per person. The winners will be contacted via email. The prize excludes travel, is non-transferable and cannot be redeemed for cash.