By now you've seen all the trailers and eagle-eyed viewers have pointed out all the cool pop culture characters in the extended clips. Batman, Superman, The Iron Giant, Chucky, Freddy Kreuger, Joker, Harley Quinn, Tomb Raider's Lara Croft, Street Fighter's Chun-Li, Battletoads, Gundam, King Kong and Mach 5 from Speed Racer are just a few. If you're a gamer or a fan of all things geek, Ready Player One should already be high on your must-see list of 2018. Here is your chance to win double tickets to an early screening of Steven Spielberg's highly anticipated film in Cape Town (Cavendish).
Steven Spielberg has turned Ernest Cline's bestselling novel into a virtual-reality fanboy geek-out. Thankfully, the first reactions to the new film have been very positive:
Went into READY PLAYER ONE skeptical as hell. Came out largely as a joyous convert. I have a handful of issues with the structure and characters, but it improves on the book in important ways, the action is riveting, and I really bought the humor. #readyplayerone

— Tasha Robinson (@TashaRobinson) March 12, 2018
#ReadyPlayerOne is classic Spielberg fun! What a blast, can't wait to see it again. Rewards repeat viewings. Tons of great references, visuals and heart. So kick ass it blew the speakers!

— Robert Rodriguez (@Rodriguez) March 12, 2018
READY PLAYER ONE feels like Spielberg watched a ton of Luc Besson movies and decided to outdo them. In terms of pure spectacle, it's the most astonishing thing he's done. Never underestimate Steve. #SXSW

— erickohn (@erickohn) March 12, 2018
Well everyone relax, Ready Player One will indeed be the biggest thing in the world

— Emily Yoshida (@emilyyoshida) March 12, 2018
So yeah, I LOVED Ready Player One. It's perhaps the geekiest movie ever made. So so so happy right now!

— Eric Vespe (@EricVespe) March 12, 2018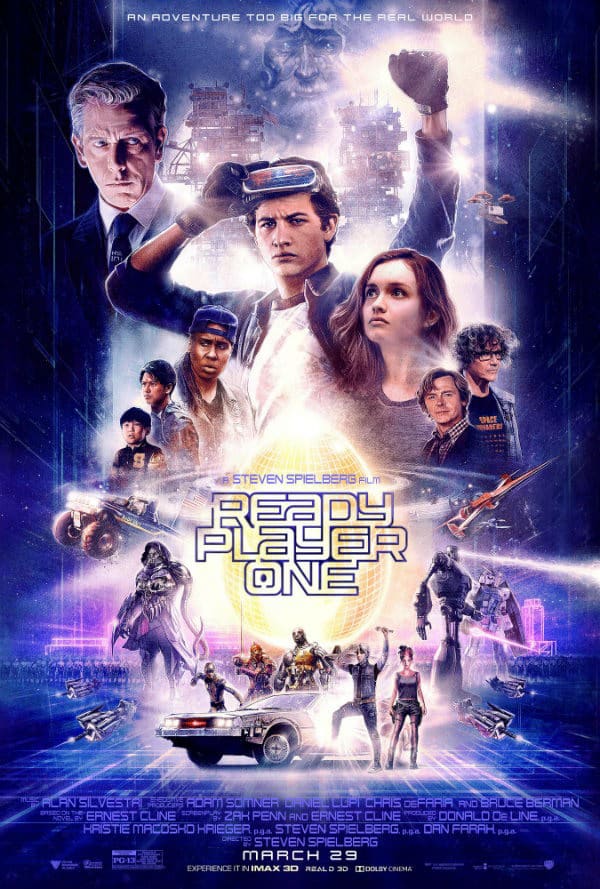 Break Free. #ReadyPlayerOne
It's 2045 and the world is on the brink of chaos and collapse. The people have found salvation in the OASIS, an expansive virtual reality universe. When James Halliday, the creator of the OASIS dies, he releases a video in which he challenges all users to find his Easter egg, which will give the finder Halliday's fortune. Unlikely young hero Wade Watts finds the first clue and starts a race for the egg, hurling himself into a breakneck, reality-bending treasure hunt through a fantastical universe of mystery, discovery, and danger.
Based on Ready Player One (the novel) by Ernest Cline.
Genre: Action, Adventure, Sci-fi
Cast: Simon Pegg, T.J. Miller, Tye Sheridan, Olivia Cooke, Ben Mendelsohn, Mark Rylance, Win Morisaki
Directed by: Steven Spielberg
Ready Player One releases nationwide on the 29th March 2018.
Join us (and come dressed up as your favourite pop culture character) in experiencing one of the most anticipated films of the year on the big screen:
Date: Wednesday, 28 March 2018
Time: 19:30 for 20h00
Venues: Cavendish (CT)
Running Time: 140 Mins
To stand a chance of winning (double tickets), all you need to do is tell us who directs Ready Player One (in the comments section below). Please use a working email address. #ReadyPlayerOne
Competition closes Monday, 26th March 2018.
The giveaway is restricted to readers who reside in South Africa and have signed up for our newsletter only. Terms and conditions/Site disclaimer rules apply. One entry per person. The winners will be contacted via email. The prize excludes travel, is non-transferable and cannot be redeemed for cash.
©2018 Warner Bros. Entertainment. All Rights Reserved.