Enter for a chance to win double tickets to an early screening of Renfield, the highly anticipated horror film. Don't miss out on this spine-chilling experience!
RELATED: Luke Evans' Dracula Untold 2 Could Rise From The Grave
The Cast
Renfield, the upcoming vampire comedy horror film directed by Chris McKay, is generating buzz as its release date approaches. In a new featurette exclusively revealed by Collider, co-stars Nicholas Hoult and Nicolas Cage praise each other's performances in the Universal monster movie. The two actors clearly had a great time working together to bring the iconic characters of Dracula and his loyal servant Renfield to life in a fresh and exciting way. Fans of horror and comedy alike are eagerly anticipating the film's release.
In the article, Hoult speaks highly of Cage's dedication to the role and willingness to fully embrace the bloody and fun nature of the film. Cage, who has a long history of taking on diverse and challenging roles, praises Hoult's vulnerable and soulful approach to acting, as well as his impressive comedic skills which he compares to those of Charlie Chaplin. While the reception of Renfield remains to be seen, both stars are committed to making it a special and memorable film.
RELATED: A Dracula Untold TV Series Could Be The Next Game of Thrones
The Story
Directed by Chris McKay, Renfield is a modern take on the classic tale of Dracula and his loyal servant Renfield. In this film, Renfield is portrayed as a victim of a toxic and abusive relationship with his powerful boss, Dracula. The movie is a sequel to the 1931 Dracula film and features a "pop art" version of the iconic vampire, paying homage to Christopher Lee's portrayal while also adding a comedic twist. The clashes between Renfield, played by Nicholas Hoult, and Dracula, played by Nicolas Cage, are sure to provide plenty of laughs as the servant tries to break free from his master's control.
Genre: Comedy, Horror, Fantasy, Black Comedy
Official Synopsis:
Evil doesn't span eternity without a little help. In this modern monster tale of Dracula's loyal servant, Nicholas Hoult stars as Renfield, the tortured aide to history's most narcissistic boss, Dracula (Nicolas Cage). Renfield is forced to procure his master's prey and do his every bidding, no matter how debased. But now, after centuries of servitude, Renfield is ready to see if there's a life outside the shadow of The Prince of Darkness. If only he can figure out how to end his codependency.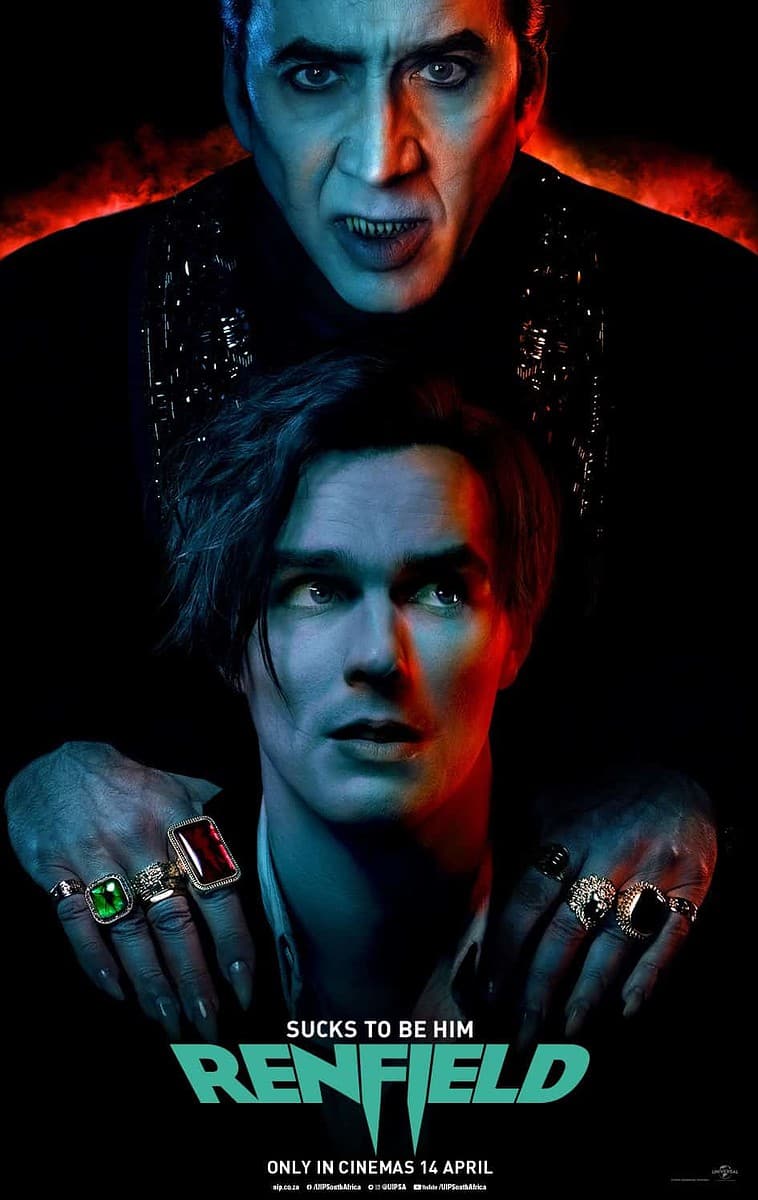 RELATED: 22 Popular Vampire Movies Ranked From Best To Worst
About the Screening
Date: 13 APRIL
Time: 20H00
Venues: STER- KINEKOR Rosebank cine 6 (JHB), STER- KINEKOR-Cavendish cine 2 (CT), STER- KINEKOR- Gateway cine 5 (DBN)
To stand a chance of winning double tickets to Renfield:
Please complete the form below.
[rafflepress id="55″]
The competition closes on 11 April 2023. Winners will be contacted via email on this date. Please use a working email address.
The giveaway is restricted to readers who reside in South Africa only. Terms and conditions/Site disclaimer rules apply. One entry per person. The winners will be contacted via email. The prize excludes travel, is non-transferable and cannot be redeemed for cash.