For those who don't know, there is a completely new way of experiencing horror movies in South Africa entertainment: Ster-Kinekor in D-Box. Imagine feeling every creek, every camera move and every fright scare in a completely immersive way. Here is your chance to win double tickets to see the incredibly creepy horror movie A Quiet Place during Ster-Kinekor's Scary Moments At Their Greatest month with the groundbreaking D-Box experience.
Ster-Kinekor has installed D-BOX motion cinema seating at four of its premium entertainment theatres in South Africa (The Zone Rosebank in Johannesburg and Mall of Africa in Midrand, Cavendish Square in Cape Town, and Gateway Shopping Mall in Durban). Basically, the technology allows for a hyper-realistic immersive entertainment experience that will boost and elevate you, literally, and let you live the action. This must be the best way to watch these films.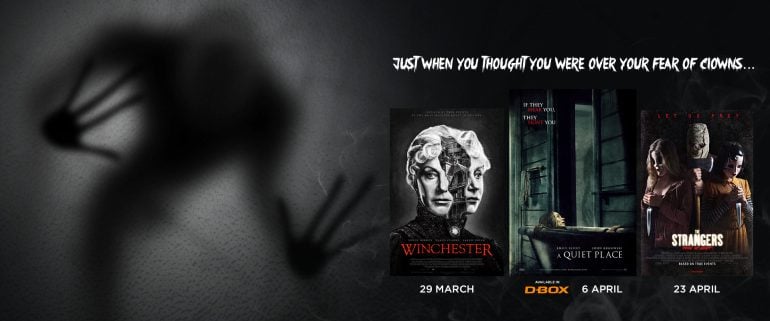 To top it off, A Quiet Place has a great premise for a horror film. Set in a post-apocalyptic Earth inundated with supernatural monsters, it focuses on a family who lives in utter silence in order to avoid drawing attention to themselves. For example, they walk barefoot over a powder they pour out and communicate via sign language. Of course, they find themselves in trouble when a beeping rocket toy goes off while walking in the open woods.
Those who have survived live by one rule: never make a sound.
A Quiet Place will hit theatres on April 6.
To stand a chance of winning (double tickets) to see A Quiet Place with Ster-Kinekor in the awesome D-Box venues, all you need to do is tell us which venue you'd like attend (in the comments section below).
Competition closes Friday, 6th April 2018
The Giveaway is restricted to South African readers who have signed up for our newsletter only and cannot be exchanged for cash. Terms and conditions/Site Disclaimer rules apply. One entry per person. The winners will be contacted via email. The prize excludes travel, is non-transferable and cannot be redeemed for cash.