Every now and then a movie comes along to revolutionise the film industry. Breaking down doors and reimagining comic book movies, Matt Reeves' The Batman seems to be one of those — a truly special blockbuster. If you needed more reasons to be excited to see the film, here's your chance to win exclusive The Batman merchandise to celebrate the film.
What film critics are saying
Certified fresh on Rotten Tomatoes, The Batman has already scored an 85% critics score and a 93 audience score – that's more than any other Batman movie before it.
We've become so used to superhero movies with a few good sequences sandwiched between lacklustre stuff that I wonder if moviegoers are ready for a beautifully constructed one with a beginning, middle and end. That would be "The Batman." – Chris Hewitt
The Batman stands out as the darkest and most visually inventive film starring the caped crusader. – Alan French
At three hours, THE BATMAN flew by. Warner Bros. will have a huge hit at the box office. – Jeanne Kaplan
The Batman is as good as a Batman movie has ever been, or possibly ever can be. – Movie Show Plus
Even with multiple sequels and spin-offs planned, there likely wont be another superhero movie that looks and feels like this for quite some time. – Knotfest
Matt Reeves innovative makeover reimagines The Batman as a modern-day noir murder mystery, abandoning the action genre. – Galveston Daily News
A compelling hard-boiled mystery with a detective who just happens to wear a cape and cowl. – The Inlander
Mar 4, 2022The 'most anticipated film of the year' proves to have been worth the wait. – RTÉ
What is The Batman about?
Two years of stalking the streets as the Batman (Pattinson), striking fear into the hearts of criminals, has led Bruce Wayne deep into the shadows of Gotham City. With only a few trusted allies -Alfred Pennyworth (Serkis), Lt. James Gordon (Wright)-amongst the city's corrupt network of officials and high-profile figures, the lone vigilante has established himself as the sole embodiment of vengeance amongst his fellow citizens.
When a killer targets Gotham's elite with a series of sadistic machinations, a trail of cryptic clues sends the World's Greatest Detective on an investigation into the underworld, where he encounters such characters as Selina Kyle/aka Catwoman (Kravitz), Oswald Cobblepot/aka the Penguin (Farrell), Carmine Falcone (Turturro), and Edward Nashton/aka the Riddler (Dano). As the evidence begins to lead closer to home and the scale of the perpetrator's plans becomes clear, Batman must forge new relationships, unmask the culprit, and bring justice to the abuse of power and corruption that has long plagued Gotham City.
Joining Robert Pattinson in The Batman is Paul Dano (The Riddler), Zoe Kravitz (Catwoman), Colin Farrell (The Penguin), John Turturro (Carmine Falcone), Jeffrey Wright (James Gordon), Andy Serkis (Alfred Pennyworth), and more. Matt Reeves serves as both writer and director.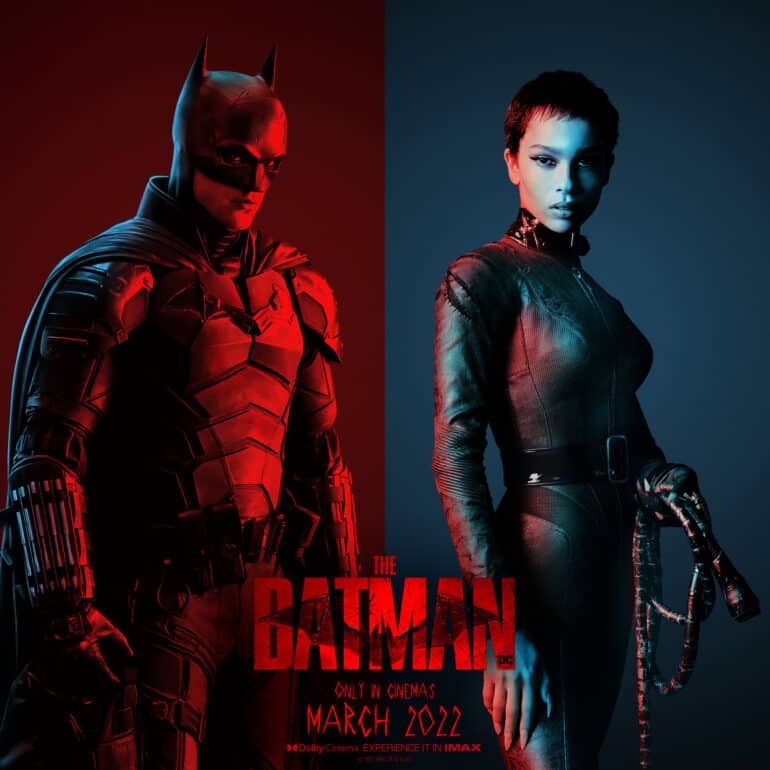 When does the film release?
The Batman is cinemas today, 4 March, 2022.
What The Batman merch can I win?
Here is your chance to win amazing The Batman movie merch, including Batman Projection Torch Keyring, Batman Bluetooth Wireless Headphones, Batman Bluetooth Speaker, Batman Credit Card Wallet, Batman T-shirt, Batman Solid Metal Pin Badge, Batman Logo Print Plastic Pen, Batman Multi-Tool with Wallet, Batman Phone Ring Stand, Batman Cap and more. Please note the above mention products might be split into more than one prize (meaning you could get any of the above items).
To stand a chance to win The Batman Hamper, all you have to do is quote a line from our review of the film (leave a comment below).
The competition closes on 18th March 2022. Winners will be contacted via email on this date. Please use a working email address.
The giveaway is restricted to readers who reside in South Africa only. Terms and conditions/Site disclaimer rules apply. One entry per person. The winners will be contacted via email. The prize excludes travel, is non-transferable and cannot be redeemed for cash.
© 2022 Warner Bros. All Rights Reserved.