Stand a chance to win a fantastic Gran Turismo movie hamper, which includes a set of themed apparel and accessories for racing fans.
RELATED: Gran Turismo's Actors Underwent Formula 1 Training
The Story
The Gran Turismo franchise, a long-standing PlayStation exclusive with its focus on motorsport, has captivated gamers for many years. The series has encompassed a total of seven games, each building upon the racing legacy. However, the forthcoming film, skillfully helmed by Neill Blomkamp of 'District 9' fame, diverges from the game's narrative threads. Instead, it artfully weaves a tale inspired by real-world events revolving around the game's essence.
The crux of the film revolves around Jann Mardenborough, portrayed with prowess by Archie Madekwe. Jann, a formidable talent, showcased his extraordinary racing skills in numerous Gran Turismo tournaments, particularly standing out with his virtuoso performance on GT5 for the PS3. Such was his mastery that an unparalleled opportunity knocked at his door – a chance to transition from the virtual world to the tangible racetracks, all thanks to Nissan's esteemed PlayStation GT Academy.
This venture was a turning point in Jann's life, propelling him into a realm where he would conquer several competitions and garner numerous accolades, ultimately solidifying his position as a bonafide racing driver. Unveiling itself like a biographical epic, the film paints a vivid portrait of Jann's journey rather than the typical game-to-film adaptations that have inundated the silver screen over the years.
Another noteworthy figure in the film, essayed by Orlando Bloom under the name Darren Cox, is a tangible character drawn from the real world. A brilliant entrepreneur, Darren masterminded the inception of the GT Academy, leveraging his connections in the motorsport domain from his time with Renault and Nissan.
The ensemble of characters in this cinematic endeavour mostly comprises bespoke creations for the film, meticulously sculpted to dramatize the essence of real-world happenings. Among these intriguing personas is David Harbour's Jack Salter, a once-failed race car driver, who takes Jann under his wing, illuminating the path towards becoming a racing sensation.
The film, borne out of a captivating blend of reality and artistic liberty, is set to take audiences on a riveting ride, delving into the extraordinary world of Gran Turismo and the remarkable individuals who were touched by its allure.
RELATED: The Trailer for the Gran Turismo Film Just Dropped – Is It Good?
Genre: Action, Adventure, Drama
Official Synopsis: Based on the unbelievable, inspiring true story of a team of underdogs – a struggling, working-class gamer, a failed former race car driver, and an idealistic motorsport exec – who risk it all to take on the most elite sport in the world.
The Gran Turismo movie is to release in cinemas on 11 August 2023 across the country. Bookings will open on the Ster-Kinekor website from 8 August 2023.
Gran Turismo Film Hamper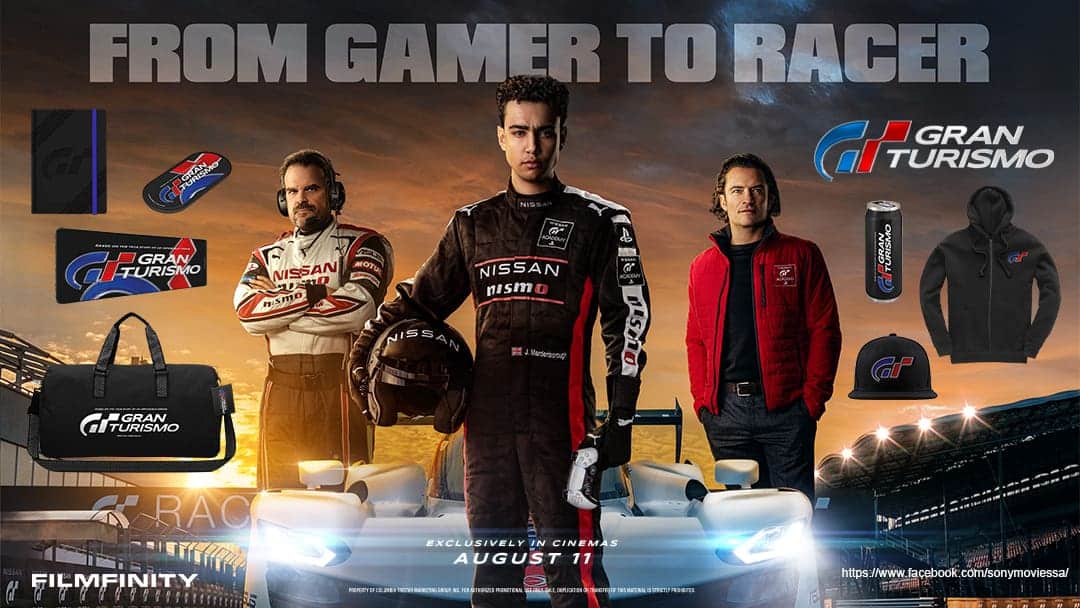 The hamper contains limited-edition merchandise from the film, including the following:
Notebook with sleeve
Barrel Bag
Drinks Canister
Snapback
Zip-up Hoodie
Gaming Desk Pad
Light Up Wireless Charger
RELATED: Gran Turismo 7 Review – A PlayStation 5 Graphics Showcase
To win this amazing Gran Turismo film hamper:
Please complete the form below.
[rafflepress id="65″]
The competition closes on 11 August 2023. Winners will be contacted via email on this date. Please use a working email address.
The giveaway is restricted to readers who reside in South Africa only. Terms and conditions/Site disclaimer rules apply. One entry per person. The winners will be contacted via email. The prize excludes travel, is non-transferable and cannot be redeemed for cash.