With lockdown level 4 continuing for the next two weeks, we all find ourselves stuck indoors once again. To entertain yourself, you're going to need something fun for the whole family. Introducing Klask, an award-winning party game from Denmark based on a combination of foosball and air hockey.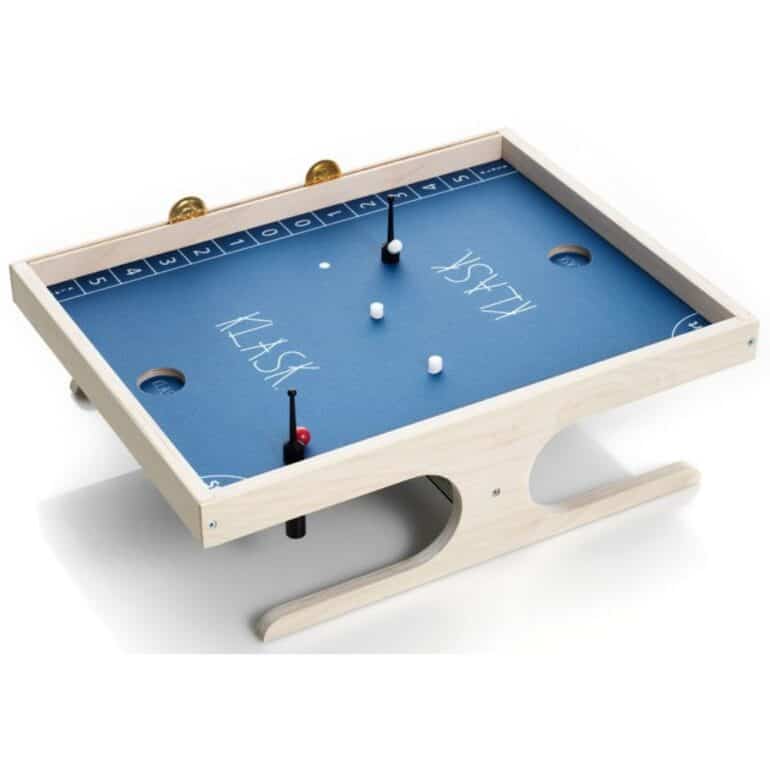 What is Klask?
Birthed in the cosy pubs of Denmark, Klask is played pretty much the same as foosball. The game board is shaped like a ball field, except there are two holes functioning as goals on each opposing side. In the middle of the "field", you'll find 3 white magnetic pieces that serve as obstacles in the game. Your job is to control the black magnetic piece (the ball) holding a large magnet from underneath the board and get it into the small hole (the goals) of your opponent.
If I've confused you, watch the video below. It might explain the details of the game better:
The other great thing about Klask is that you can pretty much take it everywhere you go. Play it at your friend's place or at work – pretty much anywhere that has a flat surface.
Plus, each match only lasts around 10 minutes – meaning there's enough time to play as big teams or sneak in a game before work in the morning.
This is a really competitive game. Don't believe us? Check out the KLASK World Championship tournament below:
What's in the box?
Klask comes packaged with:
1 board
2 magnetic strikers
2 magnetic handles
4 defender magnets
2 balls, and a pair of scoring discs
For more information on Klask, visit solarpop.co.za. The game retails for around R1150 locally.
How to enter
To stand a chance of winning the Klask party game (courtesy of Solarpop), all you need to do is complete the following:
[rafflepress id="18″]
The competition closes on Friday, 30th July 2021.
The Giveaway is restricted to readers who reside in South Africa only and cannot be exchanged for cash. Terms and conditions/Site Disclaimer rules apply. Winners will be contacted via email. Judges decisions are final. The prize excludes travel, is non-transferable and cannot be redeemed for cash.