We've chatted about it. We've shared the trailers. We've discussed in a podcast. And now, it's finally here. THE movie of 2020 is releasing in cinemas this week, November 27. And we couldn't be more excited to see Jiu Jitsu on the big screen.
If you share the same excitement for Nicolas Cage's latest release, you'll be happy to learn that we're giving away 4 branded Jiu Jitsu T-shirts.
If you've been waiting for things to subside before returning to the cinema, now is a good time. This action/sci-fi movie, which is actually based on a comic book, is the perfect excuse to return to the movie house. Plus, with all the precautions now in place, you'll feel safe at the movies again.
What's Jiu Jitsu about?
Every six years, an ancient order of jiu-jitsu fighters joins forces to battle a vicious race of alien invaders. But when a celebrated war hero goes down in defeat, the fate of the planet and mankind hangs in the balance.
Expect tons of sci-fi action. Expect a lot of laughs. Expect great visuals. Expect Nicolas Cage at his craziest.
Who acts in the film?
Jiu Jitsu stars Nicolas Cage, Alain Moussi, Tony Jaa, Frank Grillo, Juju Chan, and Marie Avgeropoulos – all top names in the action genre.
Also, did you know that the Oscar-winning Cage did "about 80 percent" of his own stunts in the new sci-fi action movie?
When does it open?
The film opens in South African cinemas this week, 27th November 2020. Book your tickets today!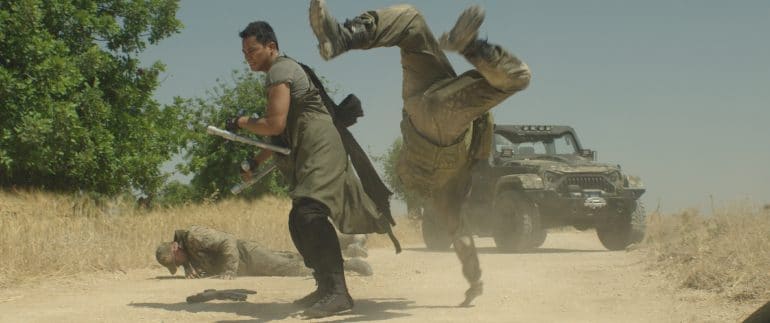 To stand a chance of winning one of these cool limited-edition Jiu Jitsu T-shirts, all you need to do is quote a line from our review (in the comments section below). Please use a working email address.
Competition closes tomorrow morning, 30 November 2020. Winners will be contacted via email on this date.
The giveaway is restricted to readers who reside in South Africa and have signed up for our newsletter only. Terms and conditions/Site disclaimer rules apply. One entry per person. The winners will be contacted via email. The prize excludes travel, is non-transferable and cannot be redeemed for cash.
©2020 The Avenue Entertainment. All Rights Reserved. Jiu Jitsu is being released by Filmfinity in South African cinemas.