Following the release of Warner Bros' Shazam! (2019), the film was an immediate success, with younger and older fans everywhere. The movie sees a lot of children who have adult superhero counterparts. When Shazam! Fury of the Gods (2023) hit cinemas recently; it was seen that most of the adult actors reprised their roles for their child counterparts. And while this is to be expected, one of the actors did not return. Instead of Michelle Borth as Mary Bromfield's adult form, we instead saw Grace Caroline Currey recast to play both her normal and adult forms in Shazam! Fury of the Gods. Why is this?
RELATED: Shazam! Fury of the Gods Review – The Gods Must Be Crazy
Mary Bromfield has Reached Adulthood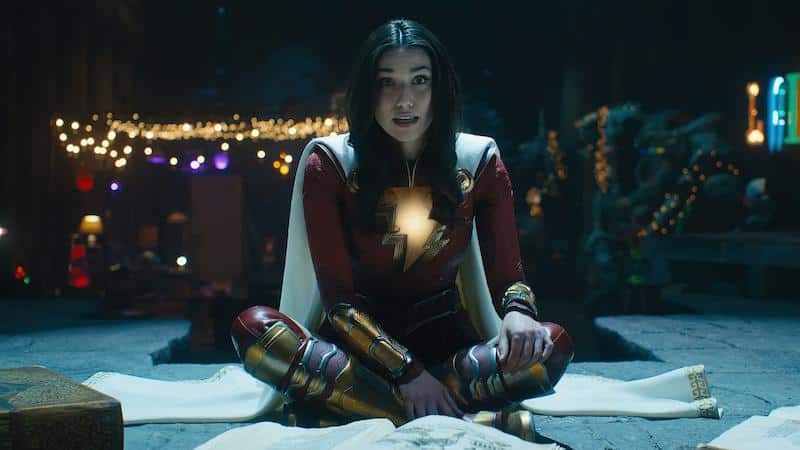 In the first film in 2019, Mary Bromfield is still in high school and on her way to ageing out of the foster system. She explicitly states her plans to go to college or university once she graduates and is always studying. Now, as someone who is not yet 18 years old, she is technically still a child and has not yet matured. Therefore, it would make sense that she would have an adult counterpart despite being so close to being an adult herself. However, in the second film, she and Billy discuss his 18th birthday. This would mean that he has aged out of the foster care system and would have to move out or begin contributing.
This discussion reveals that Mary has decided to forego college and work a regular job to contribute towards the foster home. This can mostly be attributed to the drastic change in everyone's life when they gained their abilities. But, most importantly, this sets Mary at around 21-22 years old, meaning she is a full-fledged adult. Therefore, it would make sense to then have the same actress play both versions of Mary since both versions are technically adult versions.
RELATED: Zachary Levi Believes Shazam Is The Family-Friendly Deadpool Of DC
Grace Caroline Currey Playing Both Versions of Mary is True to the Comics
Another interesting aspect of this casting decision is that it is more accurate to the comic book. Mary's character is the only one who remains the same when changing into her adult form. In fact, she is not only different upon transforming, but her powers were gained from a different source. Her powers were from a different set of gods beyond that of Billy Batson's. But this does go back all the way to when Shazam! was instead known as Captain Marvel and was produced by Fawcett Comics.
RELATED: Has Zachary Levi's Shazam Been Chopped From The DCU?
What Does This Mean for Asher Angel and Zachary Levi?
Well, this is a bit of a tough one. While it would make sense to have Asher play his own adult form after he has aged from the system (and this is if a third film is greenlit), it would take away from the film series quite a bit. Zachary Levi is now the face of Shazam!, and to change that would be criminal. If a third film were to happen, there is no doubt that many of the characters would be significantly older, with both Billy and Freddy finishing high school. However, it does seem that the male adult counterparts play considerably older versions of their child actors than the female characters. Either way, it will be interesting to see where the filmmakers go with this.
RELATED: Fans Believe Shazam 2 Humour Is Far Too Goofy, Director Responds
TL;DR
Shazam! (2019) saw all the younger characters have an adult counterpart, all of which were played by various adult actors.
However, in the sequel, Mary Bromfield was recast, and actress Grace Caroline Currey played both young and adult versions.
This is because she has reached adulthood by the second film, and also a nod to the comic books, which sees Mary as the same person in both versions.
Tell us, are you happy that Mary Bromfield was recast in Shazam! Fury of the Gods?