It's quickly approaching four years since Deadpool 2 was released. While it's one of the unfortunate side effects of Disney buying Fox, many fans would've thought that the Merc with a Mouth's outstanding box office performance would've inspired the studio to get another film into production fast. That said, all the delays might be worth it if James Gunn gets the opportunity to take a stab at Deadpool 3.
The Deadpool 3 story so far
In the middle of Deadpool 2's production, the plans were already in place for the follow-up. At first, the creative team played around with the possibility of a Wade Wilson and (a serious) X-Force team-up being the core focus. Then, the decision was made to split the two into separate films, allowing for Deadpool 3 to still be more personal and focused on the fourth wall-breaking maestro.
In January 2021, Ryan Reynolds revealed what the original plot for the movie would've been by tweeting the following:
In case that's not enough, before Disney bought Fox, Deadpool 3 was gonna be a road trip between Deadpool and Logan. Rashomon style. For real."
Sadly, Disney's acquisition of Fox in March 2019 all but flushed those plans down a public toilet. (Fate can be a cruel mistress as it refused to pair up Hugh Jackman's Wolverine and Reynold's Deadpool in a good movie.) The only certainty we have from Kevin Feige and Reynolds is that a Deadpool 3 film will happen, but when is anyone's guess.
James Gunn's current plans
While Reynolds and the Deadpool team have had a whirlwind few years with any production plans, Gunn has also had quite the time. After surprising everyone with his Guardians of the Galaxy films, the world was truly his oyster. Then, some controversial tweets from his past surfaced and Marvel Studios decided to part ways with him in the process.
In stepped DC and Warner Bros. as Gunn hopped on board to create The Suicide Squad (the sequel that's not really a sequel, but no one knows what's going on there, so let's not pretend). Once the social media storm cooled down, Marvel Studios also rehired him to helm Guardians of the Galaxy Vol. 3.
While The Suicide Squad didn't light up the box office (because pandemic), it was well received by fans and critics who praised the R-rated humour and touch that Gunn brought to the franchise. Warner Bros. and DC were so happy with the film that they allowed Gunn to make a Peacemaker HBO Max series with John Cena and offered him another chance to direct a DC movie. To date, we don't know if this will move forward.
With Peacemaker set to hit the screens now and Gunn about to direct Guardians of the Galaxy Vol. 3, he should have some free time in, say, a year or two, which means…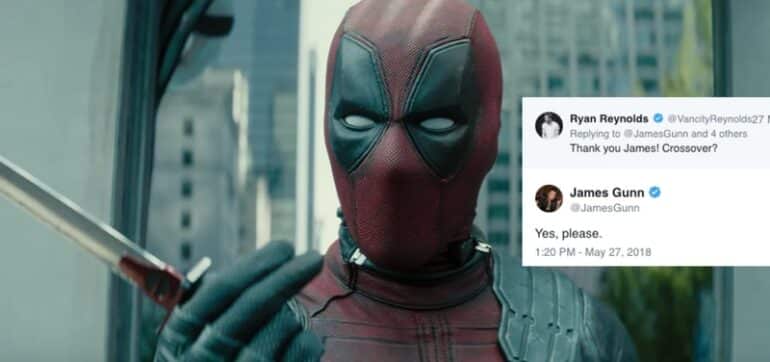 James Gunn and Deadpool 3 are the perfect match
Reynolds has revealed that he's taking a break from acting. While it isn't clear for how long, it's a well-deserved rest since he's been working non-stop for several years now. The timing is ideal too especially with Gunn knee-deep in production for Guardians of the Galaxy Vol. 3.
With the Russo brothers having helmed different properties in the MCU and Jon Watts about to do the same with Fantastic Four, it shows that Marvel Studios allows for freedom within its universe. So, why not pair up Gunn with Reynolds for Deadpool 3 next?
If there's one thing that The Suicide Squad showed us is that Gunn knows how to blend humour and action in an R-rated comic book movie. He leans into it and isn't afraid to get over the top and silly when he must. Basically, he's just like Deadpool who pokes fun at the genre all the time. Gunn understands these characters inside and out and knows what connects with the audience.
Imagine Gunn and Reynolds sitting down and plotting Deadpool 3 out for a second. These two have a similar sense of humour and approach to comic book movies, so you can just imagine the insane ideas that will spiral out of their brainstorms. Quite frankly, this pairing shouldn't even be a consideration; it's the only logical step to making the film the best of the trilogy.
Tell us, would you like to see James Gunn direct Deadpool 3? Let us know in the comments section down below.
https://www.youtube.com/watch?v=2y6lIYL6Zlg