Why is there an Alligator Loki? It's a question that fans have been asking since the Loki TV series premiered.
It's safe to assume that Marvel Studios' Loki turned the life of the titular God of Mischief (played by Tom Hiddleston) upside down for good. Not only did this version of Loki learn about the cruel future that awaited him, but he also got closer to understanding the grand scheme of things in the MCU, more so than any other character in the franchise.
The show explored the idea of the multiple realities that compose the Marvel Multiverse, and just how wildly different the characters that inhabit them are. Of course, some minor characteristics prevail in every Loki, no matter from which reality they might hail. That's the reason why even characters like Sylvie (Sophia Di Martino's character who is partially based on the characters Lady Loki and Sylvie Lushton from the Marvel Comics), who are so different in some of the most basic aspects from Loki, still retain some of the God of Mischief's rather distinctive characteristics.
However, since the multiverse is boundless, it stands to reason to think that some versions of Loki might differ more aggressively from the norm than others. Enter Alligator Loki (who first appeared in "The Nexus Event", the fourth episode of the first season of Loki): one of the most beloved characters in the show, and also one that left some fans scratching their heads in confusion.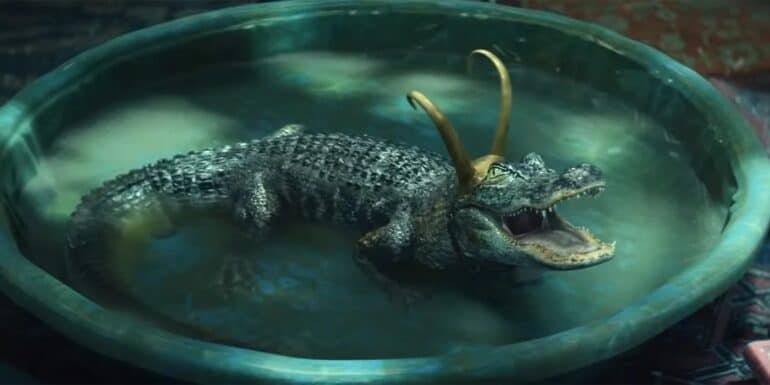 Why is there an alligator amidst a group of seemingly humanoid Loki variants (which includes Kid Loki (Jack Veal), Classic Loki (Richard E. Grant), Boastful Loki (Debbie Oparei))? Is he really a Loki, or just some rather mischievous reptilian? Maybe these mysteries are better explained in the pages of the Marvel comics from which Alligator Loki comes. Except, unlike most of the characters presented in the MCU so far, Alligator Loki is a wholly original character creation, designed exclusively for the Loki show.
Now this leaves us with even more questions than before. Among all the animals that the producers of the show could have chosen from, why a real alligator with jaunty horns? The answer might be simpler than anyone thought: because he is green (the colour scheme of his human counterpart). Really, that's it; at least that's the main reason for Alligator Loki's appearance, according to series' head writer Michael Waldron. "It's so stupid, but it also makes total sense. You almost have to take it seriously, like maybe he is [a Loki]? Why shouldn't there be an alligator version of Loki? For all we know, that's an alligator universe or whatever. It's just the sort of irreverent thing that, in this show, we play straight and make the audience take it seriously. I love that little guy."
Together with producers Steven Broussard and Kevin Wright, Loki head writer Michael Waldron decided that an alligator would be the best choice for an alternate Loki because of the reptilian's skin colour. It also would be something that most Marvel fans would never expect to see, really bringing into new life the "Journey Into Mystery" vibes that the Loki show was going for.
Even among the show's producers, there was some debate about whether or not the alligator was a real Loki variant — especially since director Kate Herron explained that they used a stuffed animal as a stand-in on set (which someone added googly eyes to as a joke) — which they brought to life with visual effects in post production. Some believed that it was just an exceptionally clever reptile that disguised itself as the God of Mischief, but Waldron likes to believe that there's an alternate universe where every humanoid character is actually an alligator version of themselves.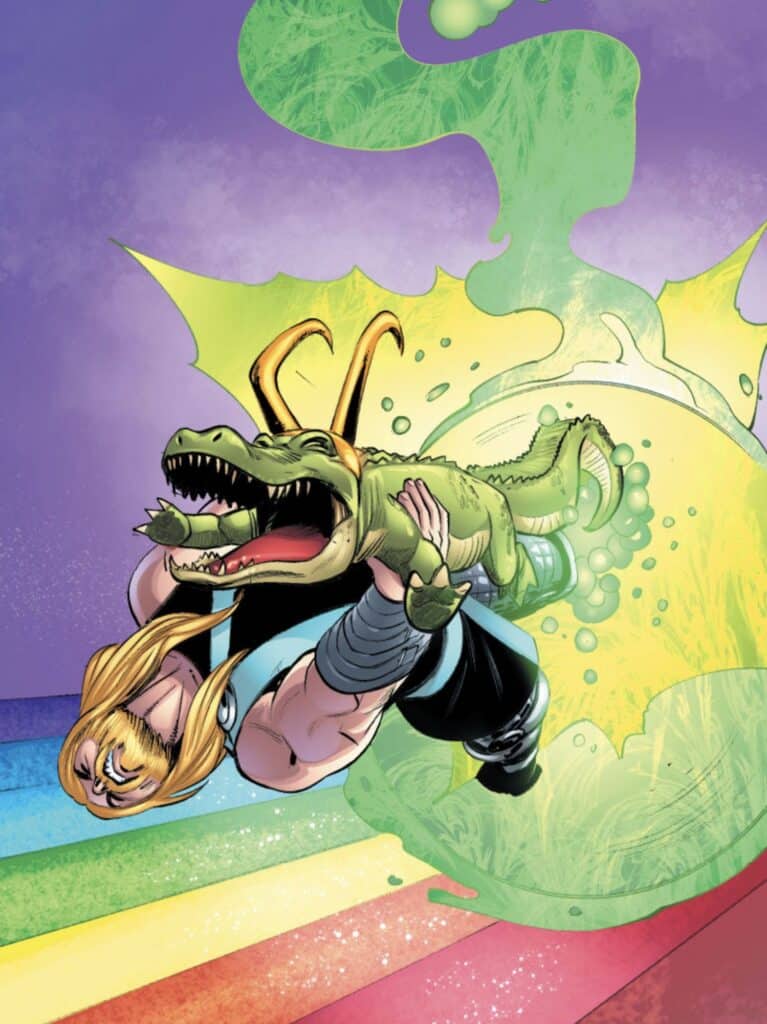 One thing is for sure: fans loved the concept of an alligator playing the part of Loki. Even though he interacted very little with the rest of the characters in the show, the character proved to be popular enough to get its own limited comic series at Marvel. The comic books, aptly titled Alligator Loki (written by Alyssa Wong, art by Robert Quinn, and colour by Pete Pantazis), made their debut on March 11th of this year. In the first issue, family bonding is the theme— with Alligator Loki and Thor getting to know one another at an Asgardian amusement park.
The Loki ending left many questions still unanswered, and it's been one of the only Disney+ MCU shows that's been renewed for a second season. Knowing just how much love the character received from fans, it would be safe to say that Alligator Loki (and possibly other different versions of Loki – like President Loki) might be slated to appear in the series' upcoming second season. Heck, we'd love to see Frog Thor appear too.
There's no word on when this new Loki season will be released, but everything seems to point to a 2023 release. Sorry, Alligator fans, it appears as if we'll have to wait just a bit more before the Reptilian God of Mischief returns to the MCU. Until then, look out for more of the original Loki, the best Loki, in other MCU shows and films.
Tell us, what do you think of the new Loki? Do you like or hate Alligator Loki?