In terms of graphics, gameplay, prizes and special features, almost every virtual casino game is markedly different than it was 20 years ago: Slots now resemble video games more so than they do mechanical fruit machines; roulette is likely to feature 3D graphics or other special effects; blackjack and baccarat can be streamed to your device with live croupiers dealing the cards 2,000 miles away from your home.
Yet, remaining unchanged – and almost seeming like it is unrepentant about it – is the humble game of video poker. Walk onto, say, the casino floor in the Bellagio in Las Vegas today or visit an online casino, and you will see that the video poker games look just the same as they did 10, 20, 30 years ago. The games were first widely introduced in the 1980s, and their Atariesque graphics and gameplay have remained the same ever since.
Tech advances are overlooked in favor of simplicity
Obviously, the technology is available to make video poker games different. You could easily, for example, add a virtual dealer, make the gameplay 3D or change the ubiquitous blue background colour to something a bit more enticing. Yet, nothing has changed, with the exception of a few important tweaks which we shall discuss a bit later.
But video poker has remained incredibly popular among serious players, with the caveat that not all casinos stock it these days. You can find it a Casino.com, a casino that supports South African players, but it's dying out on other sites. Why? One theory is that video poker is regarded as one of the virtual casino games with the highest RTP (Return to Player). This is basically a reverse house-edge for virtual games, with a higher RTP meaning the game will pay out more over time. A typical video poker game might have an RTP of over 99.5%, with some even higher than that. The margins on slots and virtual scratchcards is usually in the low 90s, basically a greater profit for the casino.
Aside from the payout rates, it's also interesting to see exactly where video poker games are situated in a casino. For example, at the Aria Casino in Las Vegas, among many others, video poker games are actually built into the bar-counters situated around the main casino floor. This bit of psychology is key to understanding video poker's popularity. You see, the game is ridiculously easy to play, and it's no coincidence that a game that requires little thought that is offered in the part of the casino where players go for a drink, respite and repose.
Game has stood test of time
It can sometimes be hard to quantify what makes a game popular. Why are the likes of Tetris, Space Invaders and Pong still popular, whereas other games from the era are overlooked? You can, of course, create a game that stinks the place out, but there is also something intangible that makes a simple game work. In short, in many people's eyes, video poker has that intangible quality.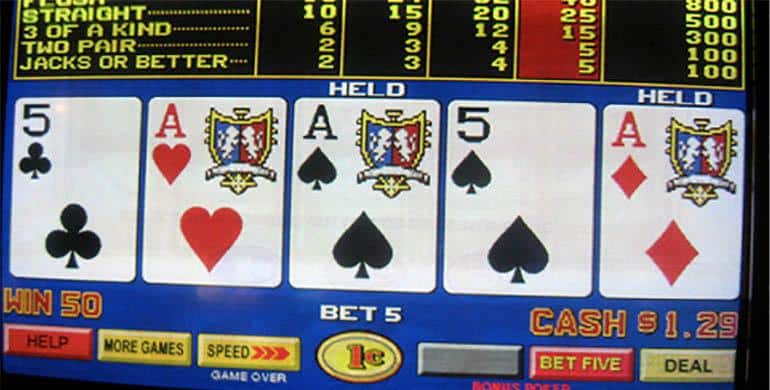 Finally, it should be said that video poker games have had a few tweaks over the last few years, certainly in terms of prizes offered. The use of tech to connect the games across different casinos means that progressive jackpots (those funded from a small percentage of each bet to make a randomly awarded prize pool) are so much bigger than ever before – life-changing sums of money. So, you can see why that factor – taken on its own – makes video poker an attractive game for players.