Event Horizon is a sci-fi horror film set in 2047. It was directed by Paul W. S. Anderson and follows a crew of astronauts sent on a rescue mission after the Event Horizon, a starship that had been missing for seven years, suddenly appears in Neptune's orbit. But, unfortunately, the ship has returned with a sinister force. After rewatching the film r/Leviathanbox noticed some things that caused them to believe that the Entity "possessing the Event Horizon is Leviathan from the Hellraiser series." Is there a connection between Event Horizon and Hellraiser?
RELATED: Signs: The Most Disturbing Horror Movie Scene Of All Time
Who is Leviathan?
Fandom describes Leviathan as "the hellish ruler of all dark arts. His skill is incomparable and cannot be matched by any mere mortal." While his origin is unknown, many believe he is a fallen angel from the bible. He is obsessed with law and order and is said to have existed before there was life, but when life was created, chaos exploded.
Leviathan is determined to stop the spread of life. So he used Cenobites as his foot soldiers in his conflict against chaos and corrupted man to bleed the life out of their own world.
RELATED: Best Horror Stories To Tell On Halloween
Similarities between Hellraiser and Event Horizon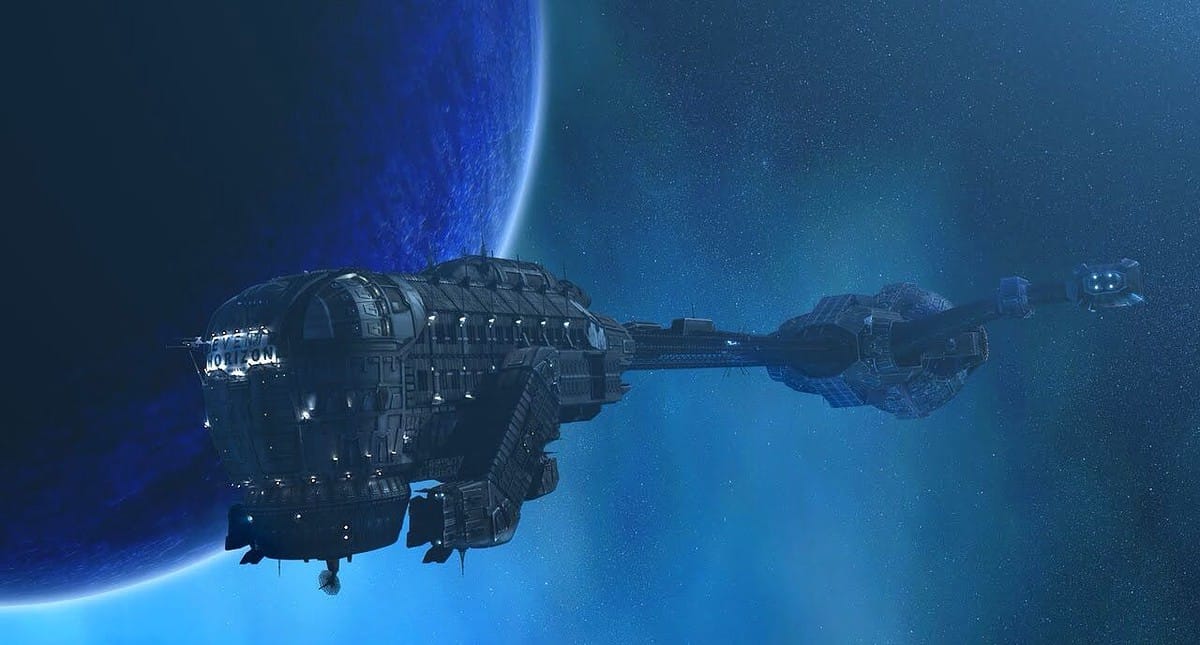 Gravity Coolants Looks an Awful Lot Like Escaping Souls
When the Lewis and Clark crew first enter the Event Horizon, the lack of gravity leaves debris floating around the ship. The coolant in the Gravity Drive room floats in spherical blobs until a strong pulse of energy, caused by Mr Justin entering the portal, sends the coolant in different directions.
r/Leviathanbox pointed out that "the coolant looks nearly identical to the souls escaping Leviathan at the end of Hellraiser 2.
The Event Horizon Has Similar Properties to a Haunted House
The Event Horizon's proximity to Neptune "causes an eerie blue light to fall in from the window". This is accompanied by thunder and lightning and the sentient ship's habit of closing and opening doors as it pleases. All these elements combined caused one to think of a haunted house.
All these elements are present in the Hellraiser series. A supernatural blue light shines through windows whenever one of the Lemarchand's Boxes (puzzle boxes that promise pleasures) are opened. The Cotton's house seems to have a mind of its own, opening and closing doors as it pleases. Even the Labyrinth, Hellraiser's version of hell, has supernatural lightning that "can be seen deep within the maze like structures."
r/Leviathanbox further points out that the Cotton House and the Event Horizon "have a lot of prominent Square patterns".
Electrical Manipulation
In Hellraiser, the Cenobites can manipulate electricity. Their arrival is usually indicated by pulsating lights and television static, and when they appear, they can form electricity at will. Similarly, the lights flicker and go out when Dr Weir is in the computer crawlspace.
That is not surprising; the Event Horizon is mostly destroyed, so you can't expect certain systems to function the way they're supposed to. The interesting part is when his torch, an independent power source, flickers and goes out. There could very easily be cenobites wandering around the halls of the Event Horizon.
Unrelated, r/Leviathanbox adds, "I'd also like to note that the computer crawlspace that Weir is in reminds me of the Hellraiser: Hellworld poster, though this is just a coincidence as that movie came out years after Event Horizon).
The Opening of Hellraiser 2 and Various Events Throughout Event Horizon
Hellraiser 2 opens with Elliot Spencer opening one of the puzzle boxes in a bunker-like building with curved walls and a curved ceiling. The lights dim before the puzzle box tears him to pieces with hooks. As he screams, the camera zooms in on his mouth, which transitions onto a hallway in the Labyrinth.
While they don't happen all at once, similar events occur in Event Horizon. For example, during an argument between Miller and Weir, they are standing in a hallway reminiscent of the bunker-like building in Hellraiser, and the lights begin to dim similarly.
Later in the film, a resurrected and mutilated version of Weir screams, and audiences are treated to a very similar shot where the camera zooms in on his mouth.
Ominous Quotes From Antagonists
Julia Cotton and Weir had very similar lines and "endings". In Event Horizon, Weir tells Miller, "You wanted to know where the ship has been, now you'll find out," similar to when Julia says, "you wanted to know, now you know."
Both were seemingly dealt with similarly: Julia was sucked down a hallway, similar to how Weir was sucked out a window into space after he shot at it trying to defeat Cooper.
DJ's Death
Many of the deaths caused by the puzzle boxes in Hellraiser are reminiscent of DJ's death. After someone has solved a puzzle in the puzzle box, they are disfigured by hooks before being taken to the Labyrinth to be turned into a cenobite.
DJ has one of the goriest deaths in Event Horizon. He's mortally wounded with surgical tools, much like those often wielded by cenobites and strung up with hooks.
RELATED: The 42 Best Horror Movies of 2022
Additions and Thoughts From the Comments
Many seemed to agree with r/Leviathanbox's idea that Event Horizon and the Hellraiser universe were somehow connected.
r/FirmBodybuilder2754 added, "If I remember correctly the horizon was meant to go somewhere faster than light and inadvertently may have gone to another dimension. It is heavily suggest that that dimension was hell but I don't that that's ever concretely proven as how could you? All we know is that it went somewhere horrifying and painful and had an adverse effect on the ship itself."
TL;DR
After rewatching Event Horizon, one fan suspects the film could be connected to the Hellraiser series.
They compiled a list of similar events in Hellraiser and Event Horizon.
Many fans are now thoroughly convinced of the connection between the two horror films.
Do you think the Hellraiser series and Event Horizon could be connected?