It's outrageous to think that John Carpenter's Escape from New York celebrated its 40th anniversary recently. The film has become a cult classic and must-watch for action fans, while its lead character, Snake Plissken, is easily one of the greatest movie characters of all time. However, much like everything in Hollywood, it isn't immune to the remake treatment. Is it time for a Escape from New York reboot?
RELATED: A Look Back At Escape From New York
Escape from New York was an epic action movie in which the ex-military convict Snake Plissken (Kurt Russell) is sent to Manhattan to rescue the president of the United States (Donald Pleasence) who has been stranded in the city which has been converted to a maximum security prison. Along the way, he meets characters like Cabbie (Ernest Borgnine), Harold 'Brain' Hellman (Harry Dean Stanton), Hauk (Lee Van Cleef), Maggie (Adrienne Barbeau), The Duke of New York (Isaac Hayes), and Rehme (Tom Atkins). Criminals own half of the city, while crazies and guards own the rest.
In 2019, the news broke that screenwriter Leigh Whannell would be writing the script for an Escape from New York reboot, and that Alex Heineman and Andrew Rona would be producing the film alongside Radio Silence. It was also announced that Scream filmmakers Tyler Gillett and Matt Bettinelli-Olpin and Chad Villella were set to direct the reboot. The intention was made crystal clear: retain what worked in the original but add something unique in the process. Considering that Kurt Russell is 70 years old now, it's obvious that there will be a need for a new Snake Plissken here. (Though, Russell would certainly be an excellent choice to play the role of Hauk in a reboot.)
The reboot of John Carpenter's Escape From New York, or sequel as many people are expecting, is still in the early stages of its journey, but they have made it clear that they want to keep all the good things that they found in the original film while still shooting the next film into its own stratosphere of action, while still staying within the same universe. At this stage, we have no idea if the movie will once again have something to do with the New York maximum security penitentiary Snake escapes in the end. The overall deal of the new movie has yet to be revealed, but it seems we could be getting some good news about this near-future world full of Molotov cocktails, a high crime rate, and the Manhattan Island Prison.
RELATED: Wyatt Russell Receiving Death Threats For John Walker Captain America
For most fans, it's difficult to imagine anyone else but Russell as Snake. It's the same feeling as if there was a new Rambo who wasn't named Sylvester Stallone—it'd be weird. That being said, there is a solution for the Escape from New York reboot that makes a lot of sense and won't rock the applecart too much: cast Wyatt Russell as Snake Plissken.
At 35, Wyatt is only five years older than his father was when he appeared in Escape from New York. More importantly, he's a dead ringer for his father in terms of both looks and on-screen presence—something that hasn't gone unnoticed. Many fans commented on how much Wyatt sounded and acted like his father in The Falcon and the Winter Soldier. Some even joked that Kurt had done the ADR for his son here!
While Wyatt isn't quite in the mega-star category that his father was, he has been making a name for himself in the movie biz since his hockey career was cut short in 2010. He hasn't relied on his family's recognised name and influence, choosing to carve his own path and show off his action credentials in the likes of Overlord and The Falcon and the Winter Soldier.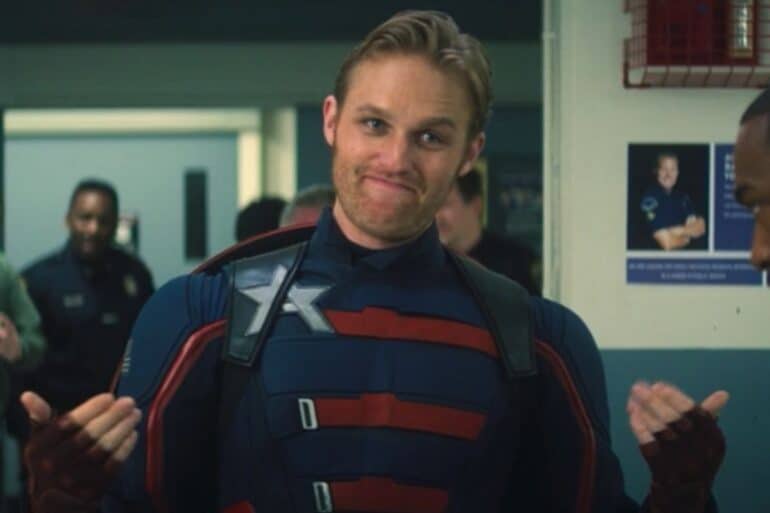 "[Mother, Goldie Hawn, and father, Kurt Russell] did a really good job of making us understand that what you get is earned, not given, and that there's reward in earning it," Wyatt told the Off Camera podcast, reaffirming that he believes he needs to prove himself as an actor.
He might not need to prove anything in Escape from New York, though, since he already has experience with the franchise, having an uncredited cameo as an orphan in 1996's Escape from L.A., the sequel to the first film (not to be mistaken with Big Trouble in Little China). Snake Plissken was a role that defined his father's career, and history could repeat itself here. As much as he might try to do things his own way, he could very well be the best person to carry on the legacy now.
RELATED: Marvel's Thunderbolts: Is This Really The MCU's Suicide Squad Rip-Off?
Tell us, do you think Wyatt Russell would make a good Snake Plissken in an Escape from New York reboot?