The teaser trailer for the upcoming superhero team-up film, The Marvels, just dropped; there is much to unpack. Not only do we get to see an interesting development between the main characters' powers, but we also see some old and new faces. Set to release in November 2023, this film will serve as Carol Danvers' fifth official appearance in the Marvel Cinematic Universe. Not only that, but this film will also serve as the official sequel to her debut film from 2019, Captain Marvel. Of course, this is an exciting development as she won't be going it alone this time around and will welcome two other members to create a team. Even better is how a good majority of the cast seems to be women.
RELATED: Has The Marvels Trailer Stunted Its Chances Before It Even Airs?
This is another exciting development for the MCU, as there has yet to be an all-female superhero team-up film. Furthermore, characters we have only seen in the extended universe will finally make their way onto the big screen. A great example of this is Kamala Khan's Ms Marvel, who seemingly has the power to switch places with Monica Rambeau and Carol Danvers. Set to be directed by Nia DaCosta (who directed the 2021 horror film Candyman), the film will undoubtedly be a great addition to the MCU. So, without further ado, let's look at the trailer and unpack the possible upcoming plot points.
What's Up with Kamala Khan's Superpowers?
It is no secret that the Disney+ show, Ms Marvel, changed several aspects of the comic book within the mini-series. For one, her primary ability is bending cosmic energy to her will. And looking at how it is being utilised in the upcoming film, this makes sense. The teaser trailer's opening scene shows Monica Rambeau at the S.A.B.E.R Space Station with Nicky Fury. She is an astronaut suit about to touch an energy beam in space. Upon doing so, she is pushed back, and we see that it is now Kamala in the suit instead, meaning the two switched places.
From here, Carol emerges from the closet in what we can assume to be Kamala's room, and Monica ends up on a random planet where she must fight a group of attacking enemies. What we can take away from this is that the trio had a three-way body switch, implying that Kamala's powers are connected to Carol and Monica's, and the blue portal we see Monica touching may have something to do with it.
RELATED: Captain Marvel Cameo In Ms Marvel Has Dark Implications
Nick Fury and Monica Rambeau Pay Kamala a Visit
Another interesting aspect of the trailer is Nick and Monica showing up at Kamala's doorstep. Of course, she is excited to see them, and judging from her knowing demeanour, she was expecting them to show up. There is already a mess in the house when Monica explains that their powers might be entangled, but this could be for several reasons. The most plausible is the small scene while Monica explains that her powers allow her to control life energy. We see someone pushing a weapon into her chest, and the struggle seems to be happening inside Kamala's house. From here, we see Kamala try and activate her powers again, and Carol Danvers appears in her kitchen while she disappears. Of course, everyone in the room is as confused as the audience because this has not happened before.
RELATED: Has Jonathan Majors' Kang Been Recast in the Marvel Universe?
Where Does Kamala Get Transported to Instead?
Now, this is one of the more exciting aspects of the teaser trailer as we see Kamala land in a strange hallway next to an orange cat. And, of course, that cat is none other than Flerken, who quickly takes out the attacking soldiers. We first see Flerken in the first Captain Marvel (2019) film, and it seems the feline creature is friendly towards the young hero, but this may not be the case in the movie. It is difficult to gauge whether Flerken is being friendly when attacking others and not focused on Kamala. But on that note, a short scene after this reveals a bunch of cats running down some stairs. Of course, this can mean one of two things: either someone loves cats, or we will be seeing way more of the fluffy aliens in this film.
RELATED: 17 Marvel Avengers Ranked From Weakest To Strongest
Who Are the Antagonists for The Marvels Film?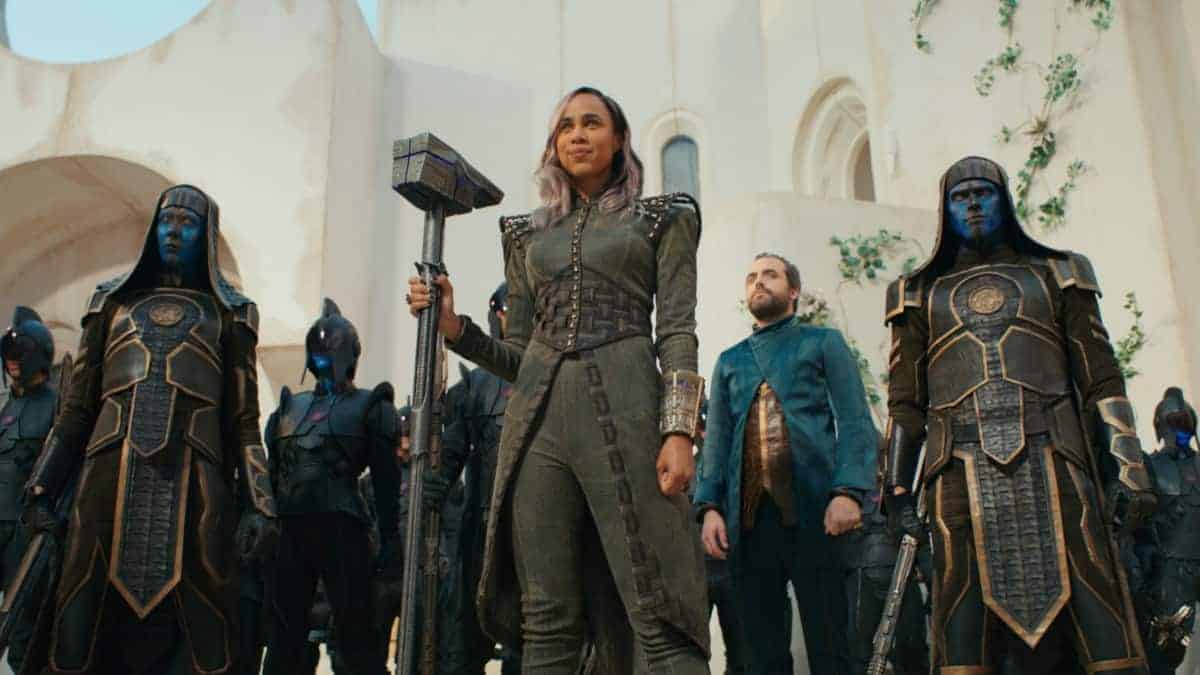 For the trailer, there are a few other events that occur. For one, we see the trio on a spaceship which lands in a city. Of course, we can assume this is not Earth from the small glimpse we get of Zawe Ashton's character. The actress has been confirmed to play the villain in the movie, and the 'cast' tab on Google has listed her as playing Ael-Dan. The trailer did not provide further clarity on that but did give us a glimpse of the epic fight between Zawe's character and Carol, Kamala, and Monica. In fact, we see the trio utilising their body-switching abilities creatively to take on the villain. And judging from Zawe taking on all three of them, she must be extremely powerful.
Looking at Zawe's attire in one of the final scenes from the teaser trailer and the character she is listed to play, it is safe to assume she is a Kree General. It would make the most sense with her holding a similar hammer to the one Ronan the Accuser had when taking on the Guardians of the Galaxy. Furthermore, we also get a glimpse of the actor, Park Seo-Joon. A quick Google search reveals that he will be a character named Yan D' Aladna in the upcoming film. From what we know about this character from the comics, he is the prince of Aladna. However, how Aladna and Kree are connected is yet to be revealed in the film.
RELATED: Who has the Best Costume in the Marvel Cinematic Universe?
How Will Zawe Ashton Play General Ael-Dan?
This is a plausible question as Ael-Dan is a male character in the Marvel comics. First appearing in 1991 in Silver Surfer #53, General Ael-Dan and Dar-Benn, another Kree, overthrew Clumsy Foulup, the Kree Emperor, and then ruled for a short time. There have been many theories surrounding the version of the General that Zawe will play. For example, some say she will play a loose variant of the character, while others believe she may be a completely different character altogether. The latter believes she is playing Dar-Benn instead, but this would be a strange writing decision. However, it is possible that Zawe will be playing a combination of both of these characters.
Are you excited to see Marvel's first all-female superhero film?