Okay, let's get three things out of the way. Firstly, if you're not a fan of Star Trek: Deep Space Nine – or Star Trek in general – then What We Left Behind: Looking Back At Star Trek: Deep Space Nine is unlikely to be worth your time. It's unlikely to inspire you to watch the show, and since so much of it will only make sense to those who know it already then it's probably not for you. This is clearly aimed at the fans.
Secondly, for those fans who are expecting a typical documentary, forget it. Sure, there are some talking heads with the cast and crew, all peppering the production with their fascinating anecdotes and opinions. There are the expected brief clips of old interviews with the private and notoriously complex lead actor Avery Brooks too. But a typical documentary? No. The introduction, featuring a spoof lounge musical number sung by Rom actor Max Grodenchik, followed by a friendly reminder from Andrew Robinson (who played Garak) that the stories we're about to hear are opinions, not fact, but are still somehow true… well, that kind of sets the tone for everything that follows. The presentation of this is rather different from a standard documentary.
Thirdly, this is incredible.
Star Trek: Deep Space Nine was a groundbreaking show, not just for the Star Trek franchise but also for television shows in general. Fully embracing Star Trek's vision of true diversity, the seven-season show became an episodic series which explored the lives of the titular space station's crew through in-depth storytelling. It also covered the darker side of life in Star Trek's universe, as the Federation went to war. But while it gained critical success, mainstream popularity didn't come as easily but it gained a following over time. Now, 25 years later, the cast and crew look back on the show's history and attempt to make sense of the show's success and failure… as well as offer a glimpse at a potential future…
Right off the bat, the actors get a chance to read some of the more scathing comments dished out by critics and fans when the show first started – and some of those comments are downright toxic. It's like they're being slapped in the face. But the actors, led in their charge by the show's writer/producer Ira Steven Behr, take a stand and address them head-on. Like Behr, the show never backed down from a fight. It's clear that everyone involved is proud of the work they did over the years, and they'll fight for it. When they got it wrong, they concede that they screwed up; when they got it right, they don't bask in glory but rather take solace in its quality.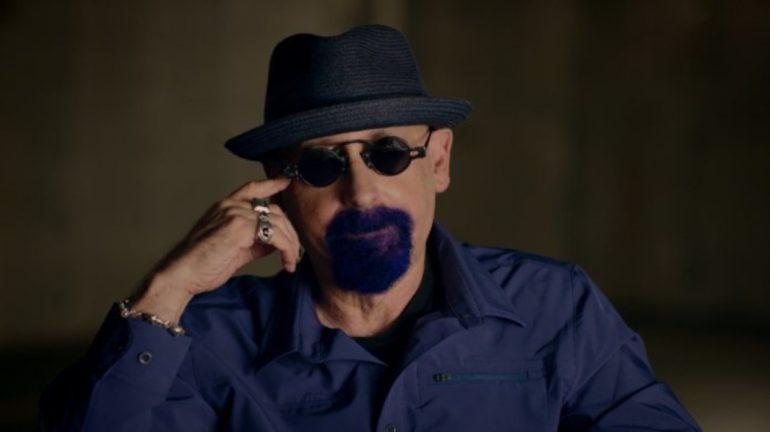 The individual interviews are enlightening about what was going on behind the scenes, while their group ones show the camaraderie they still share. There's lots to talk about too, including disputes with the studio over several key issues. However, it's the heartbreaking story of how Terry Farrell left the show unceremoniously after season 6 which causes the most tension. For years there have been conflicting reports of whether she was forced off the show or left by choice, and exactly whose decision it was, and this documentary delivers both sides of the story… as well as more than a few tears.
Meanwhile, other cast members debate their own personal issues, occasionally letting their personal grudges come forth, and offer contradictory viewpoints which seem confusing. But, as the show itself once pointed out, it's all true, even the lies… especially the lies. Because everybody sees things differently.
Meanwhile, the crew go from discussing the various production factors and problems to holding a writers room meeting regarding what they would do if the show had an eighth season. As ideas get bounced around, fans can see the ultimate fan-fiction scenario played out through pre-vis animatics. It's a story which comes straight from the show's creators themselves. What they offer is bold, imaginative and astonishing. It's also the best Star Trek production in the last decade – and it isn't even real!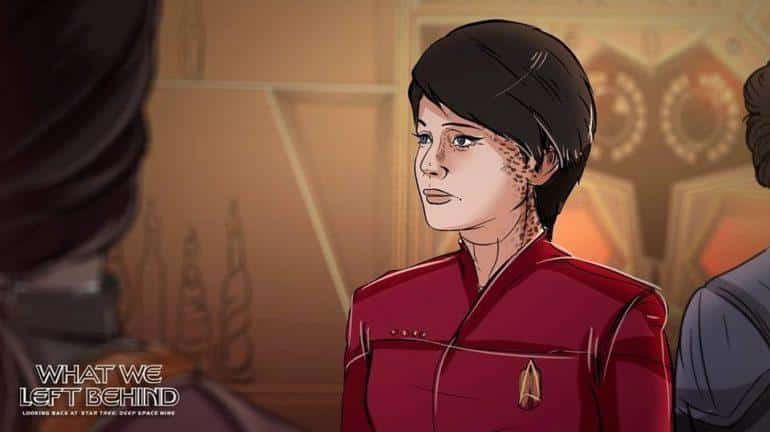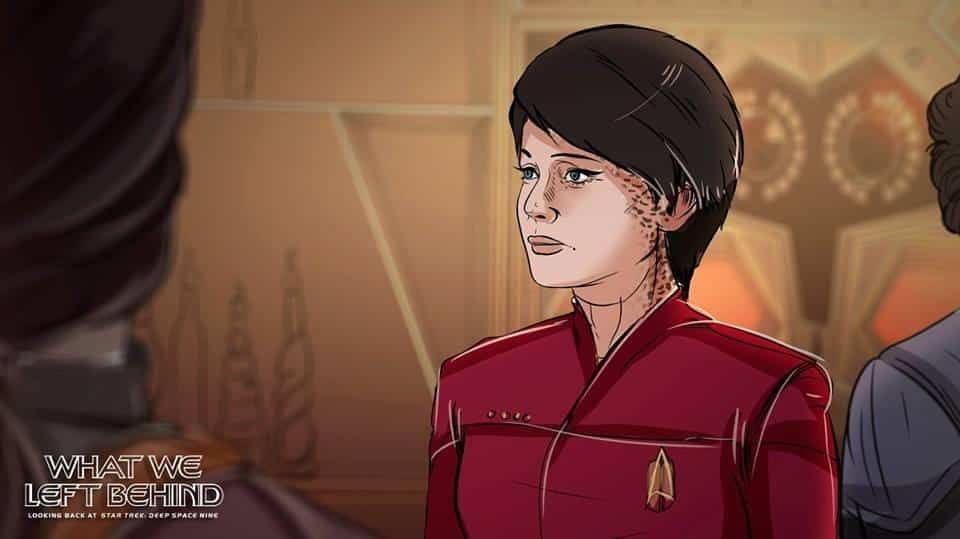 It's when What We Left Behind: Looking Back At Star Trek: Deep Space Nine shows how groundbreaking Deep Space Nine was that it really hits home though. There's plenty of discussion about the show tackling issues like racism, religion, terrorism, homelessness, the harsh realities of war, single parenthood and so much more. In that regard, the show appears even more relevant to today's world than it did in the 1990s. Yet Behr openly accepts that they didn't push the envelope as much as they could have, in particular with regards to sexual identity.
Oh, and they've managed to remaster the footage from the show itself, allowing it to look brighter on screen, more striking and far more polished than fans have ever seen before. DS9 had good visuals in its day anyway, but the extra zing is instantly noticeable and it looks fantastic!
Sadly, this documentary doesn't cover everything. It can't, given the allotted time. They playfully address that in the end credits with a list of "But what about..?" complaints. But to tell the story, in fact all their stories about every story, would be impossible; instead we've just got to accept what we're given. Thankfully, what they've given us here is an absolute gift that should be enjoyed and appreciated by all fans.
If nothing else, this proves once again why Deep Space Nine was arguably Star Trek's best generation.
The Review
What We Left Behind: Looking Back at Star Trek: Deep Space Nine
A fascinating look at Star Trek's best generation. A must-see documentary for Deep Space 9 fans.