Those darn lawmen are on your tail. You knew you shouldn't have tried your luck with that last bank. Now you are on the run with a pack of law-abiding do-gooders tracking you down. What do you do now? This is just one of the scenarios you might experience in Kolossal Game's Western Legends, a board game all about being the best (or worst) you can be in the Wild untamed West.
Western Legends is one of the most varied board games I've played in recent memory and offers players so much freedom that, at times, it can seem a bit daunting. However, it's in this freedom where the game's beauty lies.
What's in the box?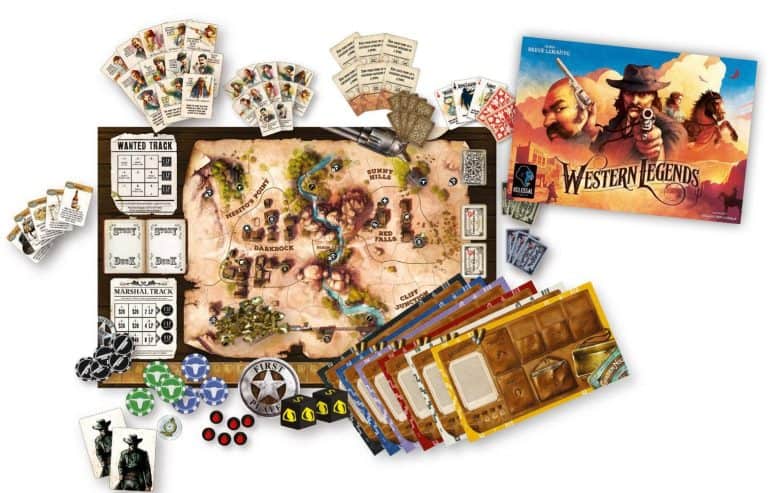 As with most open-world sandbox board games, the Western Legends box comes packed with all kinds of tokens, markers and minis. A lot of care and attention went into the components and even the box for the game.
First off, the minis are nicely detailed and would look amazing with a nice coat of paint.
Then there are the cards themselves. These are adorned with some wild west inspired art. It's very minimalistic but fits perfectly with the theme. The game also uses a mechanic where your hand of cards have multiple uses. One would think that this would result in cluttered cards with a load of stats on them, but on the contrary, Western Legends' cards are clean, uncluttered and easy to understand. The cards also have a linen finish to them which makes them a joy to handle.
Then there are the plastic, wooden and cardboard tokens. These are all that you would expect from a high-quality board game with the little plastic gold nuggets being my personal favourite.

Everything in Western Legends revolves around immersing the players fully in the theme. From the wooden texture printed cardboard insert to the detailed player boards, and even the buildable cardboard General Store, it is clear that a lot of love and effort went into the game's components.
How do you play it?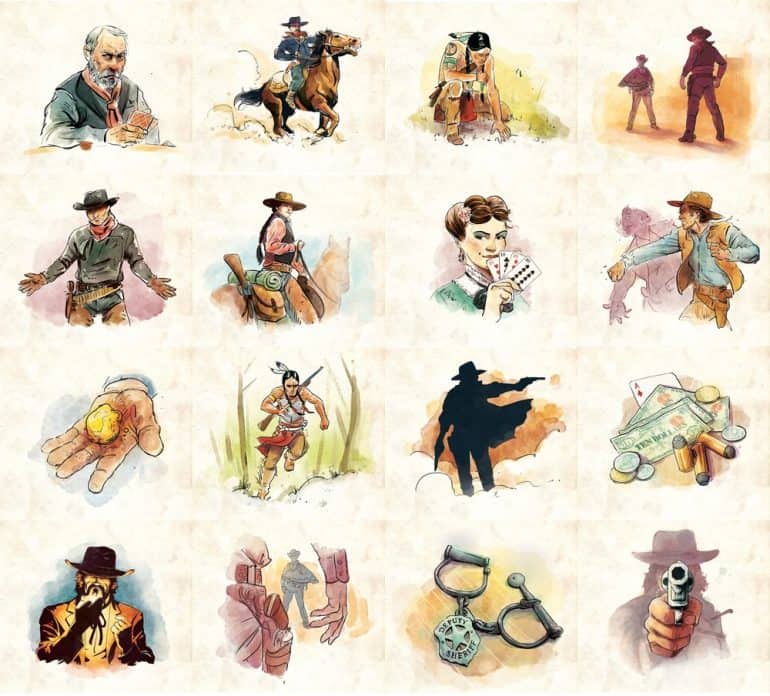 In Western Legends, you and your fellow players are tasked with becoming the most legendary cowboy (or cowgirl) there ever was by earning Legendary points. This might sound straight forward but there are so many ways in which to achieve this.

You can decide to become a lawman and hunt down outlaws or even fellow players that have decided to take on a life of crime. Should this not tickle your fancy, you can decide to rob a bank or two — just be careful of the roaming sheriffs. Should both of these options seem too confrontational to you, players can decide to wrangle cattle or even just mine the hills outside of town for some gold. How you decide to achieve Legendary status is completely up to you.

Players begin the game by drafting two character cards and choosing one they would like to keep. These characters include some very famous Western Legends such as Annie Oakley and Doc Holiday. Each character comes with a few objectives to complete. These are all optional, but help guide new players in a certain direction so they don't feel too overwhelmed with all the choices.
Each of these named characters starts with several pre-determined conditions. For example, Billy the Kid starts as a wanted man, while Doc Holiday has pockets full of cash and one wound. These all act as guides for players but, as mentioned, how you decide to proceed is completely up to you.

Players each can spend three actions per turn. I found myself continually having to weigh up all my options. You can use these actions to explore the map, gain some cash, and advance up the Wanted or Marshal track by undertaking some of the tasks on offer. The choices are numerous.

As for your deck of cards, every aspect of Western Legends is handled with these. You use them during gunfights, in which the highest card wins. You can use them for playing poker in town. They allow you to perform certain actions or even react to situations. It might sound confusing but the system is so elegantly implemented that it never feels puzzling.
There are also other cards (such as items) in Western Legends that can affect how your main hand of cards functions. For instance, they could give you some extra actions or give you a leg up in combat. How you string these together can result in some very impressive combos.

Even though the game offers players a vast amount of choices, you don't need to do them all to stand a chance to win. You can quietly mine on the outskirts of town while the other players try to arrest each other — or you can spend your time playing poker in town. Each of these offers players a chance to win the game on their terms.

The player who reaches the set amount of Legendary points first (20, 25 or 30 depending on how long you want to play) is declared the most Legendary player and wins the game.
What did we think of Western Legends?
The problem with most open-world sandbox board games is that they tend to be either overwhelming, have too many intricate rules to learn or just have mechanics that don't always work well together. This is not the case for Western Legends.

It is important to note, however, that although Western Legends scales really well, the more players you have the more interaction there is which helps elevate the game even more. And it does take a few playthroughs to come to grips with. The multi-use card system works a charm and helps streamline the overall gameplay.
There really aren't enough good things I can say about Western Legends. The game is so immersive that even players that I have played with that hate to roleplay were reading the game's text in a western drawl. This is one of the game's strongest aspects; getting players to feel like part of the world it is trying to create.
For more information on this and many other board games, visit solarpop.co.za.
The Review
Western Legends
If you love the Wild West, sandbox board games, or even just love games with a strong theme, you should absolutely get Western Legends.
PROS
Multi-uses card mechanic
The theme
A multitude of ways in which to approach the game
So many options and choices
CONS
Some might feel overwhelmed by the game's open-endedness
Review Breakdown
Gameplay

0%

Components

0%

Complexity vs Depth

0%

Theme

0%