There has been no shortage of Marvel live-action comic book adaptations, both on the big screen and small screen, in recent years. Ranging from the Cinematic Universe to some of the other questionable franchise visions, like Inhumans and Iron Fist, the comic book giant has managed to dominate the entertainment industry for the last ten years. The newest kid on the block, Marvel's Runaways, is a port of the beloved comic book series of the same name by Brian K. Vaughan and Adrian Alphona, but with a sparkling new twist. From the creators of popular teen dramas like The OC and Gossip Girl, the 10-episode super-heroic show, which was originally intended as a film, focuses on the everyday (and not so everyday) problems of being a teenager in the modern world of social media and parental angst. What's more, unlike the comic book, the show's creators have decided to delve a little deeper and focus on the parents' side of the story too. Watch now »
What's it about?
Imagine Stranger Things, The Breakfast Club, Gossip Girl and the X-Men all neatly rolled into a single show. That's how the show's creators, Josh Schwartz and Stephanie Savage, describe it. Unlike other Marvel TV shows that have focused solely on the titular superhero saving his or her city, Runaways, which has an 82% critics score and a 90% audience score on Rotten Tomatoes, promises to be something different by leaving the capes and masks behind. Instead, set in contemporary Los Angeles (posh neighbourhoods and beaches), it tells the coming-of-age story of ordinary teens (well, some of them are not so ordinary) who discover that their parents are baddies who are part of an Illuminati-like group that sacrifice humans. "Everyone thinks their parents are evil. What if yours really were?"
Runaways features a staggering cast of 16 series regulars, each with their own set of problems. The complex teens, however, take centre stage. Expect lots of sarcasm, emotions, romance, angst, awkward teen stuff and, of course, heroic behaviour. Alex (Rhenzy Feliz) is the highly intelligent leader of the group. Molly (Allegra Acosta) is an orphan who discovers that she has superhuman strength. Gert (Ariela Barer) is a sarcastic feminist who discovers that she has a telepathic link with her genetically engineered dinosaur named Old Lace. Karolina (Virginia Gardner) is a blissful church girl, which might only be a veil for her true identity. Chase (Gregg Sulkin) masquerades as a dumb jock but is actually a tech whiz. And, finally, Nico (Lyrica Okano) is the Wiccan goth of the group. The casting of the kids is spot-on and most of the characters look like their comic book counterparts.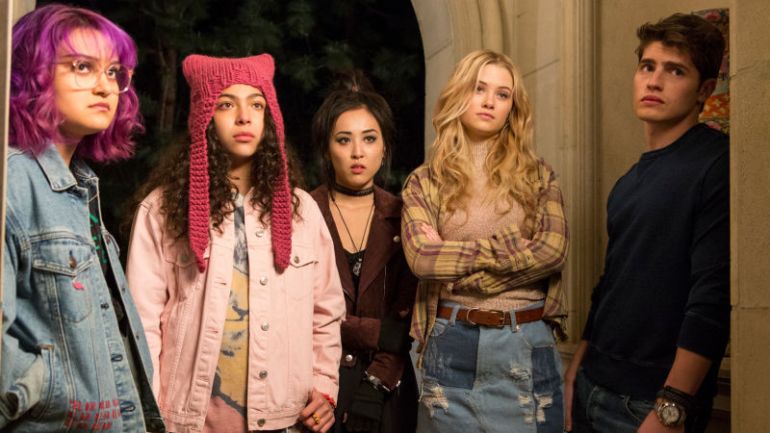 Why you should watch it
The beauty of the show's unique concept is that many teens probably already think of their parents as supervillains who enforce curfews and other tedious rules. However, for this set of teens, that's not merely just a metaphor. Together, they face very dangerous situations that force them to rely on each other and create their own family-of-choice. Beyond that, they also have to deal with surviving high school and all the troubles it brings (this includes serious issues like substance abuse and date rape). Superhero heroics and high school drama have always existed in perfect harmony, both on screen and in the comic books, and it works really well here. After all, sometimes real life is scarier and more difficult than fighting giant mutant creatures from space. Sometimes the real villains are bullies, morally corrupt teachers, bad parents, and your ex-girlfriend.
Also, did I mention the show has a velociraptor? And the CGI delivers.
Binge-watch the complete 10-episode series of Runaways on Showmax in South Africa.