The local comic book scene has seen a steady rise in publications over the years. One such publication, SECTOR, a bi-monthly South African comic book anthology series, has gained popularity amongst local collectors for its original, sci-fi, fantasy artwork and storylines from contributors across the country. The creative team behind Animus: The Cost of War, a comic that will feature in the next edition of SECTOR, sat down to discuss their project with us and share the ins-and-outs of the South African comic book industry.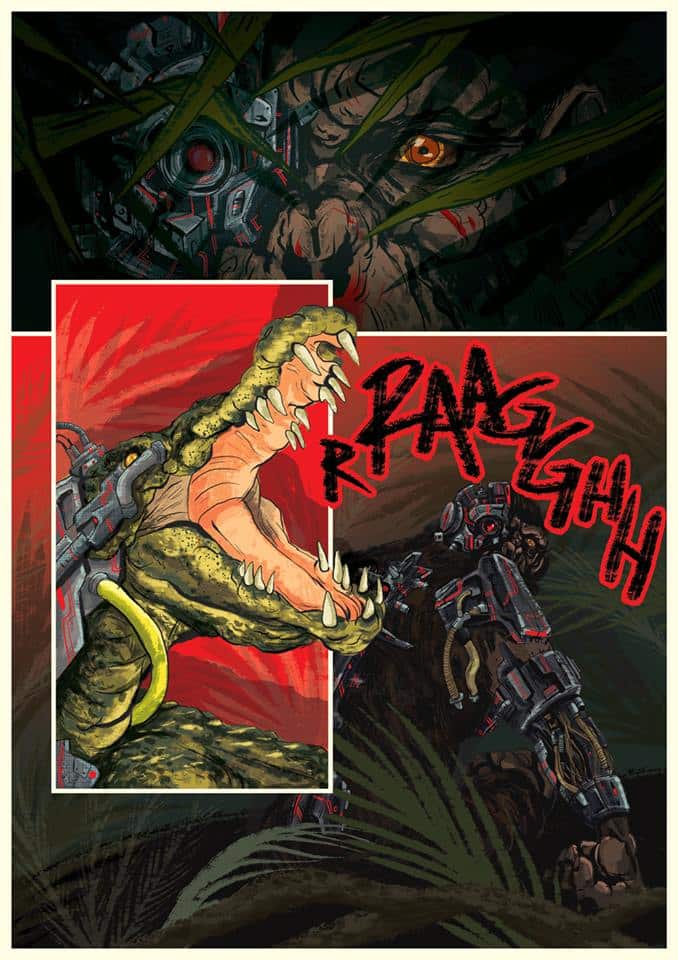 1. How did both of you initially get into making comics?
N: It's just something that I've always wanted to do. Drawing and illustration have been passions of mine for as long as I can remember and I grew up reading comics. I've been creating my own little comics or comic style illustrations for years. So when this opportunity to contribute to a Sector publication came along, I knew I had to give it a shot.
J: I've been making comics ever since I can remember. My earliest diary entries were crude little comic strips of my childhood misadventures. I was privileged to have loads of the stuff around growing up, everything from Archie to Tankgirl, and happily hopped worlds at the turn of a page well into my adolescence. Eventually, after a few years of dabbling in prose and poetry, I decided that it might be a good idea to write a new comic. So I did. It was illustrated by the talented Malcolm Wope and published in Gaining Velocity #2. That was back in 2012. In the years since I've been very fortunate to write pretty much whatever I please with the added benefit of collaborating with some truly gifted artists.
2. How did your collaboration come about?
N: Jayson and I were connected through the guys at Sector. I was really keen to work with a writer and get a sense of the collaborative spirit that comes with making comics. Luckily, Jayson agreed and here we are.
J: I'd just finished co-writing issues 9 & 10 of Uncharted Waters, also appearing in Sector, with Daniel Hugo and Moray Rhoda, and was itching to write a fresh science fiction short when Diorgo Jonkers from SECTOR contacted me asking if I'd be keen to do exactly that. After seeing some of Nena's stunning illustrations I knew the time was right to tell a new story.
3. What was the creative process like for each of you?
N: Well, Jayson kicked everything off with an amazing outline for a story… I believe it was inspired by a dream which is pretty damn cool. For me, the process always starts out with how I want the comic to look and the feeling that style should impart. So after reading Jayson's story, I had some ideas for how I wanted it to look and the mood I wanted to express through the style. I'd been reading Southern Bastards by Jason Latour and Jason Aaron (lots Jason's floating about, come to think of it) and I really loved the hand-made, almost paint-like quality of the comic. I wanted to give a sense of wildness and savagery to The Cost of War so it seemed like the logical choice to go for rough brush strokes and slightly unrefined lines. Then it was a case sketching out each panel, followed by inks, the shading and finally adding in captions.
J: There wasn't really any definitive process, not for me at least. Process denotes method, whereas I tend to keep things fairly organic. After one or two initial conversations with Nena, we found that we share a similar taste in aesthetics and agreed to exchange story concepts. Then one night I had this eerie drearmoured I'd somehow stumbled into a nondescript jungle populated by armoured animals. While in the throes of it, I gradually realized that this dream had potential as a story. I woke up, scribbled the whole thing down and shared it with Nena, and she went about storyboarding the comic based on my synopsis. She'd completed the majority of the final illustrations not long after, only then did I begin to write the captions and dialogue.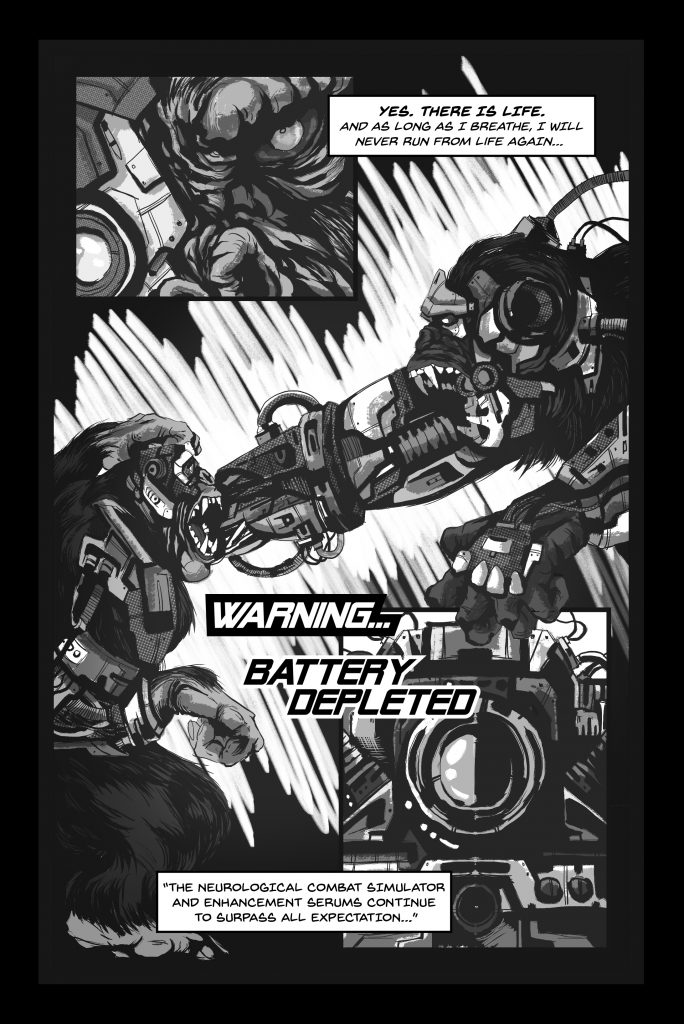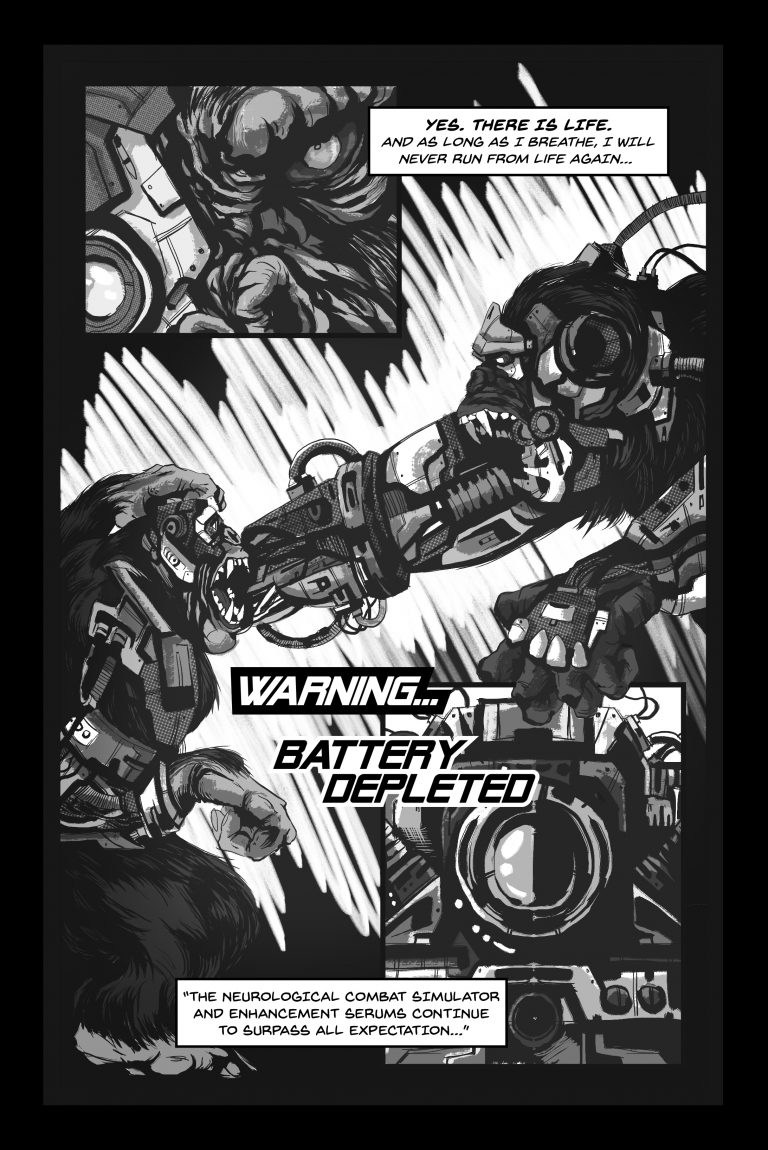 4. Without giving away too much, what can you tell us about Animus: The Cost of War?
N: Broadly speaking, it's a science fiction story. One of the great things about comic books is that it's up to the reader to infer their own meaning and draw their own conclusions. For me, Animus: The Cost of War is about how savagery and an unassailable will to live is built into the very DNA of everything on this planet we call Earth.
J: Well, to be vague for vague's sake, one could call it a science fiction story with a side of cautionary tale. I suppose to me, at its heart, this is a story about survival.
5. How does working on shorter, self-contained stories differ from working on long form, episodic stories?
N: I've never worked on a long-form story before. This short comic was my first proper foray into the comic book creating world. I hope to do more in the future, either in the short story medium or building a full-length episodic work. It's a lot of work but the process is so incredibly fun and rewarding and the sense of achievement from the final product is unreal.
J: Long-form work is usually paced episodically over a duration of issues, so immediately there's more scope, which means there's more planning, which means you'll probably be revisiting themes, characters, locations etc. as the story develops. With self-contained stories, room for development is scarce, this places emphasis on intensity and balance with regard to conveying narrative. As a creator, you're looking to craft a concentrated dive deep into a briefly glimpsed environment to expose and conclude drama. Working on shorter stories at first is a great way to refine your approach and is excellent preparation for undertaking long-form work.
6. What's your take on the South African comic book scene currently?
N: It's in a constant state of growth, both for readers and creators. You can see that in things like the first official Comic Con hitting Africa this year and growing support for local conventions like Fan Con. As South African readers and creators get steadily more exposed to a global comic book culture and have access to comic books, our desire to contribute to the scene increases all the time. There is this wellspring of talented and driven creatives in the country, many of whom have a deep love for comic books. I think the South African comic scene is only going to go from strength to strength and I'm sure we are going to see some incredible work come out of this place in the next few years.
J: The local scene continues to grow. That said it faces familiar challenges. The enduring stigma that comic books are predominantly the baubles of children or latter-day fetish of perverts hasn't dissipated much. It doesn't help that our country's illiteracy rate continues to soar. Also, it's worth investigating whether or not comic books have or can truly permeate South African culture, or if there'll always be an awkward reluctance to embrace a locally unrecognized medium. As for the work itself, progress is being made each year with exciting, diverse new work by interesting new creators popping up more and more often.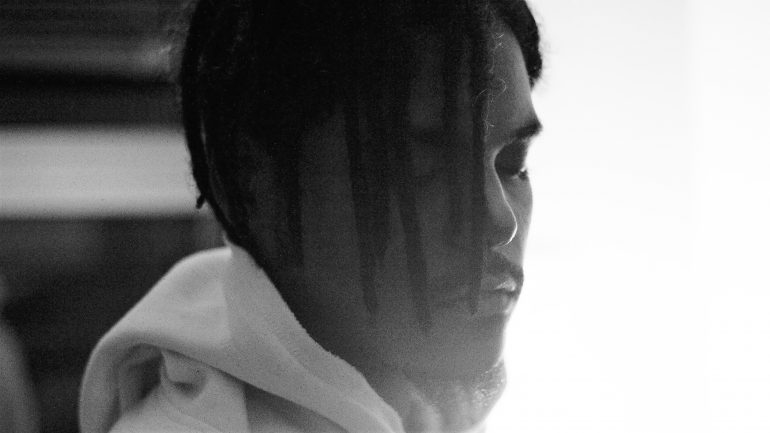 7. How would you describe local imprint SECTOR, in which this story appears?
N: SECTOR is one of those amazing pockets of comic book awesomeness that we have in South Africa. A humble but well-made anthology of really diverse and interesting stories. We don't really have the support or resources of places like the US or Europe in terms of making comic books come to life. So many comics are self-published and made through the hard work and sheer will of a dedicated few. SECTOR goes a long way to encourage newcomers like myself and provides us with a platform to express ourselves. Building that confidence will ultimately spur on local creators to get their work out into the world as well as grow the local scene. So, SECTOR is kind of like Mr Miyagi.
J: Sector is a brilliant and necessary platform for seasoned pros and newcomers alike to flex their skills. If we're ever to cultivate a sustainable outflow of high-quality local comics, then first we'd need to cultivate and nurture the talents creating those stories. One of the most important ways in which creators to improve is seeing their work in print, a priceless opportunity Sector which affords them. It's really the closest thing we have to a professional on-going imprint. Publications like Sector are ideal for beginners to cut their teeth with shorter stories and for more established creators to express their creativity with serialized stories. I look forward to seeing the publication grow from strength to strength in the years to come.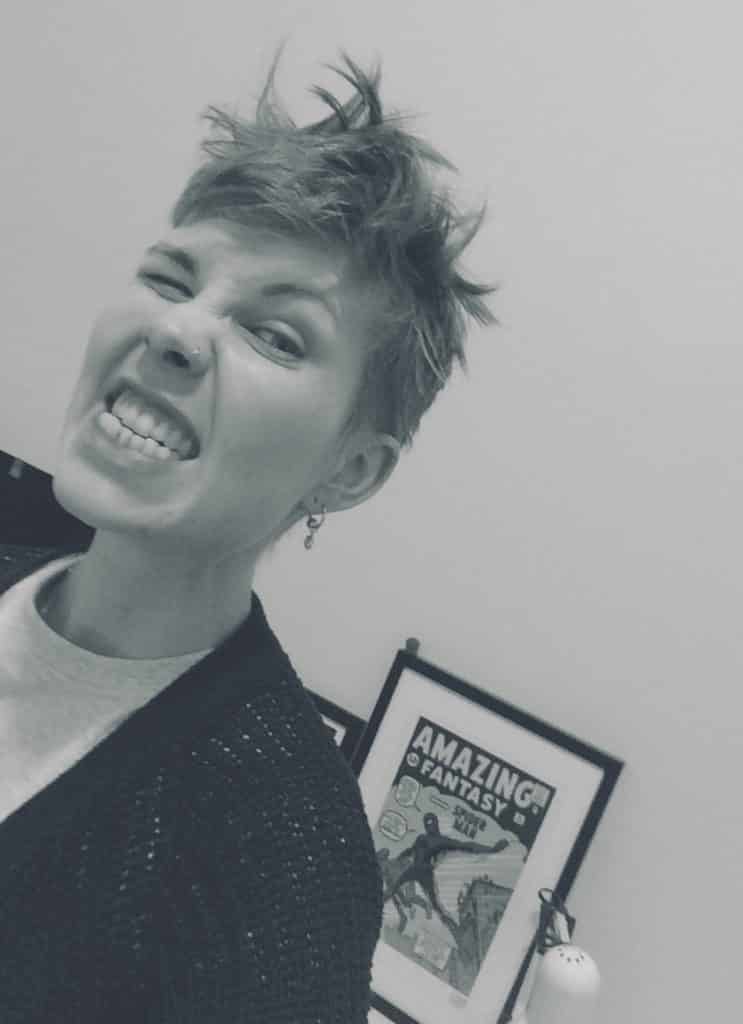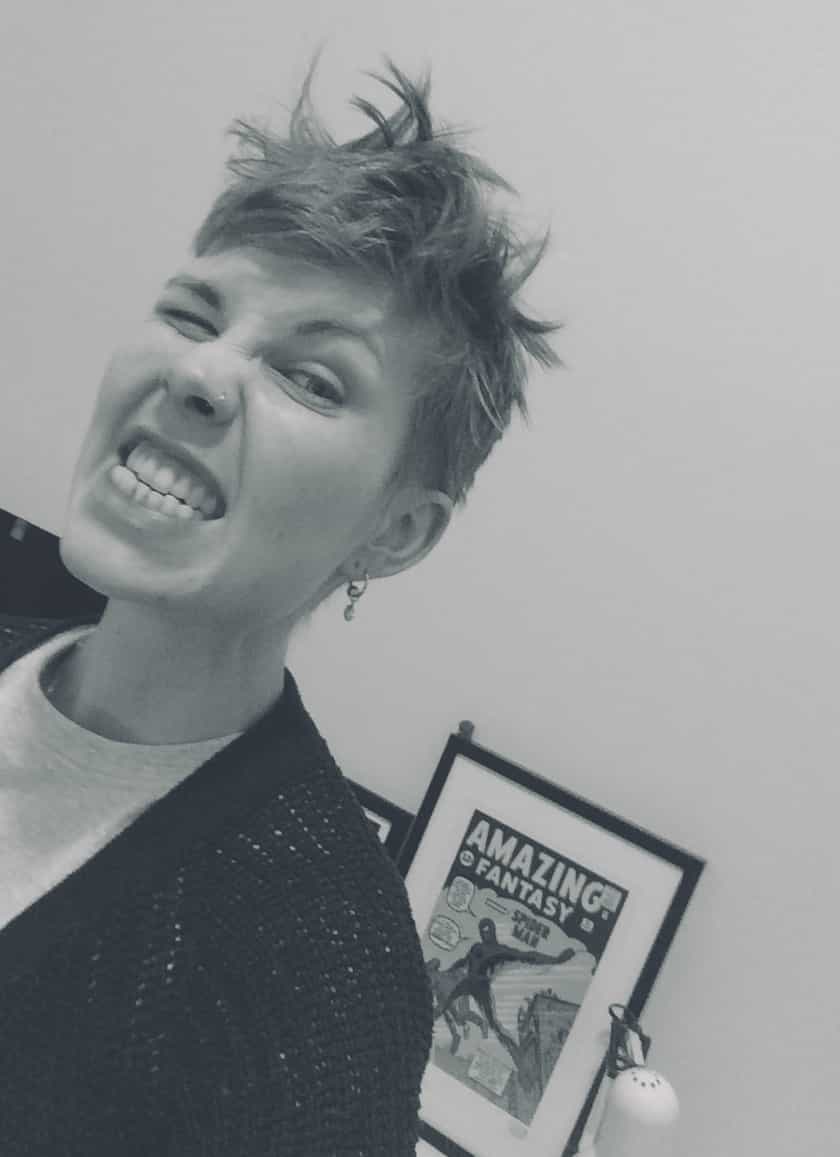 8. Do you two plan on collaborating again in future?
N: Hell yes.
J: Fo' sho'.
Animus: The Cost of War will feature in the next issue of SECTOR.