Having recently received the WD_Black P50 Game Drive 2TB SSD, I was excited to put it through its paces.
As has always been the case, video games take up more and more capacity on our storage drives. Irrespective of your setup, there's always a high probability of eventually running out of capacity, especially when you're an avid gamer.
As it has for close to four decades, Western Digital continues to lead the way when it comes to all things related to storage. In recent years, the company has pushed the NAND flash-based memory to the next level, breaking new ground and released a number of firsts in the industry.
A few weeks back, WD announced the launch of its new WD_Black product range in South Africa. The new range of portal drives were designed with gamers in mind, not simply opening up new storage options and availability, but also pushing for performance gains.
RELATED: WD_Black For PS5 Brings New SSD Storage Speeds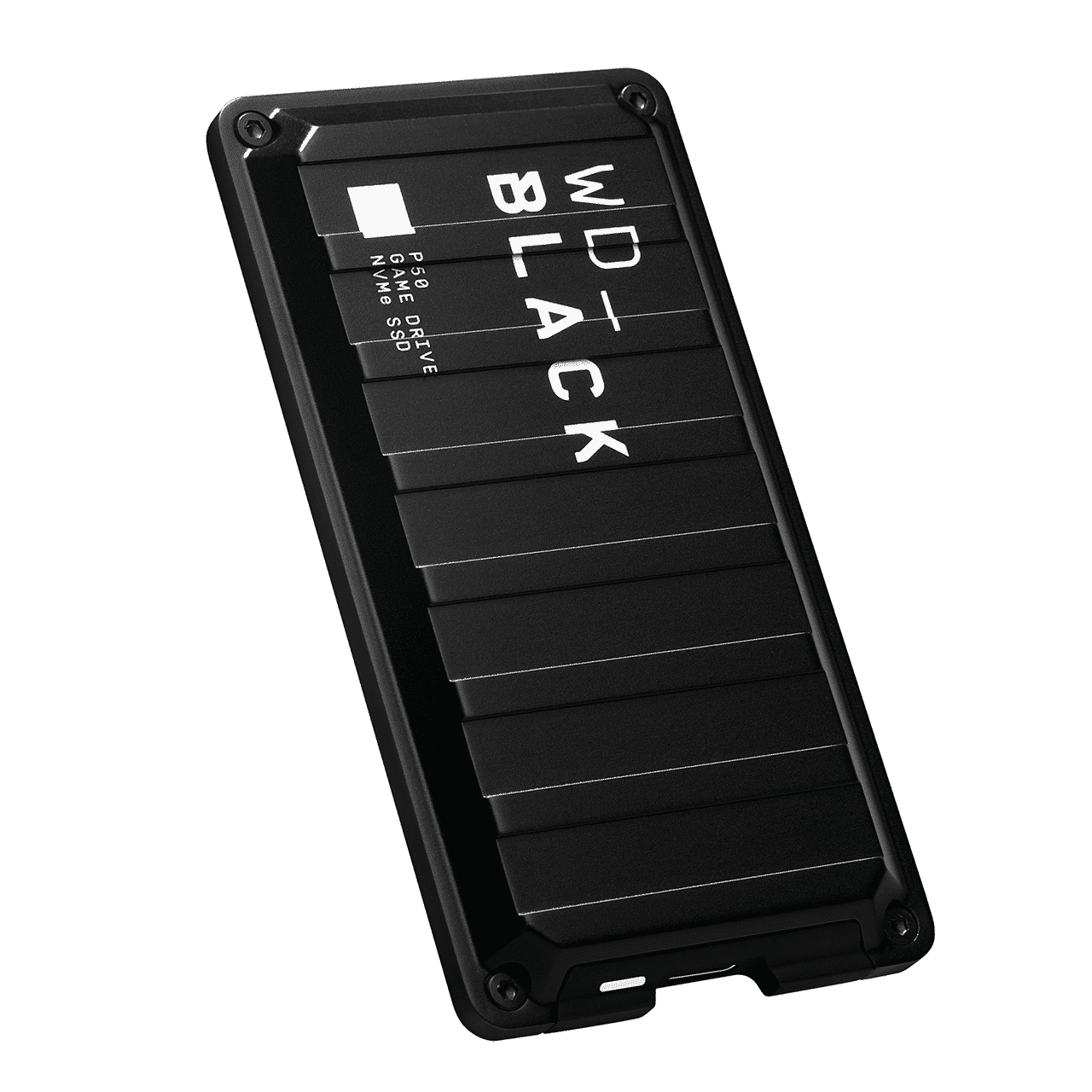 WD_Black P50 Game Drive 2TB SSD Build and Design
Undoubtedly, the first impression of the WD_Black P50 drive is its size. The unit measures just 118x62x14mm, making it extremely compact. It also weighs next to nothing, at just 114g. To put that into perspective, that's about 50g lighter than the Samsung Galaxy S20 and 80g lighter than the Apple iPhone 11 – or 30% and 42% less, respectively. It's smaller and lighter than almost any smartphones ou there, making it extremely portable, small enough to fit in your pocket and forget about it.
More than just being compact, the P50 looks the part to – and so does the rest of the WD_Black series. As with almost all things gaming-related, aesthetics also plays some part, from the disco lights within your gaming rig, to the LEDs on your keyboard, headset and mouse all synced up. The P50 will definitely fit neatly into any glitzy peripherals you may have.
The outer shell is crafted from hardened metallic material with an all-black paint job. On the top, there are raised grooves that resemble that of a shipping container. The edges around the device are exaggerated outward, with the four screws in each of the four corners noticeably on display, too. In contrast to the black finish is the lettering in white, complete with a type of spy-action font.
Switching to the bottom end, there are four rubber feet to raise the unit up ever so slightly, to allow for better ventilation. The ventilation is provided by means of slats to allow air to pass through and keep operating temperatures down.
Only one of the four sides includes any distinction, this to make room for the USB Type-C port (USB 3.2 Gen 2×2), as well as a white LED light to indicate power and activity.
My description of the WD_Black P50 drive doesn't do it any justice. As you can tell from the imagery, the unit is both sleek and good-looking. There is also some functionality in the form of the vents and port, but blends well with the overall design. Anyone would be proud to display the device in their living room or gaming room.
RELATED: WD_Black P10 5TB Review – Bringing Style and Portability to Storage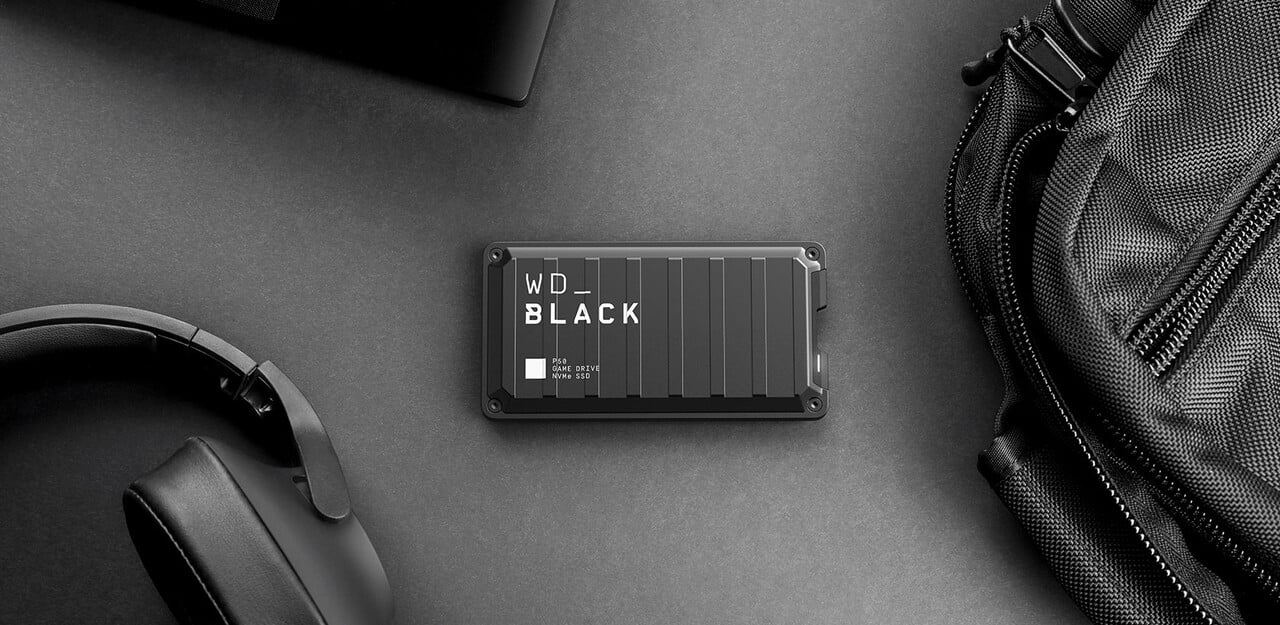 Out the Box
Apart from the drive itself, the only other items within the contents are the two cables, as well as the standard manual. The two cables include a Type-C and a Type-A-to-Type-C. The more standard Type-A-to-Type-C allows users to connect the drive to their PCs as well as their consoles. With the Type-C cable, there's less chance of a transfer bottleneck with potential transfer speeds around 10GB/s, with the standard USB 3.0 and 3.1 ports maxing out at 5GB/s.
The P50 drive is formatted out the box, which means you can simply plug it in and start enjoying the additional capacity it offers. The device is pre-formatted to the exFAT file system, which means that it is capable of operating on PC, console and MAC devices. Personally, I always prefer the NTFS file system, and since the device will only be used for PC gaming, the choice of format was obvious.
It's worth noting that performances between exFAT and NTFS are comparable for smaller and medium-sized files, with the latter outperforming for larger file for both read and write. Where the NTFS has much more significant gains is the search and capacity analysis functions. It also outperforms any other file system for delete operations, but that has zero impact on any gaming performance.
Already having a few other drives, both internal and external, I wouldn't require the use of the P50 for anything but gaming. This means that the 2TB of available storage would be solely for the purposes of migrating the existing game files or the installation of a few more games. Having successfully transferred the installed games, I was still left with well over 1TB of capacity remaining, which meant I could install quite a few more games I may intend to play in the near future within my inventory, while also having more than sufficient remaining capacity for any new games over the next 6 to 12 months. Even at 100GB each (having recently downloaded Microsoft Flight Simulator), I could add 10 more games without breaking a sweat.
RELATED: WD_Black D10 Game Drive 12TB Review – Solid and Reliable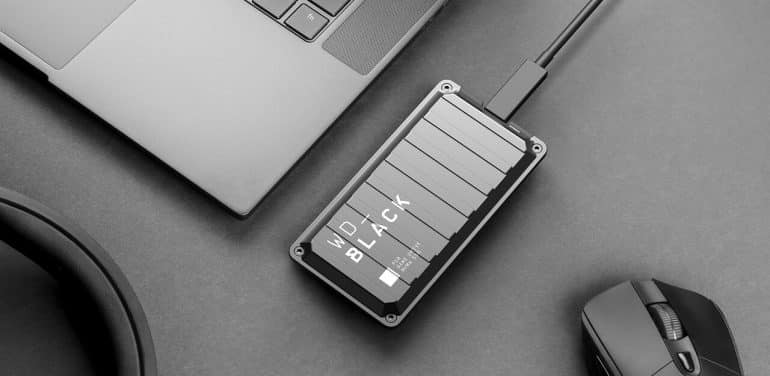 WD_Black P50 Game Drive 2TB SSD Performance
The WD_Black P50 drive is built on the NVMe SSD technology, which not only aids in its reduced size, but also performance gains over the, now standard, SSD. There are three sizing options for this specific product, 500GB, 1TB and 2TB, the latter which we have for review today. Performance is definitely a key marketing draw for the drive, with packaging, brochures and pretty much all campaigns pointing to the 2000MB/s transfer speeds. As previously mentioned, the drive also supports SuperSpeed USB 20GB/s (USB 3.2 Gen 2×2), which is compatible with new gaming components, making it future-proof as well.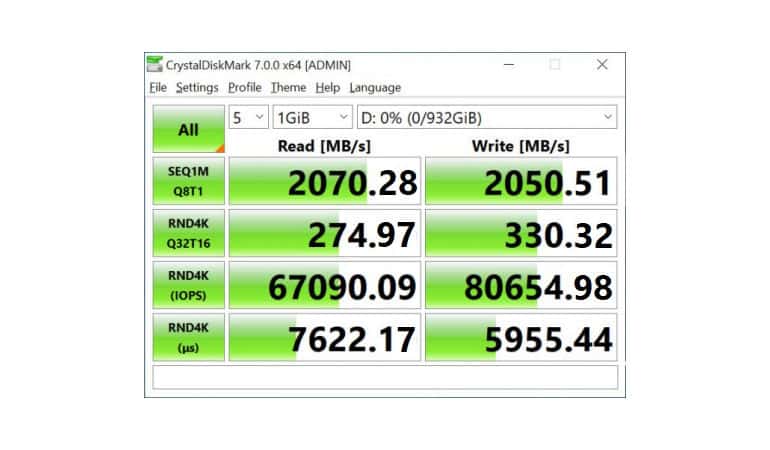 As you can see using the CrystalDiskMark benchmarking tool, the results are pretty much was promised for both read and write speeds, averaging around the 2000MB/s as indicated for the sequential test.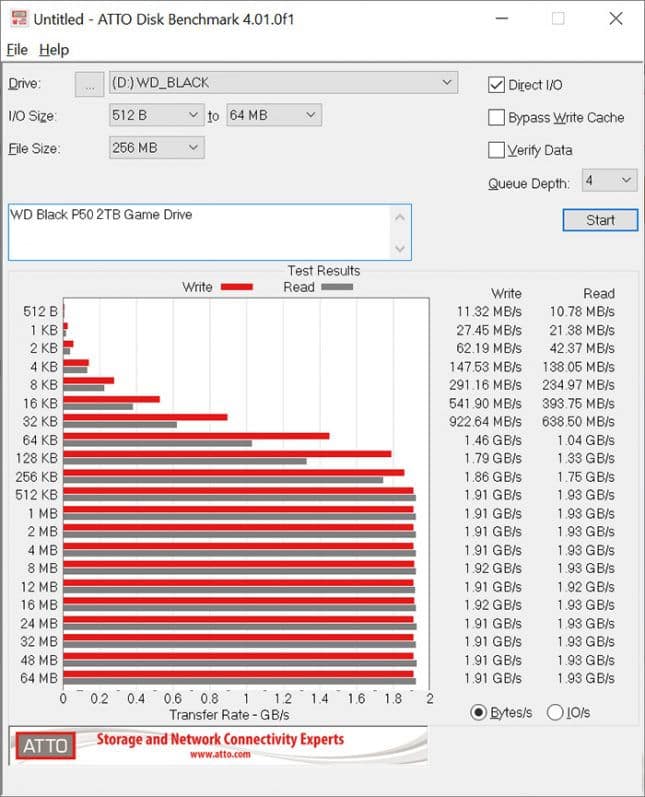 Moving onto the ATTO Disk benchmarking tool, the P50 again showed its capabilities, with transfer speeds reaching above the 1,900MB/s mark.
When it comes to gaming performance, I measured the load times as well as the frame rates, especially in comparison to my existing, internal NVMe SSD, as well as an external SSD. My initial thoughts were that due to the PCIe integration of the internal NVMe drive, it would have a big advantage over P50. Contrary to this belief, with the great read speeds of the P50, there was little to no difference between the two. In comparison, however, the external SSD had significantly longer load screen times, which shows why many gamers don't like to go this route.
Spending some time researching how the P50 drive faired for testing on consoles, it's worth noting that it increased performance (or reduced load times) on both the PS4 and Xbox One native internal drives. This says a lot and goes a long way to actually improving overall performances, sometimes reducing load times by 50%.
During the benchmarking tests, I did notice a slight increase in heat on the drive. I could still handle it without worrying about how hot it was. That said, the unit is rated to perform in temperatures ranging from -20°C to 70°C, with these temps well within these margins. It's also worth pointing out that under all of the gaming scenarios, the unit was cool to touch at all times, as you won't be pushing the device to the max for a continuous runtime as with the benchmark tests.
Additional research also indicated some reviewers having issues during their performance testing, especially using the 20GB/s file transfers, which sometimes crashed or failed to copy completely. I didn't run into any such issues myself. The note from those updates points to motherboard firmware, some of which needed to be updated to fix the issue and support the new requirements. It's worth noting that not all motherboards will include firmware updates to support next-generation USB features (especially older models). Also, using the 10GB/s option may decrease performance by roughly 20-30%, which is what consoles are limited to in any case, but still sees an increase in performance.
Conclusion
Even if you already have an internal NVMe SSD, the option to increase your storage capacity without a reduction in performance makes it a really great alternative. And, if you're going to be using the device for your console, there will be a definite increase in performance with the reduction of loading times. All of that and the WD_Black P50 Game Drive 2TB SSD still manages to fit in your pocket, while also looking great alongside any other décor.
Pricing for the P50 varies based on storage capacity, with 500GB, 1TB and 2TB options priced at R3,899, R6,150 and R11,099, respectively. The drives may be priced slightly higher than the average external drive, but given that it's one of the best, if not the best, gaming drive available on the market, price to value is justified. The drives also carry with it a 36-month warranty.
The Review
WD_BLACK P50 Game Drive 2TB SSD
The WD_Black P50 Game Drive 2TB SSD is an extremely impressive unit. It offers great speeds and delivers on all its promises.
PROS
Extremely fast external drive
Great-looking build
Very compact
CONS
Best results require modern motherboards and updated firmware
Review Breakdown
Ease of Learning

0%

Ease of Use

0%

Design

0%

Performance

0%

Enjoyment

0%

Value for Money

0%