Warner Bros. is just a few days away from launching their first-ever kid-friendly virtual convention, DC Kids FanDome. The event serves as an opening act to the second day of DC's grown-up 24-hour virtual showcase, Explore the Multiverse.
Much like the main event, Kids FanDome promises to bring young fans loads of content from movies to cartoons, to comics and games.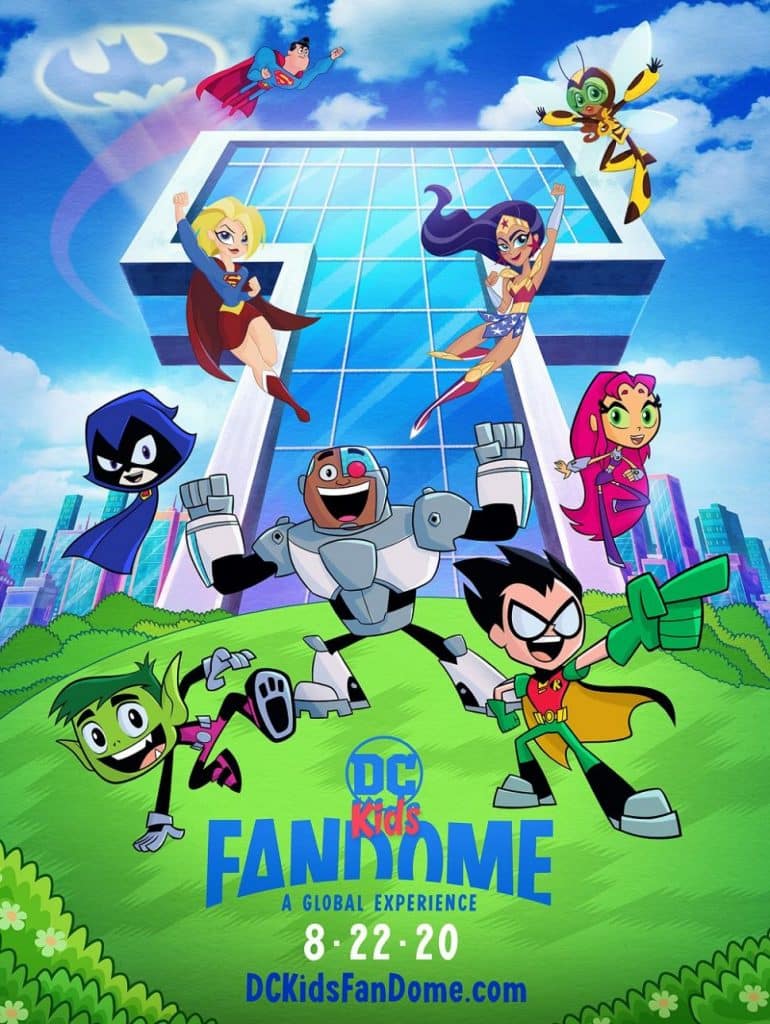 There are also some amazing advantages to a virtual, kid-centric showcase. There's no need for badges, long lines or parental supervision because all the content can be safely accessed through the event's own website – DCKidsFanDome.com.
Additionally, the entire experience will be available across all mobile platforms, as well as traditional computers. The festivities kick off at 10:00 PDT (19:00 CAT) and is accessible on-demand for 24 hours.
Here's a detailed look at some of the content every little superhero-in-training can look forward to…
Teen Titans Go! Cast Table Read and Panel
Join the cast of Teen Titans Go! For a table read, Q&A session, and more.
In this segment you can catch different versions of Batman in conversation with each other.
See what happens when a retired Bruce Wayne calls up Terry (you know, Batman Beyond) to watch a crazy clip from the old live action TV show, Batman.
LEGO fans will love watching brick artist, Nathan Sawaya create the Batmobile, Beast Boy, Bumblebee and Robin out of LEGO.
DC Kids Show's very own Jett gives fans a crash course on everything you ever wanted to know about Batman's many amazing Batsuits.
See what makes Batman and Robin the ultimate crime fighting duo.
Take a look at why The Joker such a worthy villainous adversary.
Visit the history of Robin.
Get a detailed look at Batman's awesome vehicles.
Sing along to your favorite tunes like Cool School and Eye On The Prize from Teen Titans Go! and DC Super Hero Girls.
Read along with recording artists, like Jack Dylan Grazer, Asher Angel, and Jenny Lorenzo as they read from popular books like Shazam Showdown, Becoming Shazam!, and Be A Star Wonder Woman.
We all love comic books, but do you know how they are made? Find out all there is to know from Nandi and Jett from DC Kids Show. Pro comic book writer and illustrator, Kirk Scroggs is also on hand to teach you the tricks of the trade.
Jim Lee and other DC animators and artists show you how to draw your favorite characters.
Learn how to make some of the coolest DC-themed origami gear.
Join DC's Super Hero Girls as they welcome an awesome visitor. Check out Batgirl Bab's Vlog and see Jessica Cruz's new video column for the school newspaper.
Get in shape with the Teen Titans as they share some of their favorite workouts and the benefits of eating your vegetables.
Check out the trailer for DC Kids FanDome below…