The remastered edition of much-beloved RTS classic Warcraft 3 should have and could have been a love letter to long-time fans, while also attracting a newer generation as a bonus. However, it is instead a cynical demonstration of what developers will do to add just a few more dollars to their bottom line.
While the 2002 original received universal acclaim, at this time of writing, Warcraft 3: Reforged sits with the lowest ever user score on Metacritic for a major video game release (which is 0.5). Even once you filter out the obvious trolls, it is demonstrably clear that people are unhappy, and in my opinion, they have plenty of reason to be. You see, the core of Warcraft 3: Reforged is still the great game it was nearly two decades ago, but very little has been added to improve upon it, while much has been done or taken away to make it worse. And that is simply disappointing.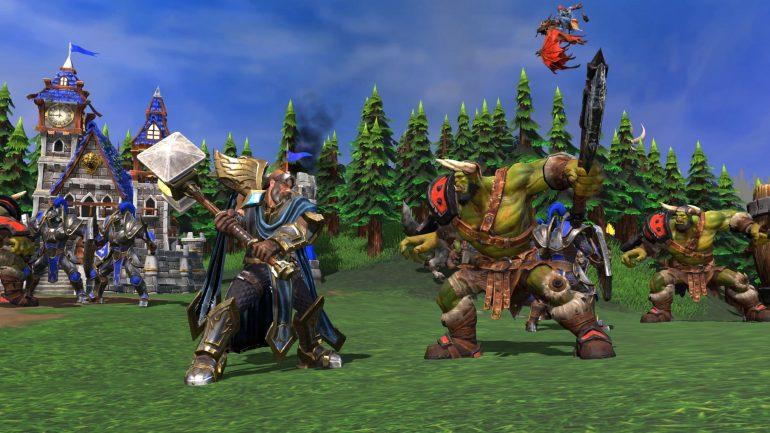 Let's review what made the original title so enticing. Warcraft 3 was a real-time strategy (RTS) game that bridged the gap between the RTS's of old, and the more hero-focused DOTA-style games of the future. It had an exciting and memorable storyline and characters, with seven campaigns across the base game and expansion. All four of its playable factions were balanced well, and were distinct to play, creating an environment perfectly suited for extended PvP games after the campaign was concluded. And extended they were, as even until this release, the online player-base for Warcraft 3 remained reasonably stable.
But all of that pales in comparison to the custom map scene. Warcraft 3 was released with a versatile map maker tool, which over time diligent fans mastered to the extent that the game had a thriving custom map and custom campaign creation scene, one that eclipsed even the original game in many ways. It was the absolute pinnacle of user-created content within an existing game, and the range of creative modding may very well never be matched ever again in any title. It was within this feature that the nucleus of the entire MOBA genre was forged, leading to DOTA 2 and League of Legends. Tower Defense games were popularized because of these custom maps, as well as countless others. Although there was a lot of trash maps made as well, finding a genuinely good one always added another level of depth to the Warcraft 3 base.
And here's what Reforged has done with this legacy, the sum total of what it has meaningfully done to improve the game after 18 years: the in-game models look a bit better. Not even a lot better, not even pushing what modern technology can do, they are just a bit better. You can even toggle the graphics to resemble the older version, but they still look a little off in some ways. The game in fact does not look even as good as Blizzard's own pre-release material from 2018. As Erik Kain noted in his coverage of Reforged, compare this video to this one. This $40 release is a glorified HD texture pack.
But that's not all dear reader – let's look at how they've made the existing game worse. Firstly, there are far too many bugs, glitches, and crashes occurring to justify it as a AAA game at launch. It's at a Bethesda level at this stage. Secondly, there have been multiple instances of connection issues that affect users trying to play online, which you would have thought would be a priority for a heavily multiplayer-focused game. Thirdly, the game is missing features that were in Warcraft 3 in 2002 on day one, such as Clans, Ladders, Profiles, and most glaringly of all, custom campaigns. Yes, the glory days of custom campaigns are now gone, it seems. Finally, the most obvious quality of life improvements that were missing in the original, and which could easily have been added here, (larger custom unit groups, number indications for groups, etc.) have not even been attempted.
Most egregiously, what most people were likely drawn to in this title, the updated map-maker tool, has also been made worse. Yes, the actual functioning of it is more intuitive, but it has been ruined in other ways. You see, Blizzard never really got over the fact that something invented entirely by fans on its software (DOTA) would not actually go on to profit them, and they have asserted themselves rather more powerfully over this release in their new End-User Agreement. Now, not only does Blizzard explicitly claim IP rights to everything you make on the new map tool, they also claim the right to remove any custom game at their pleasure. This means that the renaissance of custom game creation that people were hoping for, the wellspring of creativity that spawned entire genres, has been stifled before it could even be released, because Blizzard didn't want to miss the chance to profit off of whatever people made by themselves.
"Bah" you exclaim "I just won't buy Warcraft 3: Reforged then. I'll just play the classic game I've owned for years." Well, just go ahead and try. You won't actually be able to play the same classic Warcraft 3 game that was present even a week ago. For even if you own the original, it will be updated to use the same new servers, which come with all the aforementioned glitches and bad functionality, and if you have bought the Reforged title, your game will automatically be updated so that you have to use the new client, no matter what. The original Warcraft 3 title is no longer (legally) playable as it was.
Warcraft 3: Reforged had so much potential for Blizzard to score some much-needed goodwill after a turbulent couple of years, but it seems that in their modern-day arrogance, it has all backfired on them again. Creating a remastered version of this game should have been a slam-dunk, easy-peasy bit of fan-service, if only some real care and effort had been put in. And while this game is still a good game at its core, you have to ignore that the 2002 title existed, which I'm afraid I can't do.
The Review
Warcraft 3: Reforged
If you have never played Warcraft 3, this title is still worth playing, but part of me really doesn't want to recommend giving Blizzard money as a reward for the low effort they've put in here. In some categories in its score here, this game will earn a high result, but I want to emphasize that this is only because of what the team in 2002 released, and nothing meaningfully good was added by the 2020 team.
PROS
Improved textures
Some QOL improvements in map editor
CONS
Glaring technical issues
Nerfed custom map creation
Lack of new features and removal of old features
Review Breakdown
Storyline

0%

Gameplay

0%

Graphics

0%

Replay Value

0%

Sound and Music

0%