The MCU is back, and it's really cookin' with gas! After plenty of hype, Marvel's WandaVision has finally arrived. And the good news is… it's good! In fact, it's exactly as fascinating and rewarding to watch as fans could have hoped for.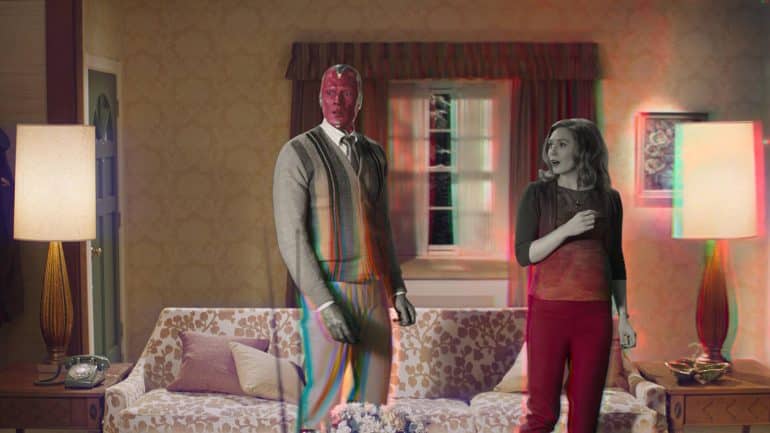 WandaVision Episode 1 & 2
Just two episodes in, and it's already displaying the sort of artistic creativity more commonly seen in Legion or Doom Patrol, rather than your standard Marvel film. The bad news is… uh, strangely, exactly the same as the good news. Go figure. That's because if viewers aren't prepared to spend time investing in this show which is a bit more off-beat… well, it's easy to imagine some impatient people ditching this show after just a single episode. Not that they should, because they'd be missing out; but it's still a risk.
Also, in a complaint which echoes some for The Mandalorian, the episode lengths are short. Really, really short. Seriously, the first episode clocks in at a paltry 21 minutes (when stripped of the credits). However, the running time makes perfect sense here in terms of both mirroring the length of sitcoms of the time, as well as ensuring that each episode tightly covers a very specific period of TV history.
Yes, it's disappointing to see how short these are, but it's also justifiable and precisely edited… which isn't to say viewers still won't wish for a whole lot more than they're getting.
So basically the two real negatives for WandaVision episode 1 and 2 are… positives. Just pretend that makes sense.
In fact, the only real reason why this review doesn't give a higher rating is that it'll take more episodes to determine if the show's going in the right direction. But, for now, it's safe to say that these are well worth watching.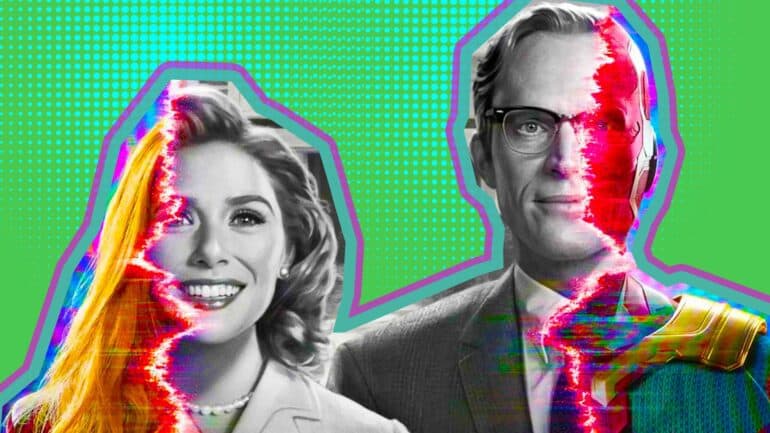 Welcome to the suburb of Westview!
There's a new couple in town: a pair of newlyweds known as Wanda and Vision. What the neighbours (and Vision's colleagues at work) don't know though is that this wacky husband and wife are – uh-oh! – hiding a big secret! He's really an android, and she's a witch! So prepare for the big tickle, because you'll flip your lid when you see the crazy shenanigans these hip cats get up to…
But since when did reality become a sitcom?
For the Avengers known as the Scarlet Witch and Vision, their reality is a vintage black-and-white world of sitcom TV and laugh tracks. Yet even TV shows evolve, and changing times mean different formats to adapt to… or escape from.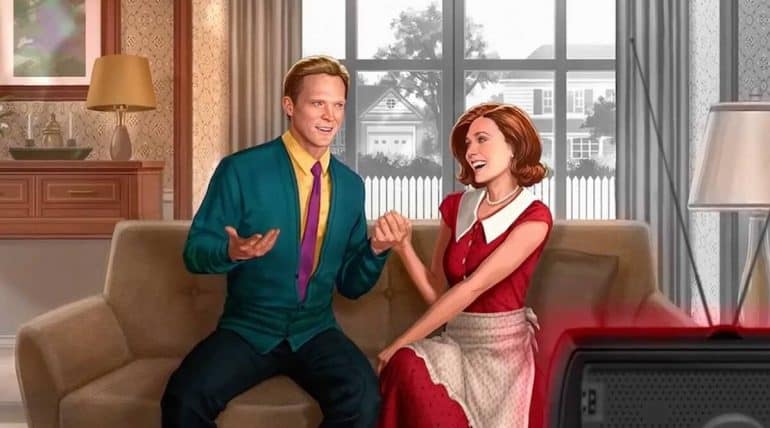 Episode 1 serves as an introduction to WandaVision's world, playing it straight as an old-fashioned period sitcom. On initial appearance it's understated, and deliberately more amusing than actually ha-ha funny. Don't be fooled by the disguised elegance at play though, and, by the end, there's enough sucker-punch moments to instil the audience with a fair amount of dread.
Episode 2 of WandaVision kicks things into a higher gear, with its sitcom nature being broader and its story being a bit deeper. It offers a whole lot more laugh-out-loud moments, but in perfect proportion to the weirdness and sneaky details for viewers to ponder. It's also here where director Matt Shakman's stylish directing starts to score, evoking memories of Gary Ross's Pleasantville. It's clear that the show is leading to something big, and we're just following the trail of breadcrumbs… or red-crumbs.
Episode 1 and 2 of WandaVision manages to replicate the feel of various classics without making its multiple variations of reality mere copies; there's a whole lot more substance to them than there first appears, becoming increasingly visually striking while displaying a playfully irreverent tone – even when shifting towards mystery and horror.
Elizabeth Olsen is an absolute delight as Wanda, while Paul Bettany gets to unleash his gift of comedy timing as Vision. As great as it is to see the MCU branching out in some unusual directions, it's even more rewarding to see its first Phase 4 entry highlighting characters who fans never got to appreciate. And while Kathryn Hahn is predictably wicked-funny here, it's That '70s Show's Debra Jo Rupp who steals the first episode in the most chilling way imaginable.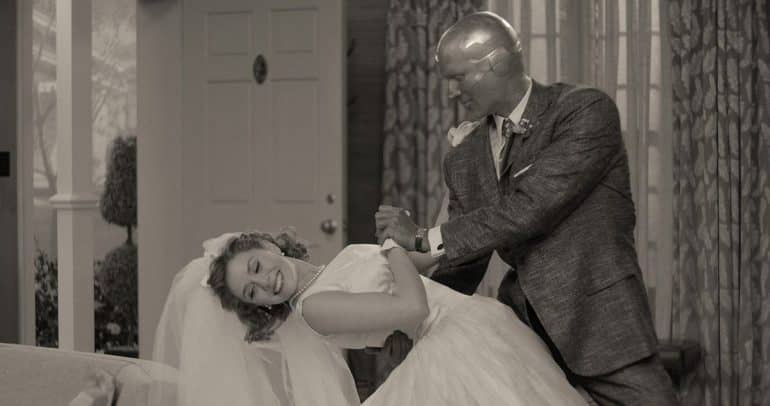 As Marvel Studios first production for Disney+, episode 1 and 2 of WandaVision is already setting a high bar though and hopefully will continue to impress. It'll be interesting to see where this series goes, as well as the impact it has on the big picture given how Agents of SHIELD was treated.
WandaVision episodes 1 and 2 go like gangbusters, and if you're looking for something quirky from the MCU then this should be just what's needed.
WandaVision Episode 3
In episode 3 of WandaVision, Wanda and Vision's journey through sitcom realities sees them in the world of the 1970s, where every comment deserves a laugh track and every home has an astroturf lawn. It's a time for celebration too, now that Wanda's pregnant. But is Vision ready to be a father? He'd better be, because her pregnancy is happening at super-speed!
To make matters worse, their doctor is going away on vacation and Wanda gets a visit from Geraldine… and a pesky stork, thanks to Wanda's hex powers! As Wanda and Vision desperately try to keep their identities a secret and pretend that everything is normal, their neighbours have their own suspicions. Meanwhile, the harsh reality of their situation becomes apparent…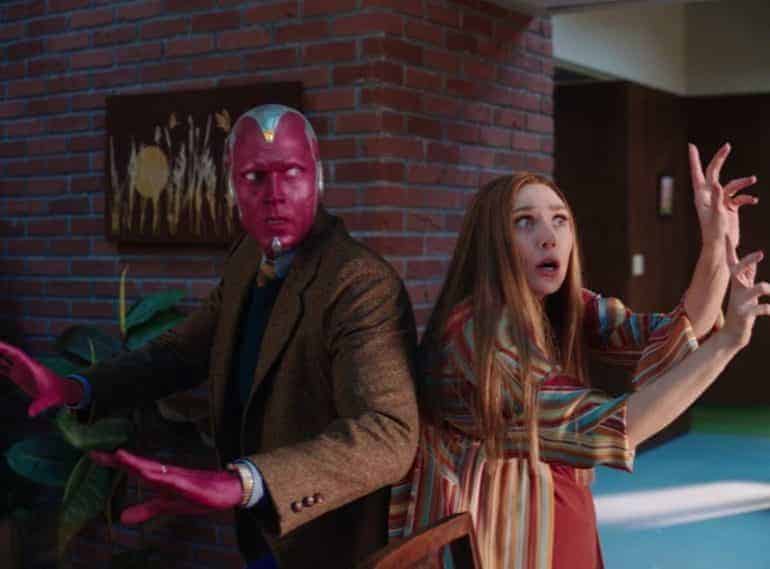 Does anybody remember a few years ago when all the Marvel actors sang a song called "The Marvel Bunch" to the classic tune of The Brady Bunch?
If you haven't seen it, go and watch it on YouTube because it's lots of fun. It's also proof of how iconic a show like 1970s sitcom The Brady Bunch truly is. A show from another time, The Brady Bunch was bright, colourful, and chock-full of endless optimism and wholesomeness. Depicting an unnatural, almost dream-like idealized suburban world, it wasn't actually particularly funny – but it was truly memorable.
Given that show's track record, it isn't surprising to see it blatantly referenced here in episode 3 of WandaVision too.
It's also the Brady's saccharine-sweet world of artificial perfection which allows WandaVision's more terrifying crashes of reality to truly pop; the contrast is so blatant that the sudden shifts are impossible to ignore. Much like the first episode's unnerving dinner scene, when the comedy stops it becomes deadly serious and the tone transforms from Brady Bunch to Elm Street 6 smoothly.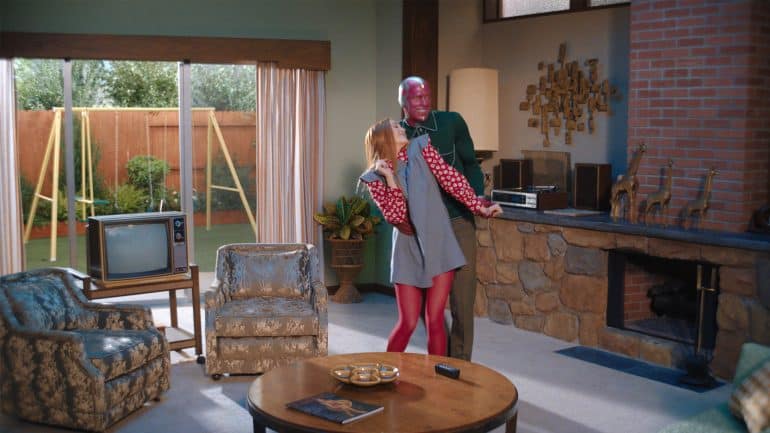 Visually it's stunning, with every false painted backdrop, colour scheme and phony set looking as obvious and cheesy it should. If there's one complaint it's that the film looks almost too clean, although there are some neat format tricks so it's a trade-off. Meanwhile, the performances are absolutely perfect and the chemistry between Olsen and Bettany is fantastic – making you wonder just why they were so underdeveloped in the MCU until now.
Whether it'll suit everybody though, that's another matter. While the episode's payoff is worth sticking around for, it's likely that there are still some who will cringe at the groan-worthy pun-heavy comedy shenanigans of most of the episode. It may mirror the source material just a little too closely.
At the end of the day though, it's still the sense of mystery which outweighs any of the comedy, and, in that regard, it's as fascinating and fun to watch as it is to try and solve.
By this stage, just about everybody who's watching the show seems to have their own theories about what's happening and have analyzed every little detail. From the deeper meaning behind every episode's symbolic commercial break to spotting every minuscule detail and noticing ties to various comics (and other MCU productions) over the years, this show has quickly become the Marvel Studios equivalent of another classic: Twin Peaks.
Of course, that aspect of it isn't going to last forever… but it's fun to enjoy it while it lasts.
With each episode there's more information being drip-fed to the audience, revealing the big picture and making it easier to piece together the puzzle. It's been a long time since the MCU felt so interactive, not just presenting a story to the viewers but actually engaging with them in a way that feels fresh and rewards those who pay attention.
Episode 3 of WandaVision brings colour to the world, and a whole lot more with it too. This show continues to move forward in increasingly wondrous ways, and it's going to be interesting seeing what comes next. If you're not watching this, you may be missing out on a future classic.
WandaVision Episode 4
For anybody who's been fooled into dismissing the relevance of WandaVision in MCU's Phase 4, prepare to be schooled in Episode 4. While Avengers: Endgame heralded the return of half the universe's population after three years like a charging cavalry of superheroes, and Spider-Man: Far From Home approached this "Blip" in a lighthearted manner as a comedic inconvenience, the MCU has generally shied away from the ugly truth of the event's consequences.
Until now. And that truth, even on a small, personal scale is terrifying.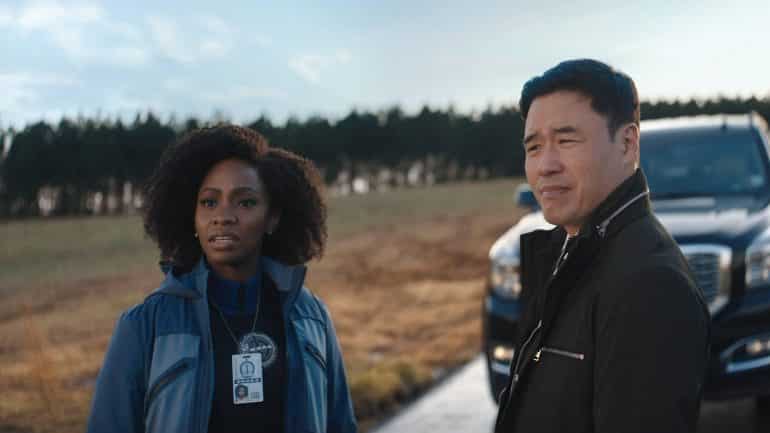 As a child, Monica Rambeau helped her mother's friend Carol Danvers embrace her existence as Captain Marvel. Her mother went on to found SWORD, and when Monica was older she became one of that organization's top agents. But all the success in the world couldn't prevent her mom from developing cancer, nor could it stop Monica from being one of the countless people who disappeared when Thanos snapped his fingers.
Then the Avengers – and a host of other heroes – helped bring her, and everyone else, back.
Struggling to adapt to the world she now finds herself in, Monica rejoins SWORD and is assigned a missing person case. Meeting up with FBI agent Jimmy Woo, she learns that the last known location of the person is a small suburban town called Westview – a town which doesn't actually exist…
Witnessing Monica Rambeau's return in episode 4 of WandaVision, and her subsequent struggle to adjust to the changes which have happened over the three years of her absence, is one of the most fascinating moments in Marvel's cinematic timeline so far. It's also a captivating re-introduction to her character, despite all of her previous appearances up to this stage. Gone is the girl who picked Captain Marvel's colour scheme; now a strong independent woman, she's hopefully got a bright future ahead of her and we may be witnessing the origin of a new MCU superhero.
Episode 4 of WandaVision does a brilliant job of mapping out the events which led to Monica's arrival in Westview and the world of WandaVision. Playing out like a sci-fi detective procedural like The X-Files or Fringe before heading into Agents of SHIELD territory, it's a perfectly-timed break from the sitcom/horror shenanigans of the show up until now and does a good job explaining many questions that viewers may have.
Helping to reinforce the Marvel element to it is the returning Jimmy Woo (from the Ant-Man films) and the hilarious Darcy Lewis (from the Thor films). Jimmy is still the undervalued everyman, proving to be a great foil for both Monica's no-nonsense professionalism and Darcy's unorthodox, playful nature. Darcy, meanwhile, is the ideal choice to provide commentary on Wanda's sitcom universe – lending the episode a wry, show-within-a-show reaction video format at times.
Thankfully, as great as each of this episode's three main characters are, none of them steal the spotlight from the story itself.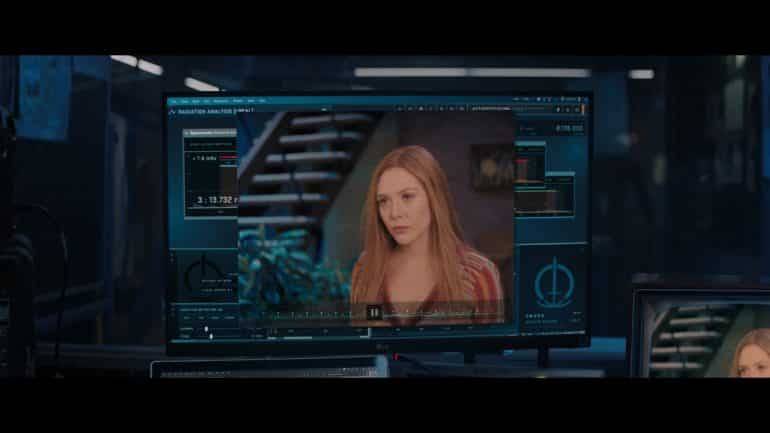 At times there's a tendency for the dialogue to go riding off into the land of technobabble, while some elements are so self-explanatory or obvious to fans (or anybody paying attention) that it seems pointless for the episode to waste time dwelling on them; however, it's good for both aspects to be played out. Neither may not be entirely necessary, but both help to ground the events of the series and add some perspective to what's gone before. That isn't to say that there aren't a few clumsy moments, but by that same standard there's always something going on that's worth paying attention to.
Not to mention a few Easter eggs and hidden clues to the mystery.
Part backstory and part exposition piece, We Interrupt This Program pulls off quite the magic trick. It's a much-needed breather for the series, propelling the plot forwards by explaining how they've laid the foundations for it. Much like the rest of WandaVision so far, it's unlike anything else they've ever done before and it's great to see this show working outside the (hexagonal) box.
It may be short, but episode 4 of WandaVision is an excellent instalment of a show which is already looking like a complete winner. It may be an unconventional episode, but there's plenty to recommend and almost nothing to complain about. It makes you wonder what Darcy would have to say about that…
WandaVision Episode 5
WandaVision Episode 5 really is a very special episode. But… why? And what does it mean?
This episode's title is based on sitcoms where some episodes occasionally would deal with… well, with the tougher subjects that usually wouldn't be covered. Primarily aimed at younger viewers struggling to understand them, their topics included suicide, racism, drug addiction, gun violence, teen pregnancy, alcoholism, and a whole lot more. These "VSE"s could come across as preachy, but they were full of good intentions; the lessons conveyed were important, even if the topics made for some incredibly uncomfortable, unfunny moments in the perfect, pristine sitcom worlds.
Awkward.
So it's a masterstroke of storytelling for WandaVision to exploit this concept, and the timing of this particular episode couldn't be any more perfect. In fact, everything about Episode 5 of WandaVision is designed to feel a bit off-kilter.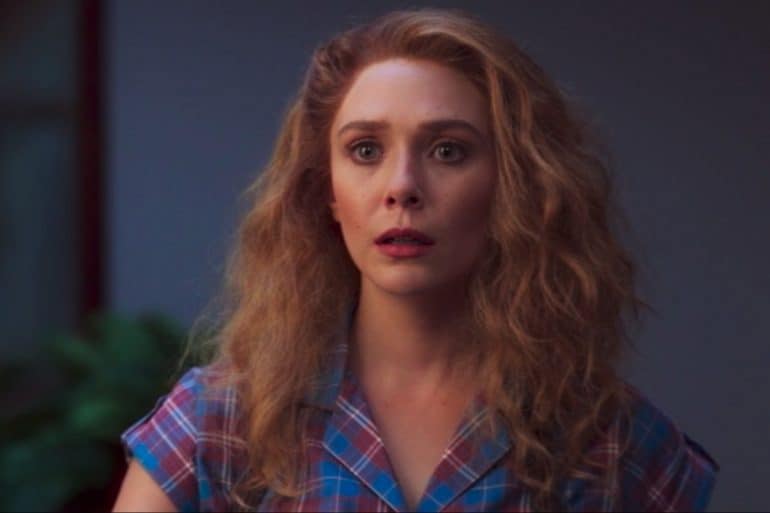 Some lessons in life have to be learned the hard way.
Kids grow up so fast, especially when they're Wanda and Vision's twin boys Tommy and Billy! One moment they're crying babies, and the next they're adopting a little lost dog who's always getting into trouble. But when their new best friend has a tragic accident, Wanda has to teach the boys that they can't just hide away from the emotional pain that life – and loss – brings. It's a very special episode you can't afford to miss…
Because this is no joke.
As their '80s sitcom reality falls apart, Vision begins to understand that things are very, very wrong. While Monica Rambeau and Darcy Lewis try to help SWORD understand what's happening inside Westview, new evidence comes to light that raises other suspicions. And a very special guest is about to drop in, with results that could change the world forever…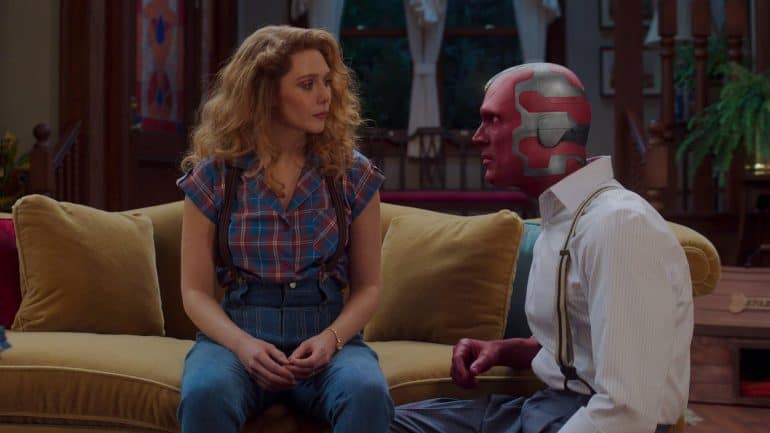 Luring in viewers with its note-perfect Family Ties-style intro (complete with framed family photos and a touchy-feely musical ballad), WandaVision Episode 5's sitcom universe is shredded within the first few lines of dialogue; the façade of comedy perfection falls apart, revealing increasingly darker levels of psychological horror. And sure, many Marvel fans will be overwhelmed by the monumental ending, but the whole episode's show-within-a-show focus itself shouldn't be overlooked.
It's too smart for that – for right or wrong.
The simple story of the twins coming to terms with the death of their (bizarrely suicidal) dog, the advertisement for kitchen paper towels, and so many other moments are all pivotal. This is Wanda's story, and she's the living embodiment of an Avengers VSE character. While the other superheroes may have some issues, tragedy and chaos seems to follow Wanda around like a bad smell.
Meanwhile, the framework of her sitcom life is handled in the most advantageous ways imaginable. Skillfully subverting tropes and using running times and credits sequences as strategic conversation blockers is macabre genius, echoing the underrated Stay Tuned and the gonzo satire Too Many Cooks.
Which isn't to say that's all there is to it, of course.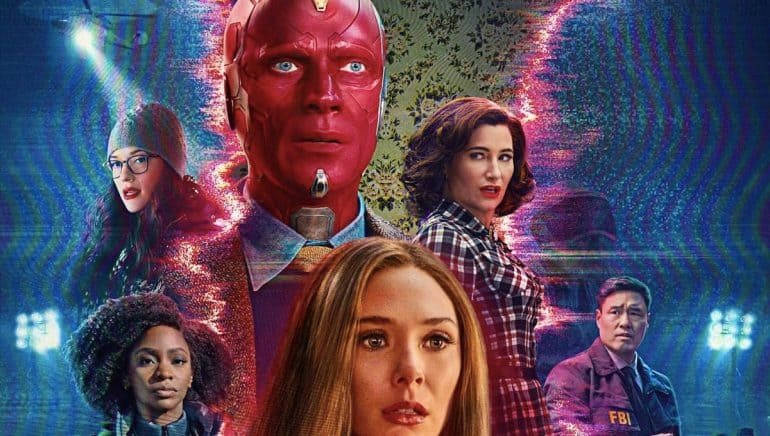 Operating on another track, episode 5 of WandaVision becomes a hybrid vehicle of mystery, psychological horror and action film, all with the trademark MCU stamp on it. Darcy, Monica Rambeau and Jimmy Woo working behind the scenes at SWORD make a fantastic team, with plenty of hints, clues and Easter eggs all over for the observant viewers; as for Paul Bettany, he shines like never before as Vision and delivers a knockout performance.
Oh, plus there's that ending. Fair enough. I'll see your Reality Stone and raise you a Multiverse of Madness. Absolutely brilliant, and it's possible they may be twisting the MCU right before our very eyes.
If there's a downside to this, it's that at times this show may be a little too smart or subtle for its own good. The ending, while amazing, won't mean a damn thing to anybody who hasn't followed the hit-or-miss offerings of other non-MCU films from Marvel. Sometimes the small details, like the advertisements, can be too easily dismissed or can be a little too symbolic. It's unlikely that most viewers will need to be spoon-fed the information required to enjoy this, or for every reference to be pointed out, but it does come close to stepping over the line a few times.
Remember: boundaries are important.
Even by the high standards of WandaVision so far, Episode 5 is exceptional and it's a joy to watch this series unfold in such… special ways. It's hard to know how they're going to top this, but we'll find out soon enough.
WandaVision Episode 6
WandaVision episode 6 is a cooldown episode. Which doesn't make it bad. It's just… clunky.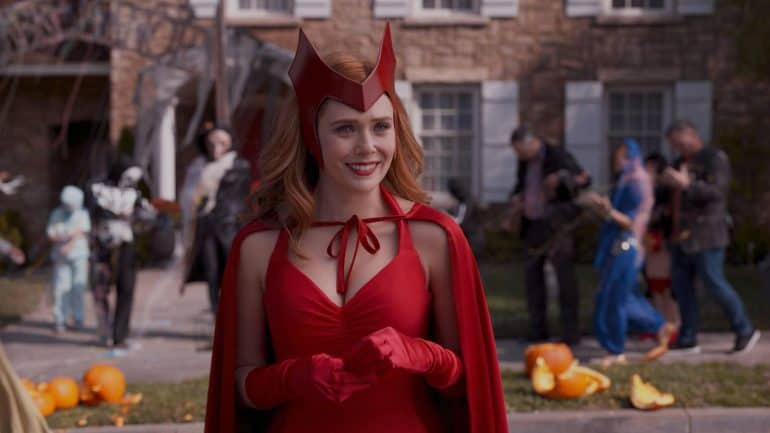 And here we go again.
It took barely a decade for the MCU to become the highest-grossing film franchise of all time, a media juggernaut unlike any other. The humble beginnings of Iron Man and The Incredible Hulk seem so long ago, even though it's only taken just over ten years for the MCU to release 23 films, 13 TV series, and plenty more of both are on the way. The most astonishing achievement being that they "cracked the code", so to speak, discovering the formula of telling overlapping dramatic superhero stories which appeal to viewers of all ages – whether they're Marvel comic book fans or not.
For some, it's a bit too formulaic.
There are some over-used story tropes that the MCU seems to struggle to avoid. Like bland villains, half-baked plots of world domination, or throwing in too many one-liners. When it comes to their TV output, one of the most common traits has been that every series has had a "cooldown" episode towards the end of each season, one which serves mostly as a recap but also allows the characters to move into position. It's a chance to take stock of the situation and pause for one last moment of calm before that last push over the top and into the finale. From Agents of SHIELD to Jessica Jones, it's just how they do it. Episode 6 of WandaVision is a cooldown episode.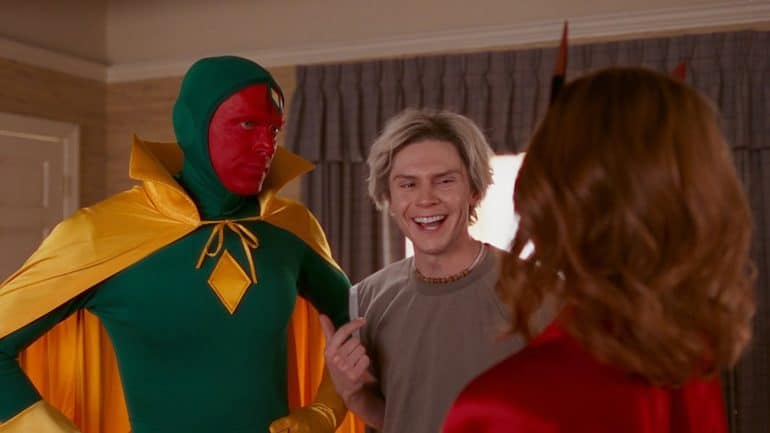 Trick-or-Treating? That's for kids! That's why there's nobody better to take Tommy and Billy around Westview this Halloween than good old Uncle Pietro – because he's a big kid himself! It's also a good time for Wanda to catch up with her long-lost brother, since Vision is busy with the Neighbourhood Watch all night. It's a time for both pairs of Maximoff twins to bond over the truly important things, like candy, smashing pumpkins and having superpowers!
But even inside the world of Westview, things aren't right.
As Vision embarks on a quest to learn more about the world he's trapped inside, darker questions are raised about the nature of their reality. Meanwhile, Monica Rambeau, Darcy Lewis and Jimmy Woo confront SWORD's acting director Hayward about his handling of the situation. As Darcy becomes determined to find out what SWORD is hiding, Rambeau makes a shocking discovery that may change her life forever…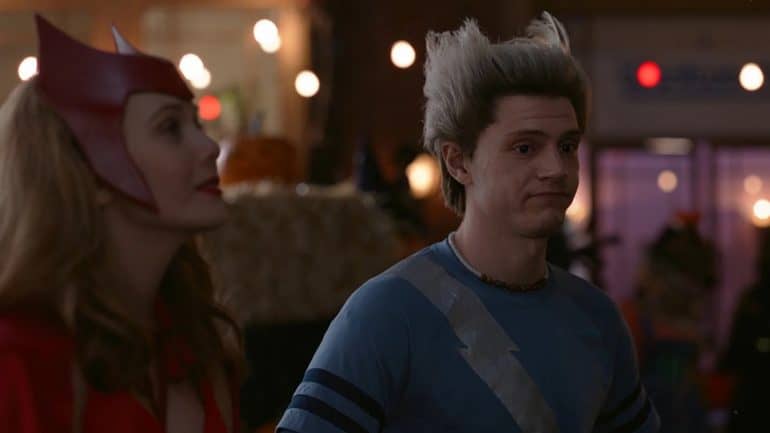 There's still plenty of interest, as we see Vision's increasingly disturbing investigation of Westview and Team Rambeau's simultaneous investigation of SWORD. Both lay the path for some answers to be revealed soon, and result in some tense moments and a high-level cliffhanger. On the sitcom end of things, there's also the Malcolm In The Middle-style shenanigans of the Maximoff family, while Pietro divides his time between being comic relief and asking all the right questions for the audience. Oh, and there's Wanda becoming the embodiment of the Scarlet Witch.
For any comic book fan who's longed to see these characters in their proper attire, this episode's Halloween costume theme is a gift. Vintage Quicksilver alone should make audiences grin, and while it's unlikely we'll ever get to see it again it's enough to make us want more. Likewise, Wanda's fortune teller origins are covered and there's some intricate attention to detail which should please Easter egg hunters again. Yes Agnes, we saw your sweatpants. As for episode 6 of WandaVision's symbolic advert, this one is easily the most disturbing yet and requires a different perspective to handle.
So it's all good, right? Not exactly.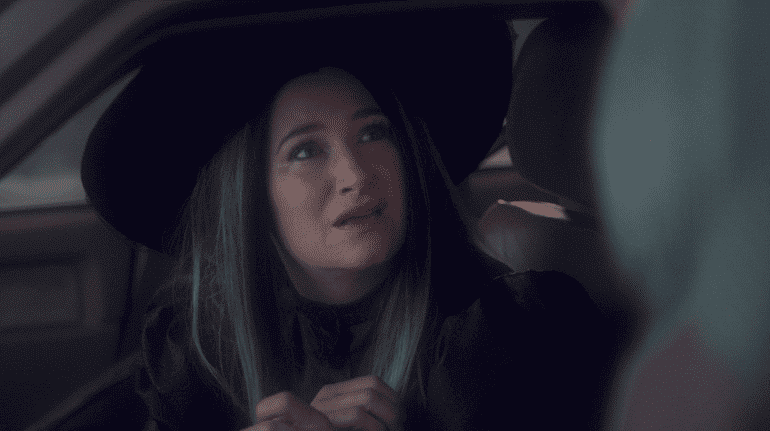 The downside is that the storytelling feels sluggish as the characters are getting to where they need to be, on emotional, intellectual and physical levels. The right questions are blatantly being asked in front of us now, but we're still seeing the investigation and not the solution. Teasing only works for so long before it starts becoming tedious. It's the right thing to do from a plotting perspective, but pausing too long to let everyone play catch-up also slows things down at a crucial time when the episodes have been speeding up. For everything that happens in this episode, it also feels like very little happens at all.
And, I hate to say it, but the sitcom formula doesn't work in episode 6 of WandaVision. While previous episodes have managed to raise a few laughs (albeit intentionally uncomfortable ones at times) with some impressive mirroring of their source material, this one fails. It successfully captures the look and creative style of Malcolm but misses completely on capturing the offbeat comedy of it. It's a tough one to copy, and they come close, but not close enough. As such, other elements of the episode don't work as well as they should… even though the performances are excellent.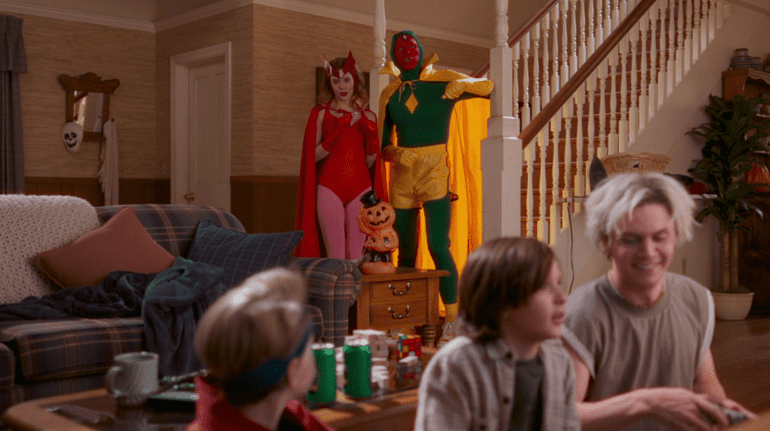 On the whole, there's nothing inherently bad about this episode; unfortunately, despite some development with the story, there isn't really enough to say it's great either. It's that piece of a jigsaw that's left towards the end, but which doesn't help you see a bigger picture. It has to be there, but there's nothing too special about it. After last week's astonishing ending, viewers may have been hoping for a whole lot more and it's disappointing that this episode delivers so little.
Is this still must-see TV, and a creative triumph for Marvel? Absolutely. Episode 6 of WandaVision doesn't take away from that. But, like other cooldown episodes, it's a necessary evil that may feel a bit too familiar for some fans.
WandaVision Episode 7
Let me tell you a tale. So, in episode 7 of WandaVision, one of the show's biggest reveals turns out to be exactly what just about every fan out there had already worked out ages ago. Fair enough. Working out a supposed major twist like this in advance is… well, it's kind of on all the Marvel fans, who can see Easter eggs and existing story elements from the comics coming a mile away. That's no knock on them, because I'm one of them and it's the same for me.
Some days, it just isn't worth getting out of bed. With Wanda's marriage hitting a rough patch, an undead brother from another mother-freaking-universe, and the pressures of keeping it together as a parent and superhero witch, Wanda decides it's time she has a Treat Yo'Self Day. That means spending the day at home in her PJs, chowing down some breakfast cereal! No pressure at all, right? As for Vision, just getting home from the circus is an adventure even with the help of Darcy Lewis!
The problem with fly-on-the-wall shows though is… who's behind the camera, filming everything?
As reality falls apart at the seams in Westview, the fourth wall is torn down in shocking ways. Meanwhile, outside of Westview, Monica Rambeau learns the truth about SWORD's plans for Vision and attempts to re-enter the hex field. But her plan is about to change her life, and the fate of the world…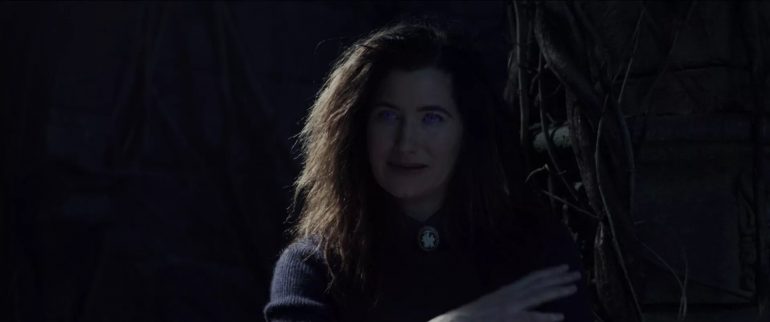 As a comic book reader for forty years, I wasn't shocked in the least at what I saw in episode 7 of WandaVision. However, I guess anybody could go on Reddit or YouTube and see the (correct) theories viewers had. It didn't take a crystal ball to see this future play out. There's no gloating, or "I told you so" sense of smug self-satisfaction or even the joy of having unscrambled a puzzle. That's because it was almost too easy.
Except… I'm friends with a guy who doesn't know the comics. He doesn't know Marvel, and only knows some of the MCU. His knowledge is based on the movies and some of the shows he's seen. He's one of those few who's managed to avoid possible spoilers too, and couldn't give a crap about reading people's online theories. Yes, it's like he lives under a rock.
And you know what? His reactions to the big reveal in episode 7 of WandaVision were comments of "Wait, who?", "Oh…" and "Hmm…"
I'm guessing that those probably aren't the reactions Marvel Studios would have wanted.
So, for those viewers already in the know, the main twist and name-dropping feels strangely underwhelming; and for those who aren't, it's barely enough to raise a confused shrug. To make matters worse, there's more than just one big reveal here, there are at least four. On top of that, there are also some squandered moments and opportunities which have had viewers getting their hopes up throughout the entire season.
So yeah… that's not great.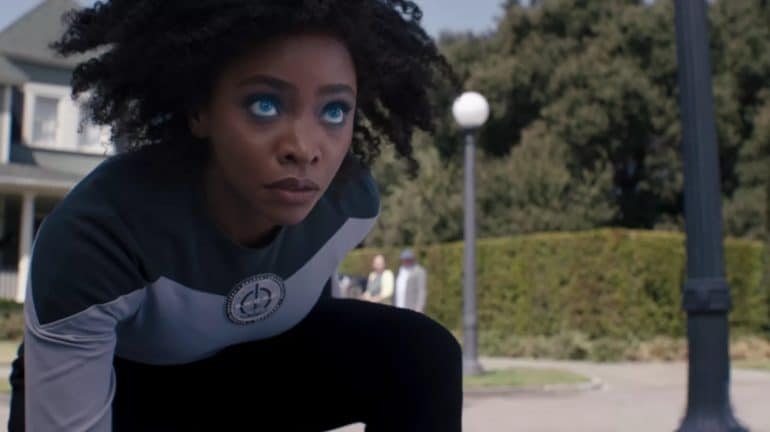 Still, at least there's a catchy theme song to be had, and one of the most wickedly wonderful jokes ever. It seems like one of the characters clearly believes in the George Lucas School of Plotting regarding emotionally involving an audience with a kitten. If so, that's certainly a smarter and more hilarious joke than the dismal pun regarding the top-secret SWORD project.
On the whole, it isn't like episode 7 of WandaVision is actually bad or anything. It's interesting to note that this is more a case of obvious flaws dragging down what's mostly a great show, rather than being a bad show with some good intentions. Of course, it's a matter of perspective; but underestimating the quality of the show itself would be a mistake. Instead, it's just a bit… disappointing. It's like they're missing some tricks, and taking a more movie-like approach to the format at this stage would have been advantageous.
Continuing with the trend of last time, episode 7 of WandaVision is another "let's take a step back and catch our breath"-style episode that's designed to move the players into position. It allows viewers to take stock of things, while also unveiling any last-minute details which will affect the outcome of the season finale. So again, from a pacing and storytelling perspective, it's still fine even if it's sluggish and the reveals are a let-down.
It's a necessary evil, which on a meta-level is almost a joke in its own right.
For the positives – and there are plenty – on most levels episode 7 of WandaVision does everything pretty much right. Visually it's striking and captures the modern vibe of confessional/mockumentary sitcoms accurately, even if the actual comedy of it mostly feels (intentionally?) awkward; there are plenty of minor details which add a lot for viewers, the performances are great, and it's a typically polished MCU production all around. Oh, and there's an origin story for a new superhero too, which is great.
But did it all have to feel so damn clunky?
With the show wrapping up soon, fingers crossed that everything picks up again. It's weird that such a vital episode in the series – and one which may be the foundation for the future of the MCU – should feel so underwhelming. While episode 7 of WandaVision needs to be seen by Marvel fans, expect to feel let down while the show spends too much time unimpressively treading water.
WandaVision Episode 8
Previously on WandaVision … no.
Before WandaVision.
In fact, long before Wanda and Vision were a thing, there were the chilling adventures of Agatha Harkness. When it came to witchcraft, there was nobody better at it than her in her coven; but many years later she learned of a new witch: Wanda Maximoff – a witch whose untapped potential was being squandered when Maximoff teamed up with a group of superheroes called the Avengers.
As Agatha Harkness tries to learn the secrets of Wanda's past and discover the source of her powers, Wanda herself must confront the truth and deal with all of the tragedies which have befallen her. With Agatha holding Wanda's children captive, and Director Hayward and SWORD unveiling their secret project, time is running out and the show in Westview is coming to an end…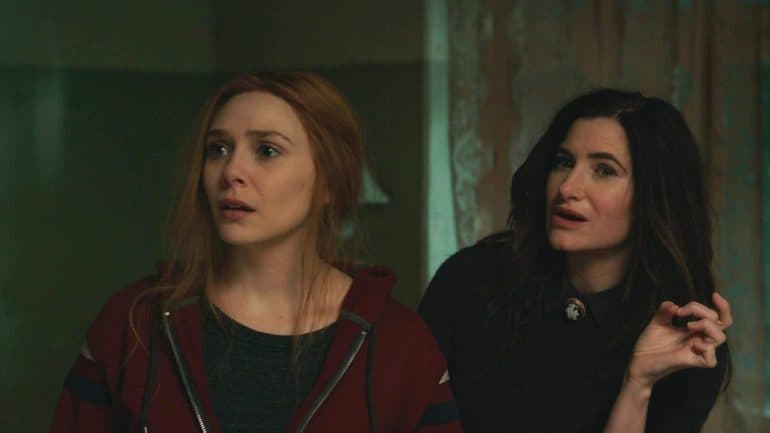 The introduction of Wanda and Pietro Maximoff, all the way back in The Winter Soldier, wasn't too big a deal except for comic book fans who recognised them. They were introduced without much fanfare, and even in Age of Ultron there was very little shown of their backstory. They had superpowers and they hated Tony Stark – that was enough, and all most viewers needed to know. It worked, and audiences accepted them as… well, certainly not mutants, because that word was a no-no. So, instead, let's just say they were special.
As origins went, it was vague. But, much like the latest version of Spider-Man, a full origin story wasn't really necessary. And you know what? That was just fine.
The question is, did we need more to it? After all, we've seen almost every other MCU superhero origin story, right? Well, except for this version of Spidey. And Hawkeye (so far). And Drax, and Groot… and so on. But seriously, it's good that at least we're presented with a few more pieces of Wanda's origin story here, along with some other moments from her tragedy-packed life.
To say that she's been through a lot is an understatement, because it looks like the universe simply wants to dump all over her. Repeatedly. And that's how it's supposed to be.
Now, if you're a fan of the Scarlet Witch (and yes, it's okay to call Wanda that), origin stories, MCU lore, a fan of Elizabeth Olsen (who turns in a fantastic performance as her character teeters on the verge of several nervous breakdowns)… or schadenfreude, if that's what you're in to… then odds are that you'll really appreciate this, and it's handled in a rather mature fashion.
Thankfully, it's also a good way to fill in some of the blanks of the story so far, and to explain why it's where it's at now. It may have intentionally left some mysteries still unsolved, but then that's what the final episode is for. This does a good job of laying down most of the final groundwork though, and not everything is as it seems or what people imagined.
But was episode 8 of WandaVision ("Previously On") necessary? Not as such, or at least not in this way.
Initially, viewers are given the briefest of glimpses into Agatha's past, with some exposition thrown in which sounds a little clumsy at times. It gets increasingly unconvincing as the episode goes on, too. Following the previous episode's stellar reveal, it's a let-down and it's hard to know just what tone the show is trying to strike with her. Is she devilishly naughty, or just a bland stock villain who's self-aware? Likewise, the pacing in this episode is awkwardly sluggish, and for the first time it was visually underwhelming to the point of looking cheap.
It also doesn't help that episode 8 of WandaVision ("Previously On") may dash the hopes of some comic book fans too, by failing to take advantage of golden opportunities to throw in a few Easter eggs. There are still a few, and a handful of references that only they'll get, but this episode really could have done a whole lot more. Suddenly it looks like it's in danger of having its creativity reined in, and of becoming painfully predictable as it fails to live up to viewers' expectations.
For all its faults – and there are a few – there really are a few stunning touches scattered about though. Vision's inherent "humanity" leads to some of the best dialogue in MCU history, while the subjects of grief and mental health are treated with some dignity (or at least as much as possible from a superhero show) at a time when it's very much required. It may not always be pretty, but it's certainly effective.
There are a few secrets revealed amongst the secret origins, but as an episode it's simply a functional piece of the big picture. It's more good than bad, and is still absolutely necessary for anyone watching the entire series, but on its own merits it's somewhat disappointing.
Episode 8 of WandaVision, Previously On, lives up to its name by showing highlights of the story we haven't been privy to yet, almost like a clip-job of unseen moments. However, much like its namesake, it's also far too brief to be telling a full, satisfying story.
The Finale
Episode 9 of WandaVision, appropriately titled "The Series Finale", concludes the series. Was it worth the watch?
Here are our thoughts.
What happens in the WandaVision finale episode?
WandaVision may be Wanda's artificial sitcom reality/coping mechanism, but the dangers in it are very real.
Agatha Harkness, an ancient witch and current wielder of the Darkhold, intends to drain Wanda's abilities from her. For the citizens of Westview, it means a chance to regain their freedom as Agatha gains unlimited power, but for SWORD's Director Hayward it's also an opportunity to attack using his rebooted weapon: The Vision.
Thankfully, Wanda isn't facing this danger alone.
As her own recreated Vision enters the fray against his real-life counterpart, Agent Monica Rambeau learns more about Pietro's recasting. With Wanda understanding the consequences of her actions, and battling forces beyond her comprehension, it's time for her own series finale. But will it have a happy ending, or will WandaVision be cancelled permanently?
It's probably fair to say that, oh, plenty of people will be disappointed by the ending of WandaVision – and all for lots of different reasons.
After all, as a traditional Marvel product, it doesn't provide anywhere near the spectacle that fans would expect. In terms of effects-heavy action, there are a couple of half-baked Super Saiyan/Matrix sky fights which look a bit dated, and one villain is dispatched of in a moment which worked better for Argyle in Die Hard.
But then, regardless of the impression some people may have of them, Marvel films have never been all about the action.
Likewise, in terms of the plot and writing, it disappointed on that level too. Some key plot elements were glossed over, some were swept under the rug or altered, and others were ignored completely – resulting in a stunning failure to answer many key questions that viewers may have. It's one thing to entrust fans to watch a series multiple times so that they can join the dots from the clues which were scattered throughout; it's another to hope that fans can fill in the blanks with their own answers based on almost no clues at all and nothing but their imaginations and an encyclopedic knowledge of comic books.
Seriously, why couldn't they just explain things in a normal, logical manner?
Because, in terms of story, this one doesn't hold up the minute you start scrutinizing it.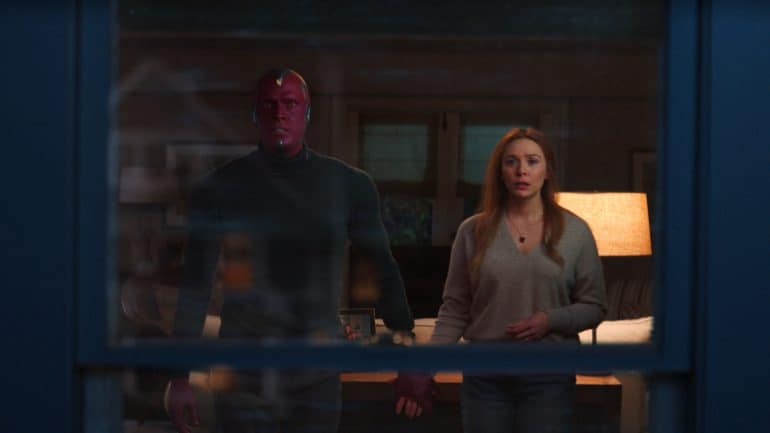 Unfortunately, it also doesn't help when the show appears to troll some of its own primary audience, while simultaneously asking them for a leap of faith. On the one hand, it's telling them to simply accept what's being delivered, no questions asked; on the other, it practically mocks the hopes and fan theories of the more hardcore Marvel base. That's a serious problem and shows a disconnect with Marvel fans.
Yes, viewers have whipped themselves into a frenzy as they over-speculated about Avengers cameos, secret villains and the debut of the Fantastic Four and the X-Men… and yes, that's on them; but some elements of the finale feel like it's blatantly giving them the middle finger, and that's not cool.
And then there are other issues.
For a show which started off with so much creativity, it became humdrum. While the finale of WandaVision had Westview play a visual game of jump-rope with its sitcom-era setting, there was no artistic tweaking of the audio to create a Lynch-style cacophony of disturbing laugh tracks and musical cues.
Why not?
The horror elements of the show, subtly present since the start, barely got a mention beyond one disturbing moment, and the episode failed to properly address the underlying themes. Add an absent Darcy and a rushed lack of answers, while failing to take time to explore the circle of trauma that's been created, stir, shake, and serve lukewarm.
Now, some people can say that it's just a TV show, after all, and not a movie. What did anybody expect? Only that argument doesn't quite cut it.
In terms of Marvel shows, Agents of SHIELD managed more movie-quality action in small screen finales; Legion, while not an MCU production, still managed to continuously bring creativity to a Marvel-based show without ever second-guessing itself; more comprehensive, tightly-knit plots were told through all the Marvel Netflix shows, while Jessica Jones delivered more in addressing issues of the cycles of grief, unchecked power and abuse.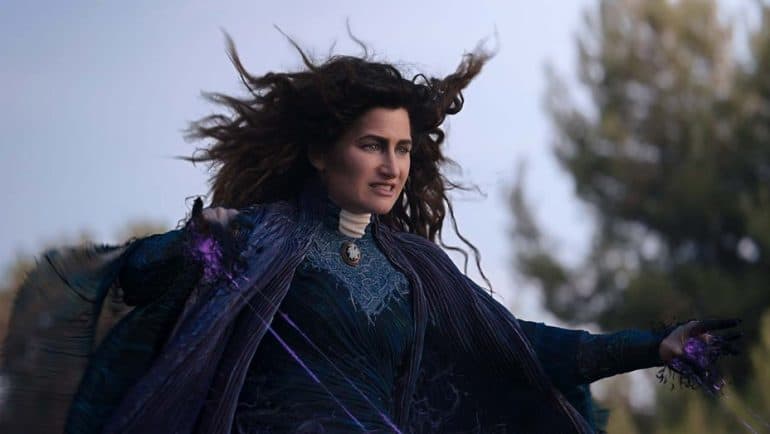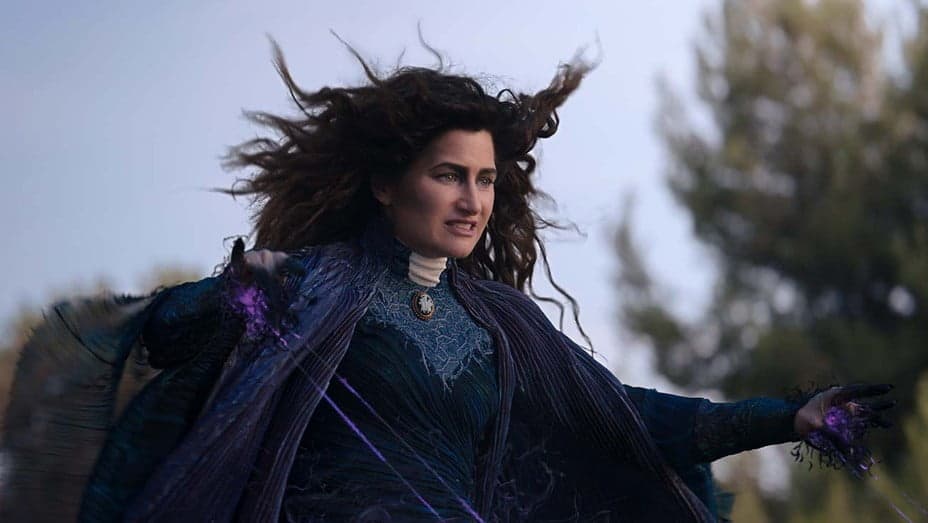 So being a TV show is no excuse.
Of course, there are other excuses. Ones that are deeper, more serious, and far more tragic, and you only have to turn on the news to understand some of the possible reasons as to why this may not have ended as hoped for. Still, for whatever reason or reasons, The Season Finale felt like a disappointment.
And here's the kicker: having said all of that, the amazing thing is that it still isn't bad. Disappointing? Sure. Great? No. But bad? Nope, not at all.
In fact, regardless of Wanda's rather pedestrian boss fight against Agatha and the plethora of other problems, there's also a whole lot more going on under the hood. Ways in which this totally work on an emotional level, and with some perfectly tuned dialogue, performances and character beats. Just because it's a Marvel finale, that doesn't mean everything is about the CGI and the fighting.
You've also got to give it up for the better moments and sly touches which abound. Vision on defense against The Vision, ultimately going to the Captain Kirk playbook in a debate, is possibly the most Vision moment ever; they reference The Wizard of Oz and Blade Runner easily, but can also still crack a dumb, dirty junk-joke; and several further Easter eggs and references appear for fans, adding a whole lot to debate about.
Really, the finale of WandaVision is still a pretty entertaining episode and, at the end of the day, that's what count. It's just unfortunate that it also continues to show the divide which exists between Marvel's movies and its TV shows.
WandaVision, even at its finale (aside from the final tag scene), looks and feels like a small screen, not a big screen, production – even with some glitz and gloss thrown at it. For all the hype of Disney and Marvel Studios about their shows now being more connected to the films, there's still an obvious gap between them. That's worrying, because it's that sort of arm's length mentality which hurt Agents of SHIELD and the Netflix shows in particular. Hopefully, Marvel Studios will learn from their mistakes and start showing a bit more love to the small screen.
So, was WandaVision worth it? As a series on the whole, it was still worth watching. The finale WandaVision episode though? The end lets it all down, regardless of whatever reasons. There's a lot of positives, and some stunning performances in there too, but on the whole, it didn't quite deliver everything it should have.
Tell us, did you enjoy the finale of WandaVision or was it a letdown?
The Review
WandaVision Episode 1 And 2
A great start for MCU's Phase 4.