WandaVision Episode 5 really is a very special episode. But… why? And what does it mean?
This episode's title is based on sitcoms where some episodes occasionally would deal with… well, with the tougher subjects that usually wouldn't be covered. Primarily aimed at younger viewers struggling to understand them, their topics included suicide, racism, drug addiction, gun violence, teen pregnancy, alcoholism, and a whole lot more. These "VSE"s could come across as preachy, but they were full of good intentions; the lessons conveyed were important, even if the topics made for some incredibly uncomfortable, unfunny moments in the perfect, pristine sitcom worlds.
Awkward.
So it's a masterstroke of storytelling for WandaVision to exploit this concept, and the timing of this particular episode couldn't be any more perfect. In fact, everything about Episode 5 of WandaVision is designed to feel a bit off-kilter.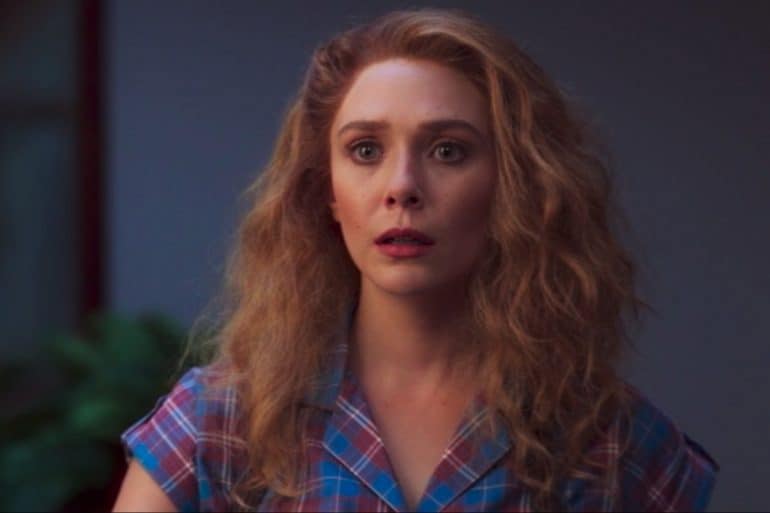 Some lessons in life have to be learned the hard way.
Kids grow up so fast, especially when they're Wanda and Vision's twin boys Tommy and Billy! One moment they're crying babies, and the next they're adopting a little lost dog who's always getting in to trouble. But when their new best friend has a tragic accident, Wanda has to teach the boys that they can't just hide away from the emotional pain that life – and loss – brings. It's a very special episode you can't afford to miss…
Because this is no joke.
As their '80s sitcom reality falls apart, Vision begins to understand that things are very, very wrong. While Monica Rambeau and Darcy Lewis try to help SWORD understand what's happening inside Westview, new evidence comes to light that raises other suspicions. And a very special guest is about to drop in, with results that could change the world forever…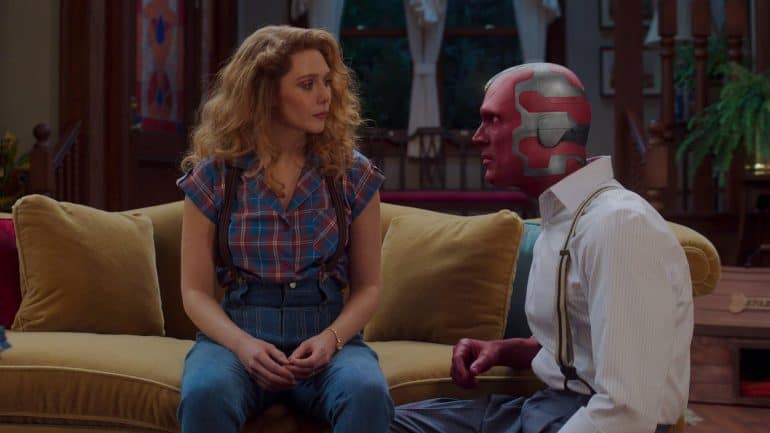 Luring in viewers with its note-perfect Family Ties-style intro (complete with framed family photos and a touchy-feely musical ballad), WandaVision Episode 5's sitcom universe is shredded within the first few lines of dialogue; the façade of comedy perfection falls apart, revealing increasingly darker levels of psychological horror. And sure, many Marvel fans will be overwhelmed by the monumental ending, but the whole episode's show-within-a-show focus itself shouldn't be overlooked.
It's too smart for that – for right or wrong.
The simple story of the twins coming to terms with the death of their (bizarrely suicidal) dog, the advertisement for kitchen paper towels, and so many other moments are all pivotal. This is Wanda's story, and she's the living embodiment of an Avengers VSE character. While the other superheroes may have some issues, tragedy and chaos seems to follow Wanda around like a bad smell.
Meanwhile, the framework of her sitcom life is handled in the most advantageous ways imaginable. Skillfully subverting tropes and using running times and credits sequences as strategic conversation blockers is macabre genius, echoing the underrated Stay Tuned and the gonzo satire Too Many Cooks.
Which isn't to say that's all there is to it, of course.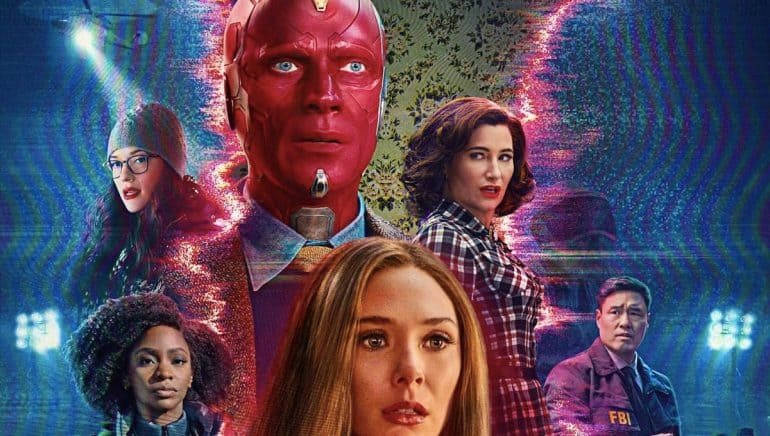 Operating on another track, episode 5 of WandaVision becomes a hybrid vehicle of mystery, psychological horror and action film, all with the trademark MCU stamp on it. Darcy, Monica Rambeau and Jimmy Woo working behind the scenes at SWORD make a fantastic team, with plenty of hints, clues and Easter eggs all over for the observant viewers; as for Paul Bettany, he shines like never before as Vision and delivers a knockout performance.
Oh, plus there's that ending. Fair enough. I'll see your Reality Stone and raise you a Multiverse of Madness. Absolutely brilliant, and it's possible they may be twisting the MCU right before our very eyes.
If there's a downside to this, it's that at times this show may be a little too smart or subtle for its own good. The ending, while amazing, won't mean a damn thing to anybody who hasn't followed the hit-or-miss offerings of other non-MCU films from Marvel. Sometimes the small details, like the advertisements, can be too easily dismissed or can be a little too symbolic. It's unlikely that most viewers will need to be spoon-fed the information required to enjoy this, or for every reference to be pointed out, but it does come close to stepping over the line a few times.
Remember: boundaries are important.
Even by the high standards of WandaVision so far, Episode 5 is exceptional and it's a joy to watch this series unfold in such… special ways. It's hard to know how they're going to top this, but we'll find out soon enough.
The Review
WandaVision Episode 5 - "On a Very Special Episode…"
A truly mind-blowing experience.