For anybody who's been fooled into dismissing the relevance of WandaVision in MCU's Phase 4, prepare to be schooled in Episode 4. While Avengers: Endgame heralded the return of half the universe's population after three years like a charging cavalry of superheroes, and Spider-Man: Far From Home approached this "Blip" in a lighthearted manner as a comedic inconvenience, the MCU has generally shied away from the ugly truth of the event's consequences.
Until now. And that truth, even on a small, personal scale is terrifying.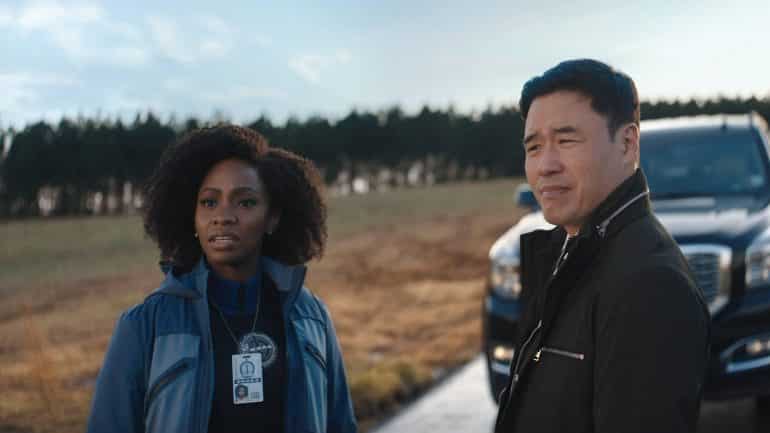 As a child, Monica Rambeau helped her mother's friend Carol Danvers embrace her existence as Captain Marvel. Her mother went on to found SWORD, and when Monica was older she became one of that organization's top agents. But all the success in the world couldn't prevent her mom from developing cancer, nor could it stop Monica from being one of the countless people who disappeared when Thanos snapped his fingers.
Then the Avengers – and a host of other heroes – helped bring her, and everyone else, back.
Struggling to adapt to the world she now finds herself in, Monica rejoins SWORD and is assigned a missing persons case. Meeting up with FBI agent Jimmy Woo, she learns that the last known location of the person is a small suburban town called Westview – a town which doesn't actually exist…
Witnessing Monica Rambeau's return in episode 4 of WandaVision, and her subsequent struggle to adjust to the changes which have happened over the three years of her absence, is one of the most fascinating moments in Marvel's cinematic timeline so far. It's also a captivating re-introduction to her character, despite all of her previous appearances up to this stage. Gone is the girl who picked Captain Marvel's colour scheme; now a strong independent woman, she's hopefully got a bright future ahead of her and we may be witnessing the origin of a new MCU superhero.
Episode 4 of WandaVision does a brilliant job of mapping out the events which led to Monica's arrival in Westview and the world of WandaVision. Playing out like a sci-fi detective procedural like The X-Files or Fringe before heading into Agents of SHIELD territory, it's a perfectly-timed break from the sitcom/horror shenanigans of the show up until now and does a good job explaining many questions that viewers may have.
Helping to reinforce the Marvel element to it is the returning Jimmy Woo (from the Ant-Man films) and the hilarious Darcy Lewis (from the Thor films). Jimmy is still the undervalued everyman, proving to be a great foil for both Monica's no-nonsense professionalism and Darcy's unorthodox, playful nature. Darcy, meanwhile, is the ideal choice to provide commentary on Wanda's sitcom universe – lending the episode a wry, show-within-a-show reaction video format at times.
Thankfully, as great as each of this episode's three main characters are, none of them steal the spotlight from the story itself.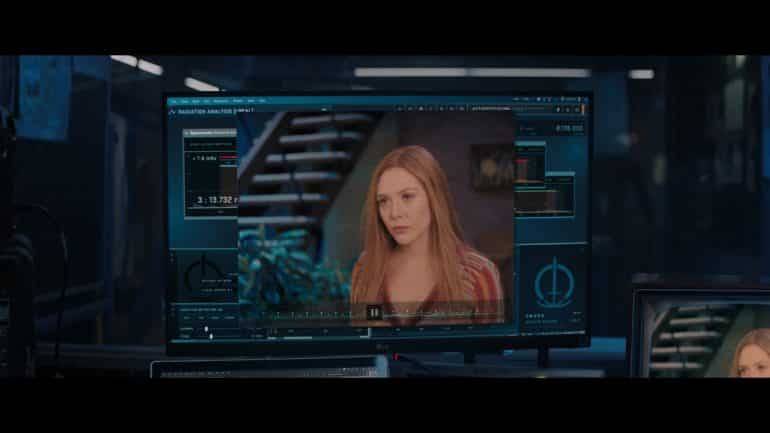 At times there's a tendency for the dialogue to go riding off into the land of technobabble, while some elements are so self-explanatory or obvious to fans (or anybody paying attention) that it seems pointless for the episode to waste time dwelling on them; however, it's good for both aspects to be played out. Neither may not be entirely necessary, but both help to ground the events of the series and add some perspective to what's gone before. That isn't to say that there aren't a few clumsy moments, but by that same standard there's always something going on that's worth paying attention to.
Not to mention a few Easter eggs and hidden clues to the mystery.
Part backstory and part exposition piece, We Interrupt This Program pulls off quite the magic trick. It's a much-needed breather for the series, propelling the plot forwards by explaining how they've laid the foundations for it. Much like the rest of WandaVision so far, it's unlike anything else they've ever done before and it's great to see this show working outside the (hexagonal) box.
It may be short, but episode 4 of WandaVision is an excellent instalment of a show which is already looking like a complete winner. It may be an unconventional episode, but there's plenty to recommend and almost nothing to complain about. It makes you wonder what Darcy would have to say about that…
The Review
WandaVision Episode 4
A pivotal episode for the entire MCU