In episode 3 of WandaVision, Wanda and Vision's journey through sitcom realities sees them in the world of the 1970s, where every comment deserves a laugh track and every home has an astroturf lawn. It's a time for celebration too, now that Wanda's pregnant. But is Vision ready to be a father? He'd better be, because her pregnancy is happening at super-speed!
To make matters worse, their doctor is going away on vacation and Wanda gets a visit from Geraldine… and a pesky stork, thanks to Wanda's hex powers! As Wanda and Vision desperately try to keep their identities a secret and pretend that everything is normal, their neighbours have their own suspicions. Meanwhile, the harsh reality of their situation becomes apparent…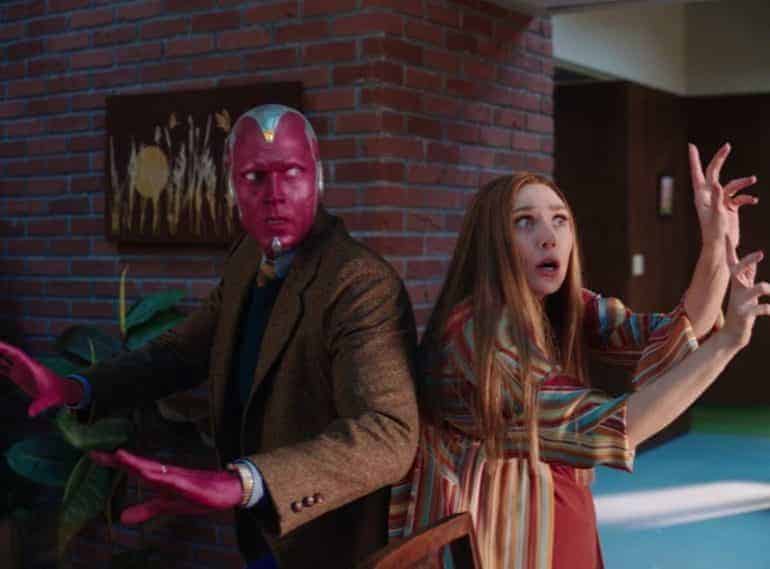 Does anybody remember a few years ago when all the Marvel actors sang a song called "The Marvel Bunch" to the classic tune of The Brady Bunch?
If you haven't seen it, go and watch it on YouTube because it's lots of fun. It's also proof of how iconic a show like 1970s sitcom The Brady Bunch truly is. A show from another time, The Brady Bunch was bright, colourful, and chock-full of endless optimism and wholesomeness. Depicting an unnatural, almost dream-like idealized suburban world, it wasn't actually particularly funny – but it was truly memorable.
Given that show's track record, it isn't surprising to see it blatantly referenced here in episode 3 of WandaVision too.
It's also the Brady's saccharine-sweet world of artificial perfection which allows WandaVision's more terrifying crashes of reality to truly pop; the contrast is so blatant that the sudden shifts are impossible to ignore. Much like the first episode's unnerving dinner scene, when the comedy stops it becomes deadly serious and the tone transforms from Brady Bunch to Elm Street 6 smoothly.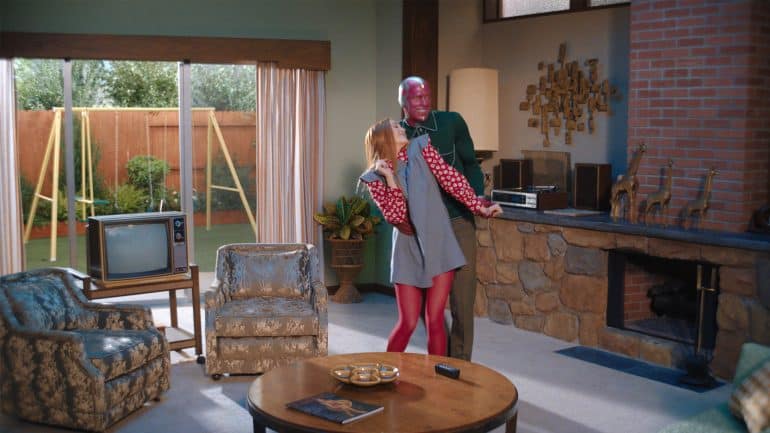 Visually it's stunning, with every false painted backdrop, colour scheme and phony set looking as obvious and cheesy it should. If there's one complaint it's that the film looks almost too clean, although there are some neat format tricks so it's a trade-off. Meanwhile, the performances are absolutely perfect and the chemistry between Olsen and Bettany is fantastic – making you wonder just why they were so underdeveloped in the MCU until now.
Whether it'll suit everybody though, that's another matter. While the episode's payoff is worth sticking around for, it's likely that there are still some who will cringe at the groan-worthy pun-heavy comedy shenanigans of most of the episode. It may mirror the source material just a little too closely.
At the end of the day though, it's still the sense of mystery which outweighs any of the comedy, and, in that regard, it's as fascinating and fun to watch as it is to try and solve.
By this stage, just about everybody who's watching the show seems to have their own theories about what's happening and have analyzed every little detail. From the deeper meaning behind every episode's symbolic commercial break to spotting every minuscule detail and noticing ties to various comics (and other MCU productions) over the years, this show has quickly become the Marvel Studios equivalent of another classic: Twin Peaks.
Of course, that aspect of it isn't going to last forever… but it's fun to enjoy it while it lasts.
With each episode there's more information being drip-fed to the audience, revealing the big picture and making it easier to piece together the puzzle. It's been a long time since the MCU felt so interactive, not just presenting a story to the viewers but actually engaging with them in a way that feels fresh and rewards those who pay attention.
Episode 3 of WandaVision brings colour to the world, and a whole lot more with it too. This show continues to move forward in increasingly wondrous ways, and it's going to be interesting seeing what comes next. If you're not watching this, you may be missing out on a future classic.
The Review
WandaVision Episode 3 - Now in Color
This could be a future classic.