The MCU is back, and it's really cookin' with gas! After plenty of hype, episode 1 and 2 of Marvel's WandaVision has finally arrived. And the good news is… it's good!
In fact, it's exactly as fascinating and rewarding to watch as fans could have hoped for. Just two episodes in, and it's already displaying the sort of artistic creativity more commonly seen in Legion or Doom Patrol, rather than your standard Marvel film.
The bad news is… uh, strangely, exactly the same as the good news. Go figure.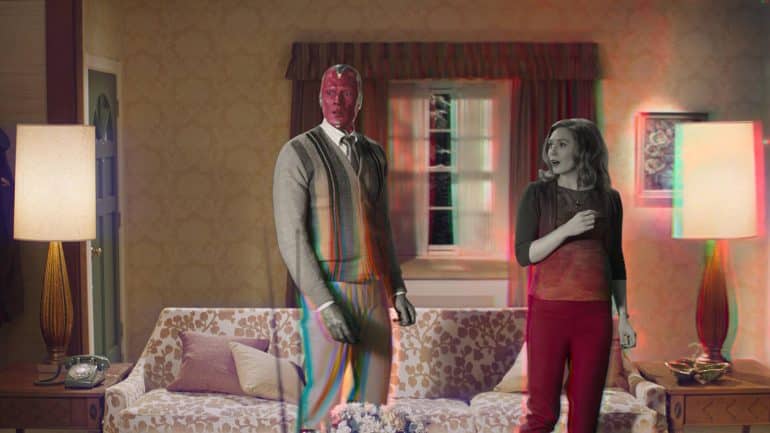 That's because if viewers aren't prepared to spend time investing in this show which is a bit more off-beat… well, it's easy to imagine some impatient people ditching this show after just a single episode. Not that they should, because they'd be missing out; but it's still a risk.
Also, in a complaint which echoes some for The Mandalorian, the episode lengths are short. Really, really short. Seriously, the first episode clocks in at a paltry 21 minutes (when stripped of the credits). However, the running time makes perfect sense here in terms of both mirroring the length of sitcoms of the time, as well as ensuring that each episode tightly covers a very specific period of TV history.
Yes, it's disappointing to see how short these are, but it's also justifiable and precisely edited… which isn't to say viewers still won't wish for a whole lot more than they're getting.
So basically the two real negatives for WandaVision episode 1 and 2 are… positives. Just pretend that makes sense.
In fact, the only real reason why this review doesn't give a higher rating is because it'll take more episodes to determine if the show's going in the right direction. But, for now, it's safe to say that these are well worth watching.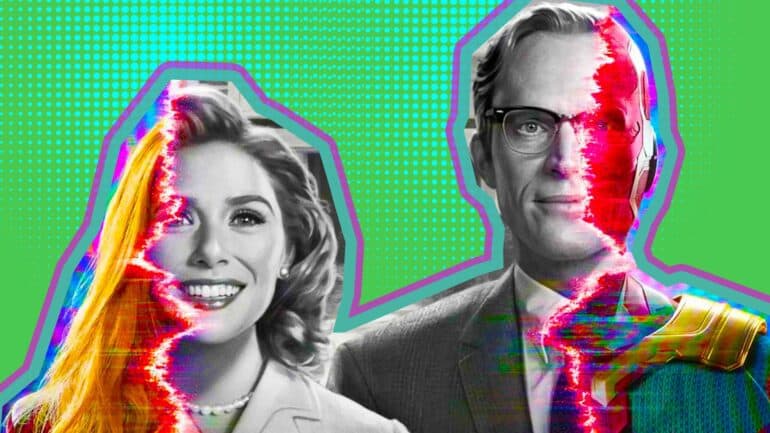 Welcome to the suburb of Westview!
There's a new couple in town: a pair of newleyweds known as Wanda and Vision. What the neighbours (and Vision's colleagues at work) don't know though is that this wacky husband and wife are – uh-oh! – hiding a big secret! He's really an android, and she's a witch! So prepare for the big tickle, because you'll flip your lid when you see the crazy shenanigans these hip cats get up to…
But since when did reality become a sitcom?
For the Avengers known as the Scarlet Witch and Vision, their reality is a vintage black-and-white world of sitcom TV and laugh tracks. Yet even TV shows evolve, and changing times mean different formats to adapt to… or escape from.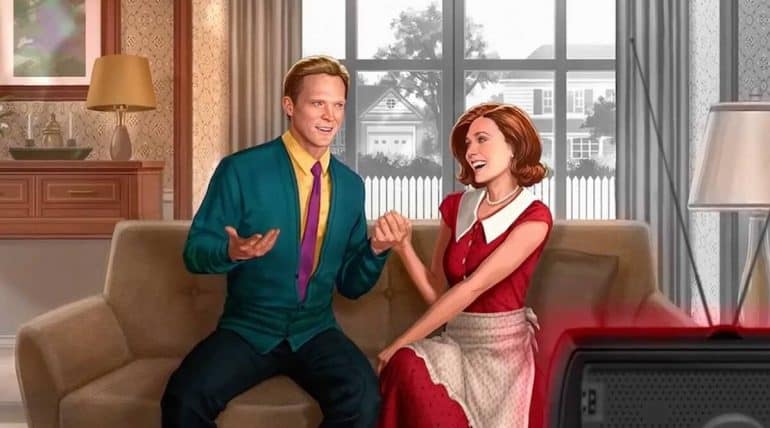 Episode 1 serves as an introduction to WandaVision's world, playing it straight as an old-fashioned period sitcom. On initial appearance it's understated, and deliberately more amusing than actually ha-ha funny. Don't be fooled by the disguised elegance at play though, and, by the end, there's enough sucker-punch moments to instil the audience with a fair amount of dread.
Episode 2 of WandaVision kicks things into a higher gear, with its sitcom nature being broader and its story being a bit deeper. It offers a whole lot more laugh-out-loud moments, but in perfect proportion to the weirdness and sneaky details for viewers to ponder. It's also here where director Matt Shakman's stylish directing starts to score, evoking memories of Gary Ross's Pleasantville. It's clear that the show is leading to something big, and we're just following the trail of breadcrumbs… or red-crumbs.
Episode 1 and 2 of WandaVision manages to replicate the feel of various classics without making its multiple variations of reality mere copies; there's a whole lot more substance to them than there first appears, becoming increasingly visually striking while displaying a playfully irreverent tone – even when shifting towards mystery and horror.
Elizabeth Olsen is an absolute delight as Wanda, while Paul Bettany gets to unleash his gift of comedy timing as Vision. As great as it is to see the MCU branching out in some unusual directions, it's even more rewarding to see its first Phase 4 entry highlighting characters who fans never got to appreciate. And while Kathryn Hahn is predictably wicked-funny here, it's That '70s Show's Debra Jo Rupp who steals the first episode in the most chilling way imaginable.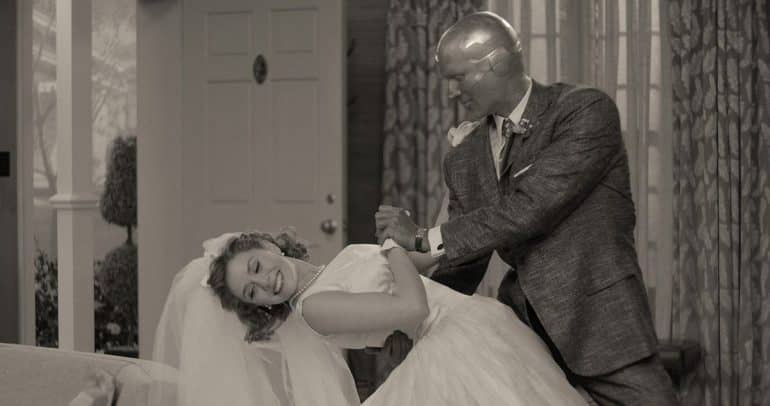 As Marvel Studios first production for Disney+, episode 1 and 2 of WandaVision is already setting a high bar though and hopefully will continue to impress. It'll be interesting to see where this series goes, as well as the impact it has on the big picture given how Agents of SHIELD was treated.
WandaVision episode 1 and 2 go like gangbusters, and if you're looking for something quirky from the MCU then this should be just what's needed.
The Review
WandaVision Episode 1 And 2
A great start for MCU's Phase 4.