A year ago, Chinese phone manufacturer vivo entered the South African market and introduced us to its mid-range offering. This year vivo officially released its X50 series of flagship smartphones locally. The offering promised to take content creation to new heights with professional-grade camera technologies that claim to revolutionise the mobile photography experience.
Initially, this was going to be a top to bottom, inside-out phone review. But let's be honest, phone technology hasn't blown anyone's socks off lately. So, as vivo has focused its attention on the X50s camera technology, it seems appropriate that we focus our attention there too.
According to the brand, the vivo X50 Pro, which is the one I reviewed, "enables users to capture stable, high-quality images and videos in a wide range of scenarios."
vivo X50 Pro Photos and Videos
The main camera of X50 Pro contains the interesting intricacies of gimbal technology. Yup, there's a gimbal in this phone's camera system. We can expect to see more and more of this technology in phones launching from now on. The result of the teeny tiny gimbal technology in this phone's camera system creates crisp, clear, vibrant photos and videos. This is particularly useful when trying to get a shot on the move.
Modelled after full-size professional gimbals, this one, as expected, filters out your shaky motions. It really provides insane stability, evident by an on-screen animated ball, known as the gimbal radar. The gimbal radar really reveals how steady, in my case, not so steady, your hand is. It reminds me, looks-wise, of a compass and is basically your cheat sheet to let you know whether your hold on the phone is stable. I'm not really sure if the radar has a real point though because I don't really need to see how hard the gimbal is working – I just really want the smooth shots. But please let me know what you think in the comments below.
To make your job even easier vivo's motion-deblur algorithm, customised sensors, and continuous focus tracking enhances the image and video clarity even more.
vivo X50 Pro Camera Set-up
The X50 Pro has one 32MP front camera and four cameras on the rear. Namely the 48MP Main, 8MP Super Wide-Angle, 13MP Professional Portrait, and 8MP 5x Telescopic. vivo also boasts about the telescopic lens with its 60x Hyper Zoom. Yes, the extent of the zoom is impressive, and you can make out detail. However, the photos you take zoomed in that far are not the crystal-clear pics you'd want to show off.
What I did enjoy was shooting in night mode on the X50 Pro. The phone's Super Night Mode and Astro Mode together help you take some good photos.
There's also 120° Super Wide-Angle (108° after distortion correction) and Super Macro and Portrait Mode.
vivo X50 Pro Performance
My X50 Pro delivered flagship performance. I've seen colleagues in the field call this phone a mid-range phone. Maybe that's because we're desensitised to price, thanks to the likes of Samsung Notes and Huawei P40 Pros but this is a flagship phone. It supports 5G connectivity, is powered by the Qualcomm Snapdragon 765G processor and a high screen refresh rate of 90Hz. So you can expect images to be crisp and movies and games to run flawlessly.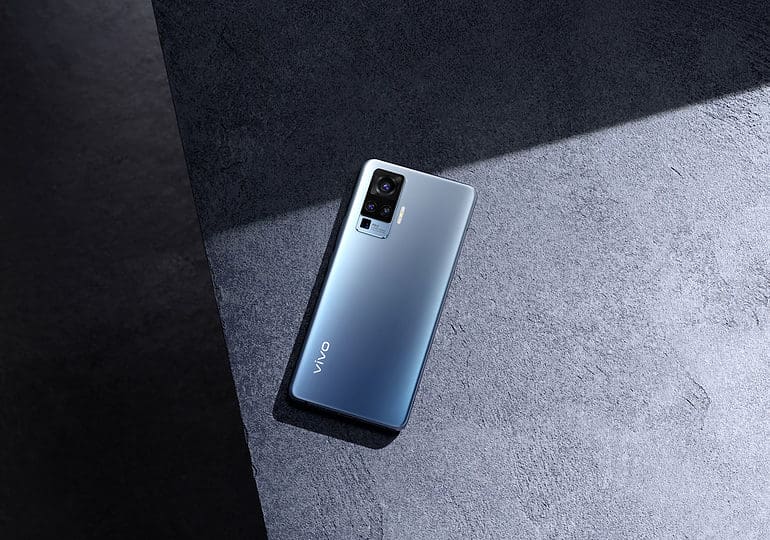 vivo X50 Pro Looks
In terms of its looks and design, there's nothing particularly unique about the shape of the X 50 Pro. I do, however, prefer the sleek and simple look. I found it so easy to hold in one hand – ergonomically it works.
The vivo X50 Pro has curves: a 3D flexible curved screen, to be precise. The front has rounded edges, while the matte glass on the back tapers in too. According to vivo, the X50 Pro's screen is relatively bendable, flexible, and durable, which makes the phone less prone to damage. The pearl-like, matte gradient finish on the back is beautiful and you're less likely to spoil the look with sticky fingerprint marks.
Conclusion
The vivo X50 Pro is everything you'd expect from any flagship phone but the impressive gimbal technology just takes this phone to another level – if, like me, you're in to shooting videos and photos but aren't exactly a professional photographer… yet. I can tell you now, I'm reluctant to return it and it's made me rethink all the equipment I often carry around. If this can do it all, why would you need anything else?
The price of the vivo X50 Pro is R19,999, which compared to other flagship phones is a really great price.