While I do enjoy the odd zombie game/film every now and then, it's vampires that have always fascinated me the most. And while zombies seem to have been getting the most love when it comes to more recent games, Developer Dotnod is trying to change this trend with their latest game Vampyr. Building upon the myth and legends surrounding vampires, Dontnod has added their own unique twists to it.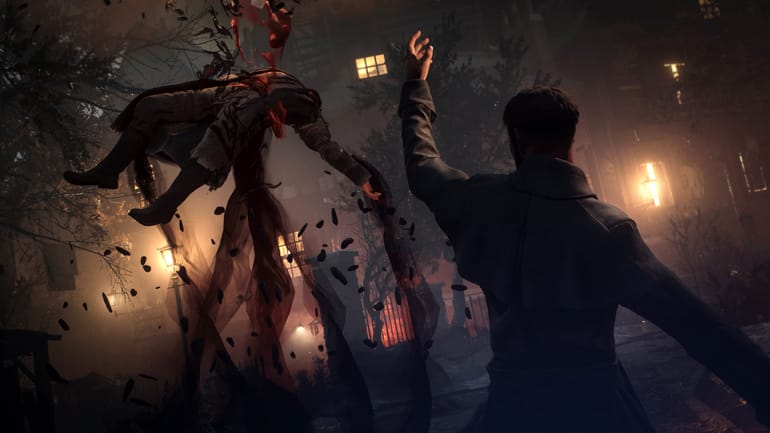 Set in bleak 1918 London, right after World War I and just as the Spanish Flu is decimating the world, you take on the role of Jonathan Reid on his way back to London after the war. Now, as things tend to go, Jonathan's journey doesn't end well as he is mysteriously turned into a vampire. This, of course, means that he is faced with an insatiable thirst for mortal blood.
…the game tries to tempt you into giving into your primal instincts…
What makes his predicament more interesting is that Jonathan is a doctor and, as a newly turned vampire, is faced with quite a conundrum. Does he forgo his oath to heal and help people in order to quench his thirst for blood or does he give into his beastly instincts? It's this question that permeates your whole experience while playing Vampyr.
During your playthrough, the game tries to tempt you into giving into your primal instincts as it quickly states, during loading screens, that feeding on helpless victims will earn you more XP thereby increasing your strength considerably. And herein lies one of the most unique aspects of the game. Feeding equals an easier playthrough and a stronger protagonist, yet feeding does have its own quite significant downsides.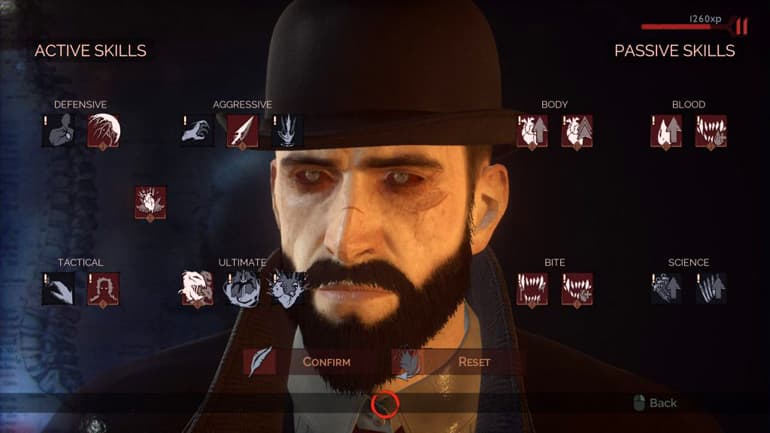 Right from the start, I found myself drawn into Vampyr's narrative. Sure, it does tread on some familiar and sometimes cliché strew ground but, overall, the story of Jonathan and his journey to understand his affliction and how he came to be a vampire is, for the most part, intriguing and kept me engaged. As Jonathan tries to piece together the why's and how's he'll be interacting with the locals who reside in London's various districts and completing several quests in hopes of finding answers.
…every one of the town's inhabitants you'll meet has their own personal story.
Where things get really interesting is that every one of the town's inhabitants you'll meet has their own personal story. As you converse with them and aid them with various quests, you will start to learn more about them, their lives and what makes them tick. And while not every character has a large story arc, each character does feel like they have their place in the game's world no matter how small.
This personification of the game's NPCs goes even further as killing them also locks out any quests that they might have given you along with the rewards or information you might have received, each death could also have some unforeseen circumstances you might only discover later down the line. Randomly killing people also affects the overall health of a district, meaning that if too many people die the district will be taken over by all kinds of foul creatures. It's a continual balancing act between feeding to become stronger and not letting the districts become overrun.
You might ask yourself, "Why I would just randomly kill one of the town's inhabitants?" Which is a great question but, as mentioned, the game actually goes out of its way to tempt you to do this. You see, Vampyr has no difficulty settings (basically one difficulty fits all). So, how do you make it easier when you get stuck? By sucking the barman you just met.
Basically, the various inhabitants are walking sacks of XP. Furthermore, the more you learn of them, their families and personality the amount of XP you can gain from them increases exponentially. So therein lies the game's biggest conundrum. Do you suck dry the person you have been building a relationship with during the course of the game for the promise of more XP and therefore more power making the game just that much easier or are you content to slog on though grabbing minute amounts of XP from completing quests in hopes of keeping your humanity? This is a question that will haunt you throughout the whole game. To be honest, I found it refreshing having to debate each of my choices and weighing up the benefits I would gain against what the town and Jonathan would lose.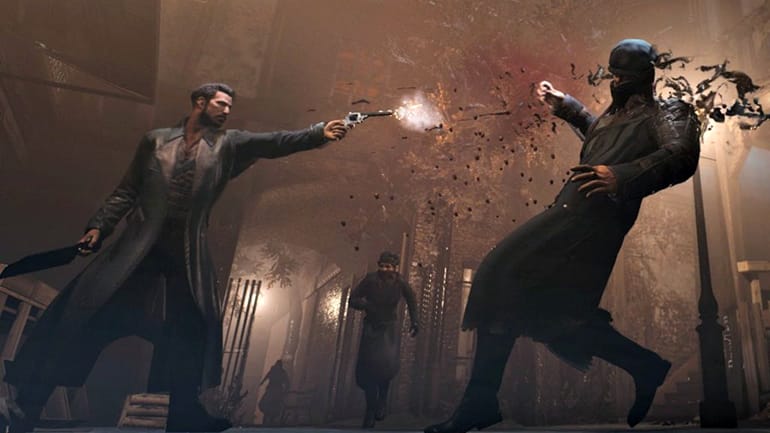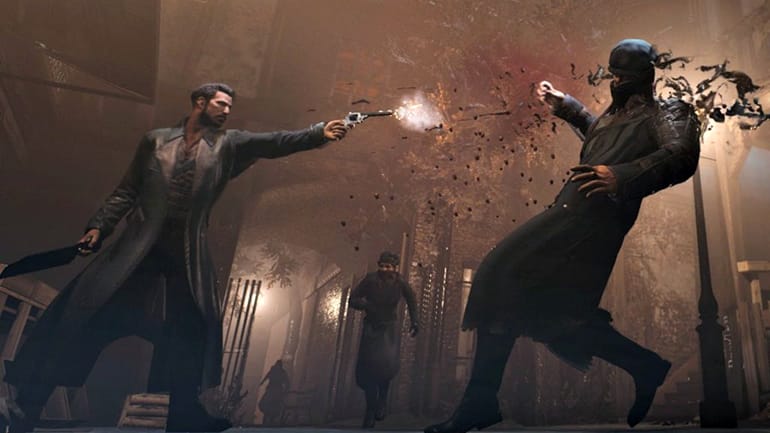 While your choices and building relationships play a large role in Vampyr, you can't have a vampire game without spilling some enemy blood. As you explore the various districts, you will come across numerous enemies, some human and others not so much.
…choices and building relationships play a large role in Vampyr…
While I did find combat to be functional, it does come across as a bit clunky and even frustrating at times. Dodging, which you will be doing a lot of, isn't as smooth as I would've preferred and most of the combat boils down to hitting an enemy with a sharp (or blunt) object until they stop moving. However, the game's selection of vampire abilities and weapons does add some variety to combat. Jonathan has a choice between a one-handed weapon or a two-handed one. Wielding a one-handed weapon means that you could carry for instance a small axe in one hand and a pistol in the other while equipping a two-handed weapon forgoes you the ability to wield as a second off-hand weapon.
As far as vampire abilities go, these are unlocked by gaining valuable XP and include giving Jonathan the ability to fire spears of blood at his enemies or dropping an exploding cloud of blood at his enemies' feet. Overall, the addition of these abilities help elevates the combat but unfortunately can't save it from becoming a slog.
Visually, Vampyr is a bit hit and miss. On the one hand, it looks gorgeous at times and creates an atmosphere of dread that permeates each of the districts. Thanks to some great art direction, each of the environments truly feels alive and lived in. On the other hand, textures can seem a bit bland and muddled and the game isn't exactly visually ground-breaking. As with the visuals, the sound design does have its moments. The game's score is filled with various string instruments combined with the piano that helps complement the game's eerie and mysterious atmosphere.
Voice acting, for the most part, is good, although the lip-syncing can be a bit off at times.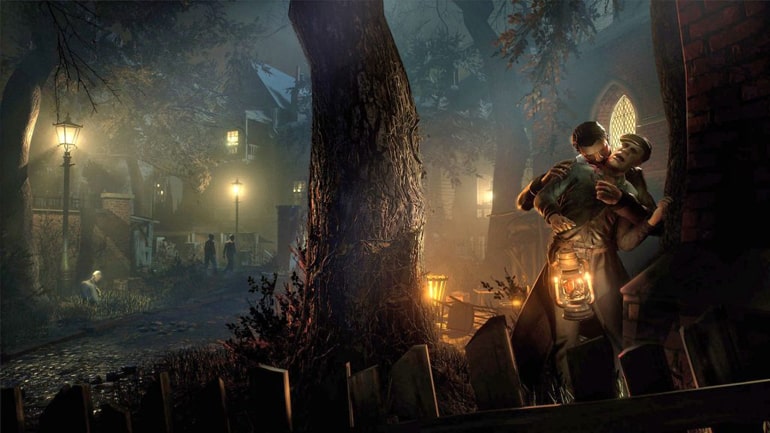 Vamyr's mostly wonky and sometimes frustrating combat, paired with a few pacing issues, prevent the game from becoming something great. What does save the game in part is the decisions you are faced with and the consequences they hold, which makes you feel like your existence in this world matters.
Although there's no doubt that Dontnod has something special here, it's a shame that a game which showed so much potential could buckle under the weight of a few frustrating elements. While I did enjoy Vampyr, there are those who might find its flaws glaring. However, if they stick with it, they might come to see the potential the game holds.