"What did I just watch?" That's the question I asked myself as I left the cinema with my wife after watching Jordan Peele's latest piece, Us. It's a question that, even as I write this reaction/review, I still can't fully answer. On our way to the car, we walked past a few people who'd watched the movie with us and they too looked pretty… shook. One guy, trying to process it all behind the smoke of a cigarette, muttered an emotional F word under his breath. Yes, the experience was that intense.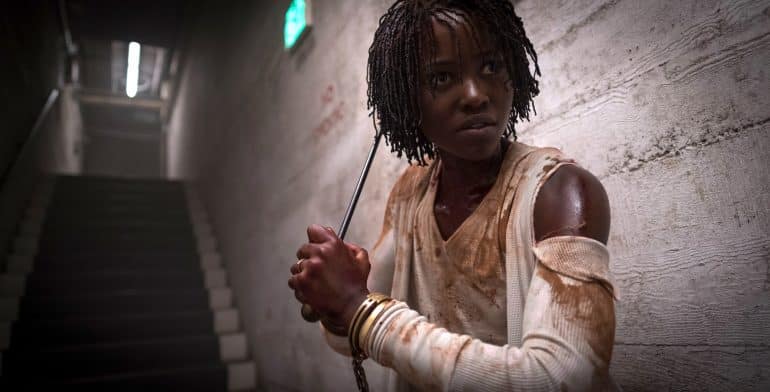 So, let's start with the obvious. Here's the basic description of the story of the film:
"Accompanied by her husband, son and daughter, Adelaide Wilson returns to the beachfront home where she grew up as a child. Haunted by a traumatic experience from the past, Adelaide grows increasingly concerned that something bad is going to happen. Her worst fears soon become a reality when four masked strangers descend upon the house, forcing the Wilsons into a fight for survival. When the masks come off, the family is horrified to learn that each attacker takes the appearance of one of them."
Sounds simple and acceptable enough – a home invasion movie with some kind of twist. However, there's more to Us than just a home invasion and the word 'twist', in this case, is spelt with a 'D' for 'doppelgänger'. This movie is incredibly surprising and very difficult to describe or box. There are things in it, for sure, that are undeniable Peele trademarks in style and execution. Fans of the Key and Peele TV skits will remember them for their use of humour, sprinkled with some sort of disturbing edginess at times. This kind of thing is amplified in Us and effectively so.
The beauty of watching a film with a crowd is that you can quite quickly and easily measure what's working and what's not. The horror, gore moments made people visibly squirm, the thriller moments made people visibly shift in their seats and the funny bits were undeniably LOL. I'd go as far as to say that, from a crowd reaction point of view, Us does a better job than Get Out.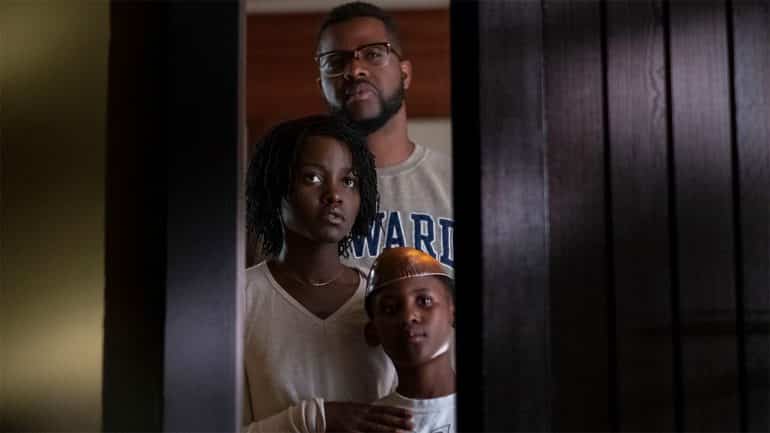 Coming to the performances, Oscar winner Lupita Nyong'o and her co-stars really shine in this movie. How could they not, given the range required from them by Peele's writing and directing? Nyong'o plays the characters Adelaide and Red brilliantly. Even when doing the most uncomfortable, cringiest things as Red, she is entirely convincing. Winston Duke, as Adelaide's clueless but totally hilarious husband Gabe, is a treasure. I'm not spoiling much when I say that, if it weren't for his character, the onslaught of dread brought on by the movie's scary moments would have been too much to bear. Thank you, Gabe. Shahadi Wright Joseph and Evan Alex ably play the couple's kids and their doppelgängers, showing great promise for the future. All in all, the entire cast sells the movie well.
It's worth noting how powerfully sound is used to drive the narrative. Peele's choice of music and key sound effects stands out in Us, as it did in Get Out. It's as unsettling as it is beautiful.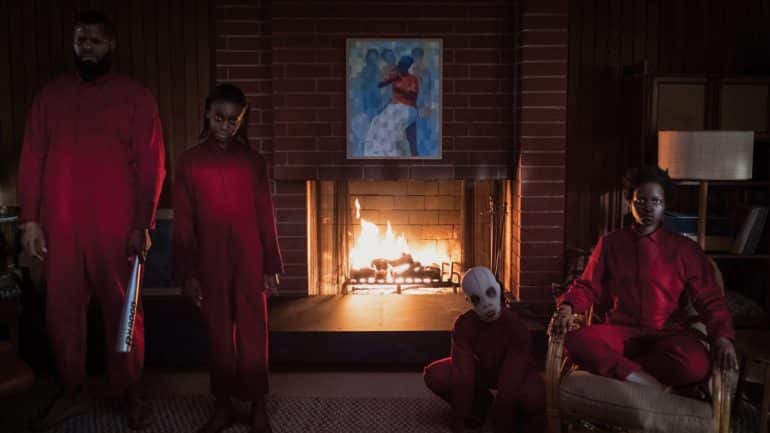 The last point to mention in this review/reaction is the abundance of fan theories about the meanings of the various symbols in the movie. For the sake of my own sanity, I won't be the one to delve much into this aspect of the movie. Others have already that in painstaking detail and a quick visit to Reddit should satisfy the most curious of souls. Suffice to say that it certainly is clear that symbolism was a big part of Peele's intent in making this movie. You feel it both with things that are obvious and things that are not. What makes this movie particularly strong is that both the 'ordinary' filmgoer looking for simple popcorn entertainment, and the movie sleuth looking to decipher the meaning of every line will enjoy this movie. Perhaps, that's one of the marks of a classic – a piece of art that leaves an impression in different ways to different people.
It's a pity that I never got to ask the guy outside the cinema why he cussed so intensely. What I know is that he was moved and so was I – maybe for different reasons. Whatever the case, Us is worth watching and I hope to see more from Jordan Peele for a long time to come.
The Review
Us
Us is a piece of cinematic horror art that will undoubtedly leave an impression on different people in different ways.