For a moment, think back to when you were a kid on the playground with your friends. Do you remember arguing over who would win in a battle? Superman or Spider-Man? Gandalf or Merlin? These types of debates were common when I was younger. Unmatched: Battle of Legends is a board game that, in a sense, lets you find out who would win if some of pop culture's most popular heroes faced off against each other. If you ever wondered if Alice in Wonderland would be able to kick King Arthur's butt, or if Medusa would be able to knock out Sinbad, then this is the board game for you.
What's in the box?
First off, the attention to detail that went into making Unmatched: Battle of Legends is staggering. The game could've easily just used little tokens to represent characters but, instead, you get highly detailed miniatures.
There are various versions of the board game that each include four different heroes. The version I received came with Alice, King Arthur, Medusa and Sinbad. Each of the heroes also includes their own sidekicks, which are represented by tokens. These aren't just normal tokens but solid plastic ones adorned with the faces of the characters they are supposed to represent. In King Arthur's case, Merlin.
Along with the miniatures and character tokens, the board game includes a double-sided board. Each side gives players a unique arena to battle it out in. The art on the board is quite minimalist as it is more important for players to understand where they can move and who they can attack than having a highly detailed play area.
Lastly, there are the player cards, adorned with high-quality gorgeous art. These cards are used to both move and attack other players.
Overall, the quality of the components is great and the board game just looks good setup on the table.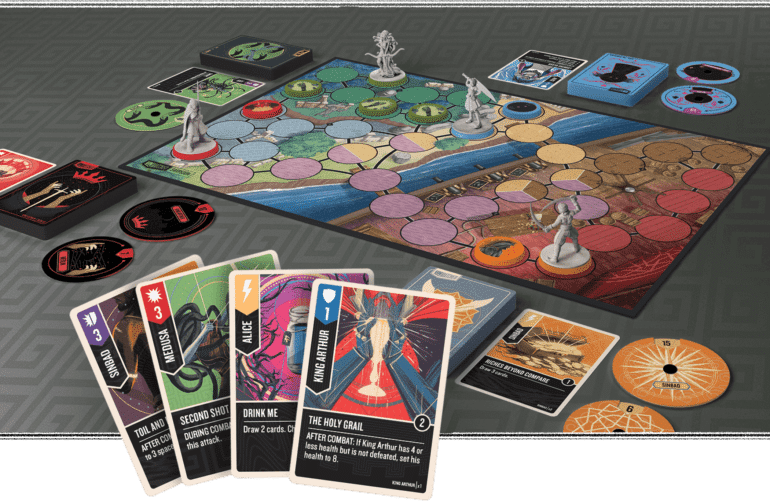 How do you play it?
Unmatched: Battle of Legends is an asymmetrical arena battler that uses cards to modify your chosen heroes attacks. This sounds like a mishmash of genres that just shouldn't work. But it does.
Players choose their unique hero and then are given that heroes deck of cards as well as their sidekick token and player aid. The player aid indicates the movement speed (how many spaces they can move), their health, their special ability and their type of attack.
During their turn, each player will be able to choose two actions from three available options. They may do these actions in any order and can even repeat them. The options are:
Attack: A player plays one of their attack cards face down and the defender chooses to play a defence card face down. Both cards are revealed at the same time and resolve the damage taken (if any).
Play a scheme card: A player plays one of the scheme cards in their hand and resolve the action.
Manoeuvre: A player must draw a card from their deck and then move their hero and sidekick/s up to their move limited as indicated on the player aid. Players can also boost their movement by discarding a card from their hands.
In essence, Unmatched: Battle of Legends sounds quite uncomplicated, and in a way it is. It's basically, moving, attacking, playing a card or any combination of those.
Where things get interesting is in the manner in which your card abilities can affect the outcome of combat. Not only that but each character is tailor-made for a specific style of combat. King Arthur, for instance, is all about getting in close and swinging for the maximum damage while Merlin peppers their foes from a distance. Medusa on the other hand uses her Harpies to keep players occupied while she attacks them from a distance, making sure to stay out of melee range.
Figuring out which strategy works best with which hero is part of the fun.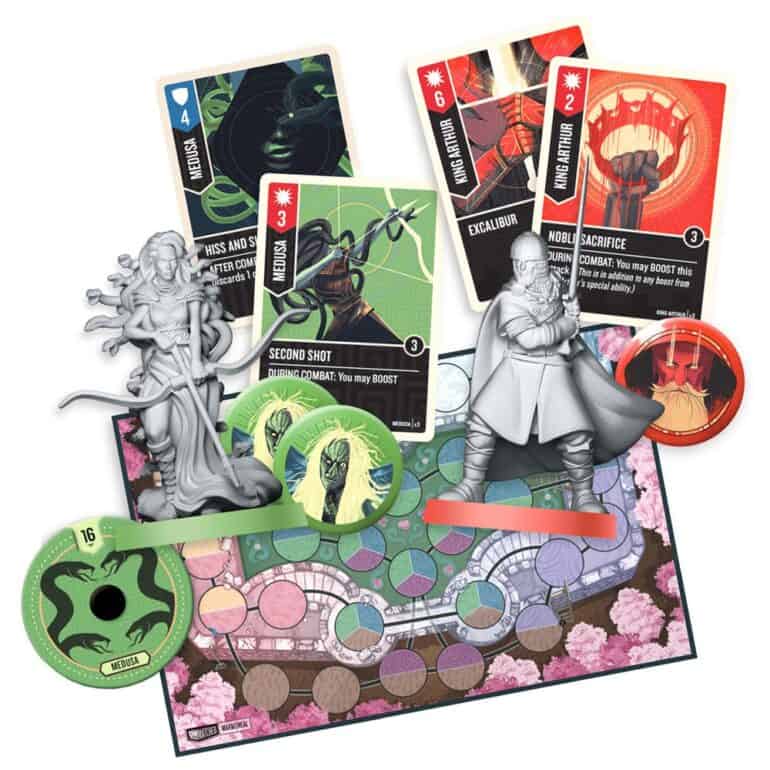 What did we think of Unmatched: Battle of Legends?
Unmatched: Battle of Legends is a quirky game that in theory just sounds ridiculous. I mean one of the expansions lets you add Bigfoot and Bruce Lee into the mix. The strange thing is that the game works. Is it the best game on the market? By no means. Is it an over the top fun experience that players will return to time and again? Hell, yes!
Thanks to its beautiful components, ridiculous theme, and solid mechanics, Unmatched: Battle of Legends is a board game that we'll be returning to and expanding, thanks to all the expansions out there.
If you want to feel like that 6-year-old kid who use to wonder who would win between Batman and Moon Knight then Unmatched: Battle of Legends is a board game you should definitely try.
For more information on this and many other board games, visit solarpop.co.za.
The Review
Unmatched: Battle of Legends
Unmatched: Battle of Legends is a fun, uncomplicated and strategic asymmetrical combat game.
PROS
Quick to play and learn
High quality components
Visually stunning art
CONS
Some might not like the 'Luck of the draw' element of the game
Review Breakdown
Gameplay

0%

Components

0%

Complexity vs. Depth

0%

Theme

0%