EA Sports' UFC franchise has always been visually appealing. The IGNITE game engine has an amazing level of innovation, separating virtual and real-world, making it seem as if you are actually on a real fight card. The updated engine brings UFC 3 to life even more than its predecessors.
In the game, fighters have authentic and unique fighting styles and what is more impressive is the emotion reflected on the faces of characters, such as the coaches and cutmen, during the game's tense bouts. Each fighter moves and behaves like one would expect from their real-life counterparts. Presentation wise, the fighter's movement animations are even more realistic than before. In fact, my teenage cousins actually thought it was a real MMA tournament on TV until they saw me holding my controller.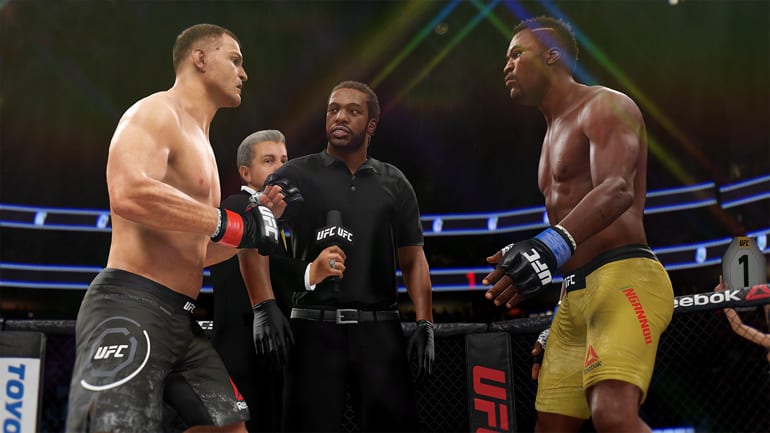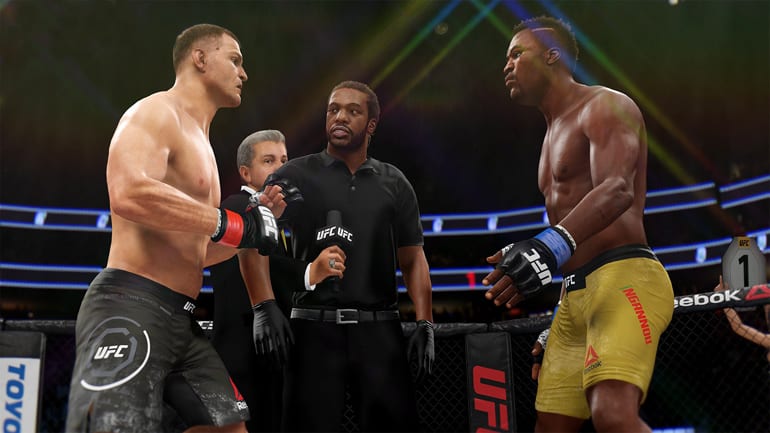 Thanks to Real Player Motion Technology (RPM), all the punches and kicks come to life with each blow, feeling like it has some weight behind it. EA has added up to 5000 new animations specifically captured and rebuilt especially for UFC 3, which actually helps make fighting as fluid as your mind can put combinations together. However, what I find best about the (RPM) tech is how the recreation of certain real fighters, such as this year's cover athlete and MMA superstar Connor McGregor, mirrors his exact style. His flawless straight left hooks and kicks perfectly mimic how he attacks his opponent in the octagon. George St-Pierre's perfect kicks and superman punches are also recreated to perfection.
The responsive and seamless striking combined with hyper-realistic locomotion means that your movement in the ring has now become so realistic that tactics play a much larger role this time around. Button mashing, as in UFC 2, will get you nowhere and will probably end up with you knocked out and bleeding on the floor. The new damage system also plays a huge role in planning your attacks. Knowing your fighter and the opponent you are facing off against is important. For example, if you were to fight against Connor McGregor your head movement, footwork and blocking have to be on point. When he lands his big straight left, chances are you are going to get rocked. Furthermore, if he counters your move with one of his signature moves, you will get knocked down or knocked out cold. Basically, this game is very difficult to master and takes a lot of practice before you can turn up the difficulty or play against a more experienced opponent, which isn't necessarily a bad thing.
On the downside, grappling and wrestling basically remains the same as before. Yes, there are new animations that slightly change how your fighter transitions from position to position, but how you achieve this is still the same as before. This is done by holding in the right analogue to the position you would like to move into. Hopefully, in the future, this mechanic can also be overhauled or updated.
Career Mode has also seen many positive changes that really immerse the player into what the life of an MMA athlete should feel like. The player is given various choices that have an impact inside and outside of the octagon. After choosing your weight class and creating your fighter, you have the choice of choosing your next opponent selected from a few fighters in the same weight class.
Promoting your fights beforehand plays a big role in gaining fight hype and fans, which equates to more money in your bank account. Mastering these mechanics becomes crucial as your fighter will earn more lucrative contracts from the UFC that set you on your way to becoming the G.O.A.T.
Once you have established your fighter from becoming a prospect to into a contender for a future title shot, you earn more money that allows the player to join up to 8 unique gyms that your fighter can train at to improve your general STATS and learn new moves. This part of the new career mode is essentially very realistic. In real life, the more time is spent in the gym practising and learning new skills the better your chances of winning your fights. Different gyms have their own speciality training from wrestling, BJJ to kickboxing etc. It's possible to specialise in just one fighting style or, if you prefer, become an overall MMA athlete such as George ST-Pierre. The choice is yours. Players can unlock new moves and perks, which can then be applied to your fighter and used in the octagon. Build on rivalries with other opponents and grow your fighter to become a champion.
Some of the other game modes include Ultimate Team, similar to FIFA's Ultimate team, whereby you build "dream team" to compete in fights. Be cautious though as this mode is filled with microtransactions.
The Snoop Dogs commentary in UFC 3's Knock Out mode is epic, to say the least. Playing with a few mates and listening to Uncle Snoop's commentary is a G.O.A.T achievement in itself. This should not be missed, especially if you have some friends to play with you.
Also included is the all-new Stand and Bang mode, which is a stand up only fight mode whereby you literally pummel your opponent to victory with punches and kicks.
The least attractive mode is submission showdown. Here the aim is to submit your opponent in the given time.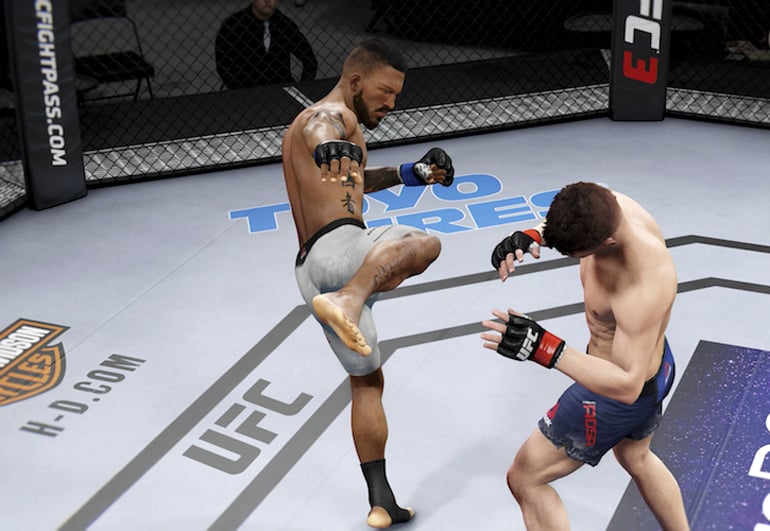 UFC 3 has a stunning presentation with life-like visuals which, together with the motion capture technology, makes the game feel like the closest simulation game to a real MMA match. Plus, the new striking system helps fights feel more realistic. MMA fans should enjoy this one. That said, be cautious as this game is difficult to master. Thankfully, UFC 3 is worth the effort.