For those old enough to remember, back in the day when simulation games reigned supreme, one game stood out above the rest, thanks to its unique premise and sense of humour, Theme Hospital. It was a game that combined the hectic, fast-paced action of running an efficient hospital with over-the-top cartoony humour. Two Point Hospital follows closely in this classic's footsteps.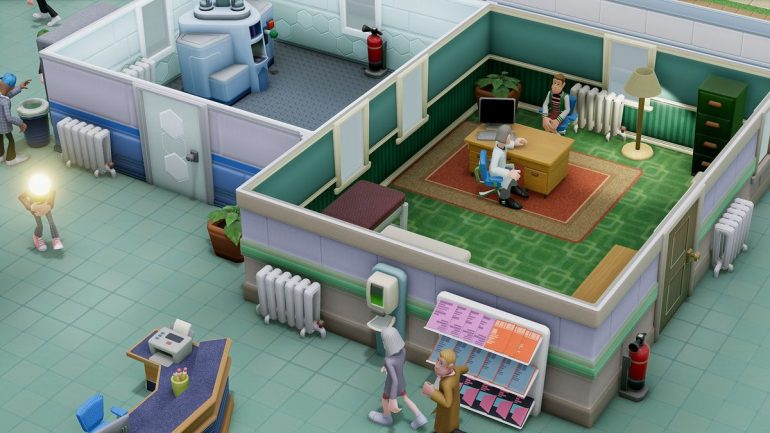 Two Point Hospital is a sequel to Theme Hospital in all but name, thanks to the work of a team that consisted out of ex-Bullfrog employees and who worked on the original.
You start off as the owner of a brand new, yet completely empty, hospital. It's up to you to expand your medical empire by building, unlocking and hiring all the necessary staff in order to cure all manner of strange and wacky diseases that plague your patients. This sounds easier than it is as this process is a continual balance between making sure you have enough funds to expand your hospital, pay your staff and even entertain your patients while they wait for one of your doctors to remove a very stubborn pan from their head.
I always found it easy to get lost in all the overwhelming menus, graphs and tabs found in most management and simulation games, which can at times seem daunting to even the most seasoned of players. Two Point Hospital, however, makes everything seem intuitive and easy to understand. Within minutes of hiring my first doctor, and building a few rooms, I was successfully healing patients left and right and even making a bit of money on the side.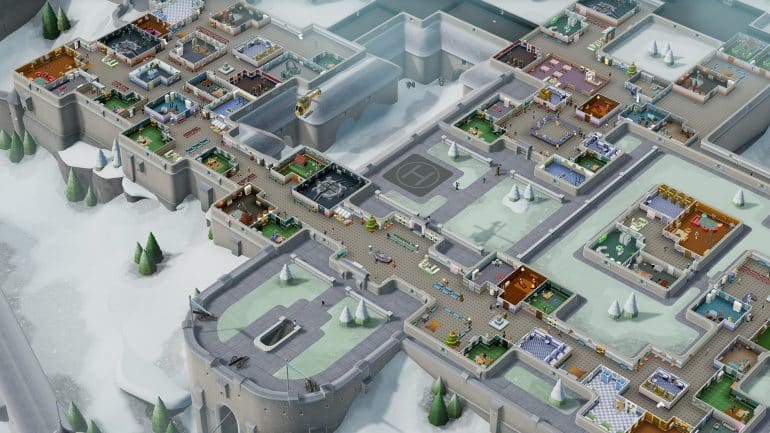 Running a hospital and making sure your patients don't die can sound like a grim premise for a game but, thanks to the light-hearted and comedic way the game treats these strange diseases, it doesn't come across as bleak as one might think. Patients who suffer from light-headedness find themselves with lightbulbs as heads. It's up to your doctors and their amazing equipment to screw out their lightbulb head and replace it with a normal one, thereby healing them.
Then there are those who suffer from the above-mentioned Pandemic, which sees patients sporting a pan on their head that needs to be removed by your more than capable doctors. Sometimes, however, these procedures do fail, I mean that's just how life works, and your patient might find themselves passing on and becoming a ghost who haunts your hospital halls. This is where you janitors come in. They don't only clean toilets and fix machines but also double as ghostbusters, sucking up pesky spirits of those you just couldn't heal.
As you progress through the game things get exponentially tougher. Making sure your hospital isn't overcrowded, that you have enough staff and, more importantly, your hospital isn't bleeding money becomes crucial. Luckily, most of your staff are quite capable of managing themselves, as long as you pay them enough and keep them happy.
The game also surprised me with how deep some of its mechanics are. You have to manage salaries, treatment costs and make sure your staff have the necessary skills to deal with whatever pandemic has broken out. Having said this, I never felt overwhelmed by all the systems at play.
Helping to make sure that the Two Point Hospital's humour permeates the game is its visuals, which feels like a more modern version of what you saw in Theme Hospital. It's bright, cartoony and fits with the theme perfectly.
Special mention has to be made of the user-interface which just feels intuitive, especially for a game that was ported from PC to console. The same goes for the controls, which uses a mouse and keyboard on PC. After getting used to using the analogue sticks to move around the controls quickly began to feel natural, which in itself is quite a feat as many simulation games one consoles have struggled with getting the controls to feel as good as they do on PC.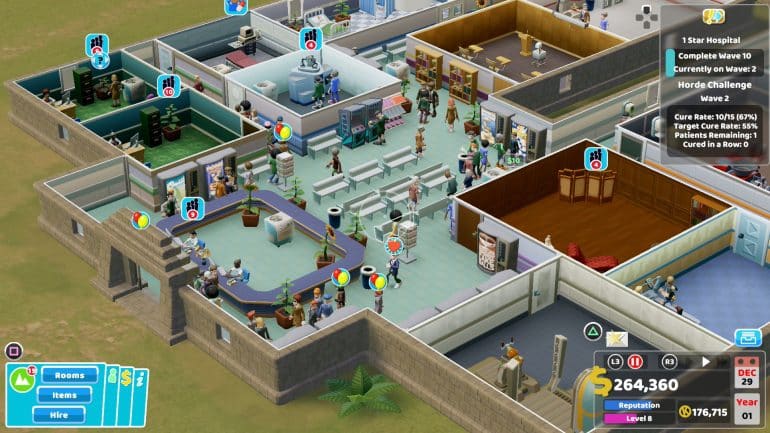 Two Point Hospital is not only a worthy successor to the brilliant Theme Hospital, but the console version is also a perfect example of how PC controls can successfully be translated on a console. The game lures you in with its cartoony visuals and sense of humour and then grabs hold of you with its addictive gameplay loop and overall polish.
If you loved Theme Hospital you owe it to yourself to get this game.
The Review
Two Point Hospital
Two Point Hospital is a worthy successor to Theme Hospital. Its colourful, zany and more importantly loads of fun, plus it serves as an example of a PC port done right on consoles.
PROS
Over-the-top humour
Controls work well
Addictive gameplay loop
CONS
Managing a busy hospital can feel overwhelming at times
Review Breakdown
Storyline

0%

Gameplay

0%

Graphics

0%

Replay Value

0%

Sound and Music

0%