I am a big fan of indie games. In fact, when it comes to film, music and games, I tend to be more inclined to layout my hard-earned cash when I see a small studio produce something great. Hell, even if it's just passable. I think big business should be lauded, not vilified. If you create a product that millions of people want, good for you, but if you can create a product that people want and you did it with a fraction of the resources, I really admire that. You just know that the belief was absolute and the commitment 100%.
The studio responsible for Trine 4, Frozenbyte, are hardly new kids on the block. They have a fair repertoire of games, mostly in the 2.5D format and, obviously, 3 other Trine releases. They know something about developing games. I guess they are in that weird place where they are small enough to get away with mistakes while being experienced enough to know better.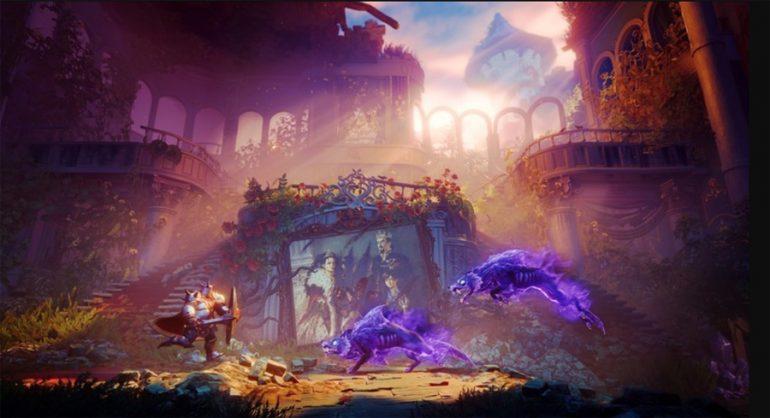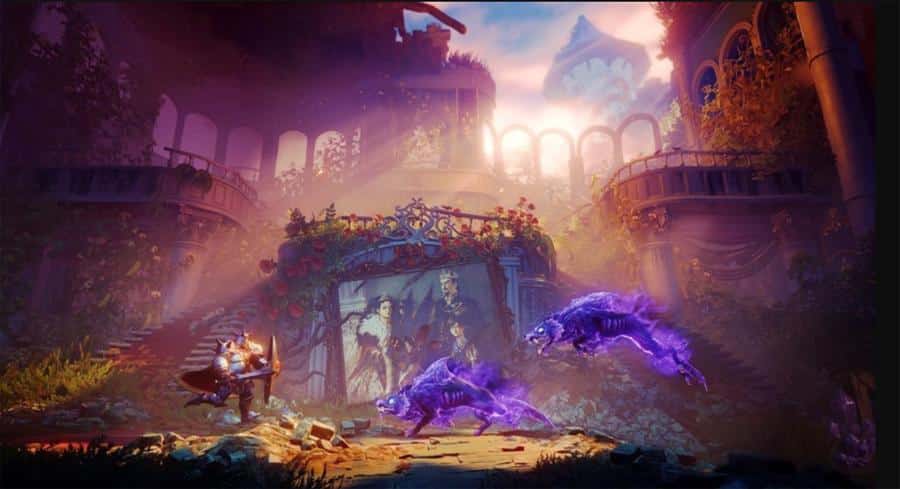 Trine 4 is their latest offering and I'll be honest, I don't know much about the previous 3 releases to be able to make a comparison. What I do know is that Trine 3 made less than an impact. It was their first foray into a proper 3D game and it just didn't work. The thinking is that they went off-script due to criticism of Trine 2 because it was too similar to Trine 1. So now they are back with 2.5D, which is kinda their wheelhouse and it has paid off.
As a Trine virgin, I was worried that having my cherry popped by the 4th instalment was going to be confusing, with a steep learning curve, but there was none of that. A very thorough tutorial gets you up and running pretty quickly and, based on the reviews of the previous 3 instalments, I'm thinking maybe starting with Trine 4 is the best way to go.
At its heart, this is a game that concerns itself with solving puzzles. There are 3 player characters, a Wizard, a Fighter and a Thief, each with their own unique set of abilities and you get to play either one of these characters, with online friends playing the other 2 or, if you are like me and you don't play well with others, you play all 3 and switch as the situation requires.
It plays a bit like Baldur's Gate, a point-and-click platformer, but in this case, the fighting is almost inconsequential. It is all about the puzzles. And I love it.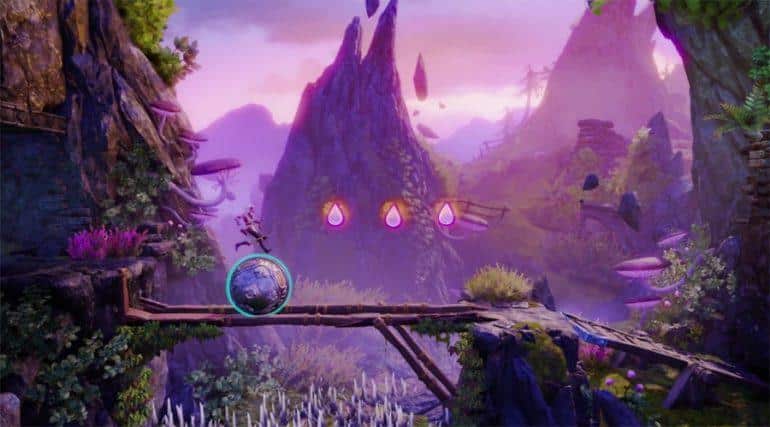 It is a bit uneven in how it rolls out its challenges. For example, the final boss battle was so easy I was left wondering if I maybe missed something, or there was more to come, while about 3 hours prior I was ready to throw my controller out the window because I just could not get past a stage that should not have been any more challenging than the ones preceding it.
All that aside, the beauty of Trine 4 and the complexity and cleverness of (most) of the puzzles is totally mesmerising. I often found myself just staring at the screen, analyzing everything I can see, trying to work out what am I supposed to do next..? There is flowing water, light beams, platforms and movable objects and all of these things, in some combination or other, is the key to moving on. I'll be honest, the flood of endorphins when you solve the puzzle is quite addictive.
The actual combat element of the game is not bad, but very clearly of secondary importance to the puzzles. It is a welcome change, when you've been bending and beating your brain trying to work out the solution to a puzzle or 3 to just whip out your sword (or bow, if you are playing the thief) and beat some shit up. A nice touch is that combat reverts to a Mortal Kombat type screen. It makes the combat feel more important than it actually is, but as I said, it's a welcome distraction.
Trine 4 is also a lot like Ori and the Blind Forest; very soothing, ethereal and even something as violent as hand-to-hand combat is made less jarring by a quick re-spawn, and it seems you can't move 5 feet without triggering a checkpoint.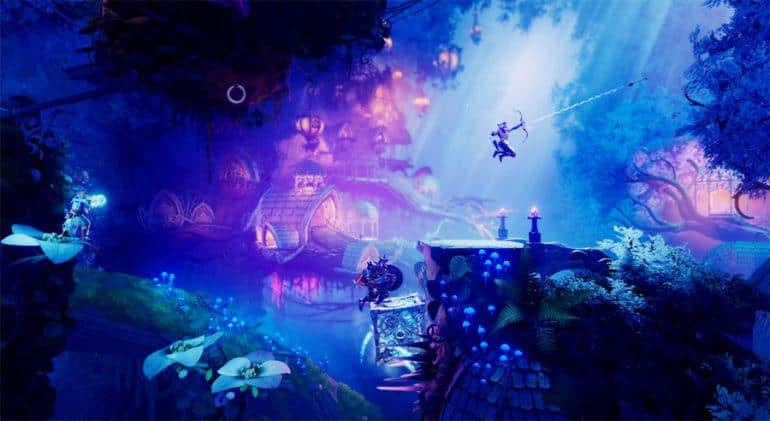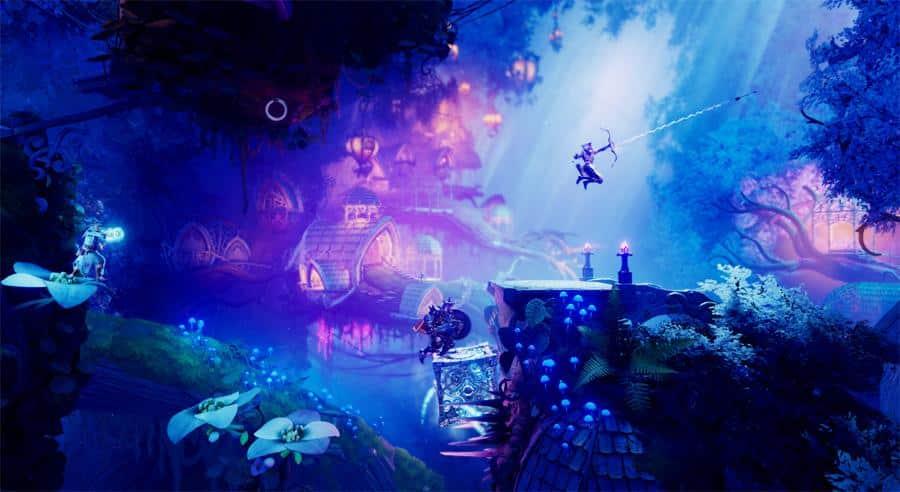 The story, in a nutshell, is you play as either Amadeus, the Wizard, Pontius the Warrior or Zoya the Thief. Your quest is to find Prince Selius, who is beset by nightmares. That doesn't sound like much of a quest till you realise that his nightmares have a habit of coming to life, with such devastating consequences that the whole world may actually be in danger! So, an Avengers level threat, with no Hulk for backup.
To sum up, the things I like about Trine 4:
It is breathtakingly beautiful
The puzzles are very challenging
It sounds wonderful
Its 2.5D platform format has a heavy nostalgic appeal for me, being a huge fan of the original Baldurs Gate
What I'm not wild about is the relative inconsistency of the difficulty of the levels. It would be nice to have a feeling that the consequence of progress is an increase in difficulty, which would build the feeling of accomplishment, but that's a bit all over the place. That being said, it's a small gripe, relatively speaking.
I love Trine 4, it takes me back to a simpler time and I will be playing it again, this time with friends. I say well-done Frozenbyte! Trine 4 is a beautiful thing.
The Review
Trine 4
Trine 4 is a visual feast. The game combines some clever puzzles and fun platforming. It's just a shame that it is let down by steep difficulty spikes.
PROS
Gorgeous visuals
Addictive and clever puzzles
Playing with a friend
Review Breakdown
Storyline

0%

Gameplay

0%

Graphics

0%

Replay Value

0%

Sound and Music

0%