Garfield Lynns, aka Firefly, is another assassin hired to takedown The Caped Crusader in Arkham Origins. While Firefly has never been considered a real threat to Batman, he seems to do a good enough job in the video. It is also good that DC Collectibles managed to pull off the best Firefly action figure and character design to date.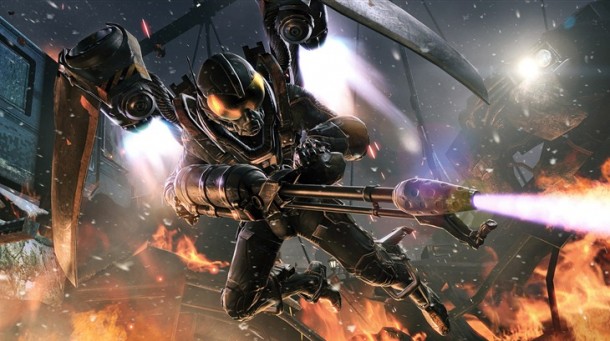 Standing at 7 inches tall, Firefly sports one amazing sculpt to say the least. The accuracy of the figure design is spot on, making him one of the strongest designs in the series. He is far better than a rifle less Deadshot!
The textures and paint applications on this action figure allow it to stand out and above the rest in the series. He looks military tact and efficient and far more threatening than he has ever looked. Starting with the helmet sculpt you are immediately impressed, his mask and the large metallic visors still give him that insect like look, but without making it overly obvious. He looks military like first and foremost, whilst subtly alluding to his comic origin. The fact that he only has one antenna on his bug looking helmet works well too, the breaking of symmetry is subtle yet effective. His torso is covered in his tactical harness that is mounting the jetpack to his back. The front of his torso has a row of precision painted incendiary grenades. The dry brushing techniques used on the grey and black colour scheme make his suit look fireproof; the bright yellow applications create a strong contrast that highlights the fact that he is a Firefly. The armour on his legs is a lot thinner, more like padding than anything else, he also has a tiny wing connected to pipe like braces on each leg. I am assuming that these tiny wings assist him in steering his body whilst in flight.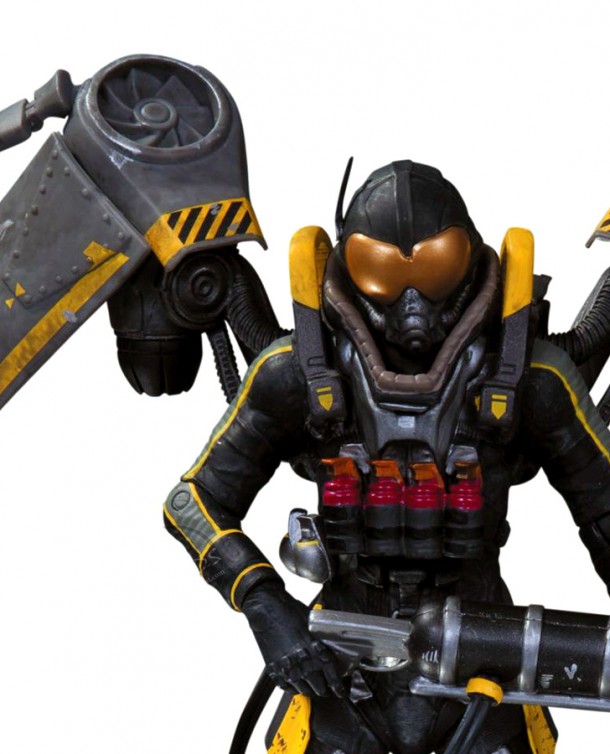 His three accessories receive some great paint applications, they add so much to the sculpt of the figure and are more than just accessories; they are necessities. He has two huge metal wings on his back. Each wing is filled with intricate detail containing scuffs, scrapes, rivets and tubes. These wings look military issue and receive paint applications that truly add to the overall look of this action figure. The wings are removable, but what is the point of having a fly without wings?
His other accessory is his flame thrower which he holds quite nicely in his hands. This weapon connects to his backpack thanks to a soft wire pipe that goes from his back to the base of the flamethrower. Firefly needs to hold the weapon as though he were holding on to a shotgun. His right hand is sculpted to hold the guns handle whilst the left cradles the flamethrower on its palm. His flame thrower is filled with decals enhancing its military issue look quite well.
Articulation is where this great figure loses out, unlike the other figures in this series. Firefly has fallen victim to limitations in his articulation and has not received the same treatment as the other figures in this series. As a statue or sculpt, this figure was definitely designed as a display piece more than an interactive piece. He has a rather limited ball joint head that is unable to really move left or right thanks to the bulky helmet and closely knit shoulder straps. The Helmet makes it impossible for him to look up or down at all. His shoulders are ball hinge joints and they can move quite well as the armour is not impeding movement in any way really. He has single hinged elbows that also swivel and he is able to swivel his wrists but no hinge movement is available at the wrist. The torso has no articulation at all; the torso is filled with sculpted detail so any articulation here is rather impossible. The figure has swivel hinge hips and single hinge knees that basically neuter any epic flight poses. His ankles do not have any articulation at all, even though the design may look as though it allows for movement at the ankle the sculpt is solid and fixed to not move at all. This lack of articulation really steals from the figure and leaves you with very few poses to choose from. I think most poses will end up being Firefly facing forward with a gun in his hand. Do not expect to see any in flight intricate poses…the sculpt has made this impossible and, with a wingspan over 15 centimeters, the lack of articulation is definitely an opportunity lost.
It comes in the same clamshell packaging that the standard size figures in this series are placed in. The blister packaging folds the wings in such a way as to fit into the slender box. The back of the packaging has a brief game bio and pictures of the other figured in the series as well.
Even despite its articulation flaws. This figure is a must have for a fan of the game and a fan of great looking sculpted figures. This figure takes a D-list villain and puts him up in the A-list on looks alone. Thanks to his modern military feel, Firefly looks threatening and tactical and worthy of being an opponent to the Dark Knight. This figure is going to set sales alight as it flies off of shelves, so make sure you grab yours now as this is definitely a hot item.
A big thanks to Critters and Comics for sourcing this great figure at a great price. Visit www.crittersandcomics.co.za to see their latest products and don't forget they ship nationwide.