DC seems to be churning out Deathstroke products these days. You can find him in DC Animations, Video Games and most noticeably on store shelves. With multiple versions of this character being released so frequently, is there anything that makes Arkham Origins Deathstroke worth purchasing?
[yframe url='http://www.youtube.com/watch?v=Dw4pt0wygFs']
Of course he is worthy! The minute Deathstroke appears in the Arkham Origins Trailer you could only hope that an action figure was to follow and fortunately that wait is now over. Many fans went out and grabbed the Mattel version of this Deathstroke, however, patience is a virtue and, when compared to this action figure, the Mattel version is laughable.
This sculpt is almost 7 inches tall and is filled with intricate detail presented beautifully. The paint applications on this figure are simply amazing; his armour has the signature metallic look which is comprised of shades of blue, grey and orange. The entire sculpt is also riddled with scratches and scuffs that Deathstroke has earned during his previous missions. The marks show just how experienced and ruthless Slade Wilson truly is. He even has paint applications that highlight the different components and textures of his gloves!
The head sculpt is amazing as he is wearing a mask that has been ravaged in war, bearing scratches as well. But this is not the impressive part. What is impressive is the level of detail put into the sculpting and painting of the uncovered eye. The stern, heartless stare just screams, "Killing Machine!" The head sculpt also has the long headband tails hanging at the back for that added flair. The torso sculpt is just as impressive, starting with the awesome ding and dented shoulder pads.
Deathstroke is fully kitted out and his accessories received a great paint job too. The matte black tactical belt and sword sheath receive some awesome dry brushing; even the tiniest of details such as bullets on his shoulder have received amazing paint applications. His combat boots look excellent as well, as they are almost shin guard like up until the knee and they too are covered in scrapes and grazes. The hand sculpting is quite cool as well, featuring a thumb that is perfectly posed, making his grip on the bo-staff look authentic. This thumb also makes it look as though he is pulling the hammer back on his hand gun. It would have looked better had this thumb been sculpted on the right hand so it lines up with the holster for the gun accessory – minor gripe I know.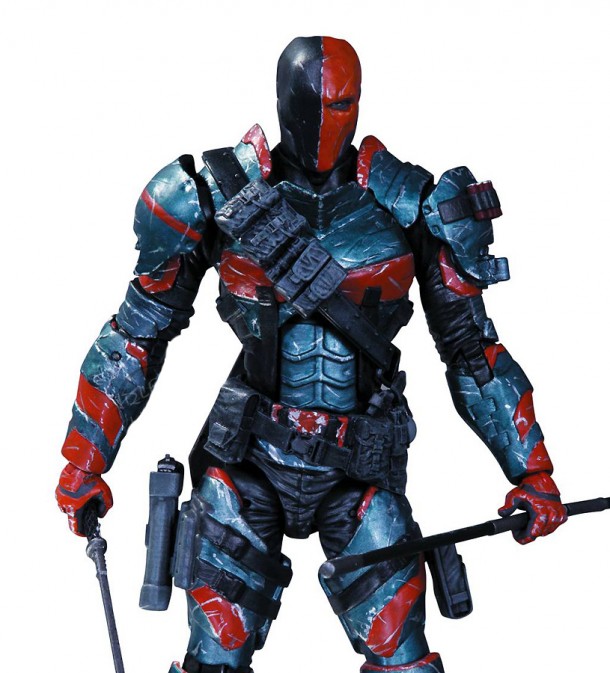 This is Slade Wilson, so the articulation on this figure has to be top notch in order to allow The Terminator to pull off some of his signature poses. He has over 16 points of articulation (some parts are able to articulate in more than one way). He has a ball joint head with decent movement, moving well side to side but very limited up and down movement. He has ball hinge shoulders that are limited in movement due to the shoulder pads on the sculpt. Unlike the New 52 figure, these shoulder pads do no lift, so the movement here is reduced quite a bit. The figure has a bicep swivel and single hinged elbow. The wrists can swivel at the cuff of the gauntlet, they are hinged as well! It almost looks as though he has an abdominal crunch. However, he has a swivel waist and ends up with the ability to do a bit of pelvis thrusting. He has ball hinge joints at the top of the leg allowing the figure to get some great motion for those flying kick stances. They are also able to swivel. The figure has swivel thighs, double hinged knees allowing for great poses. But the best part is that the knee pad hides the joints making it look more realistic. Lastly, he has swivel hinged ankles for accurate and realistic looking roundhouse kicks. With all of these points of articulation, this Deathstroke is definitely ahead of majority of the past releases.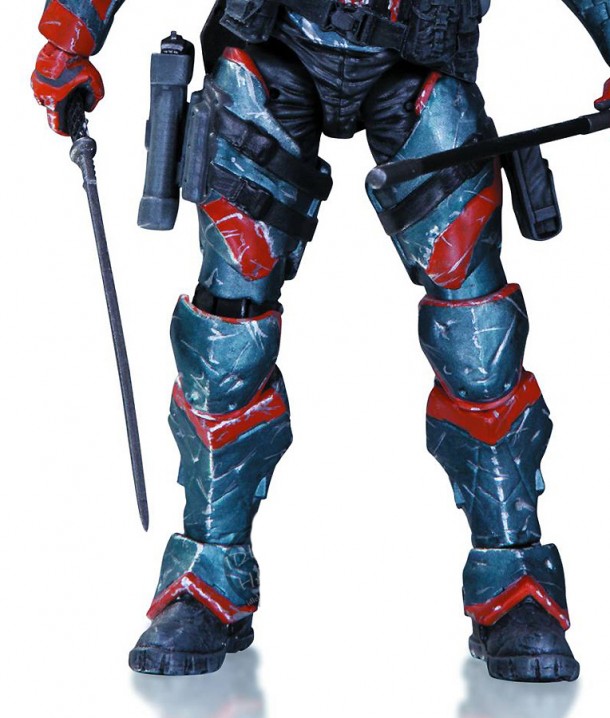 What would an assassin be without the tools of his trade? This figure comes with a Bo-Staff that he holds quite well. The paint applications on the staff are impressive and accurate as well. Then you have a nice looking handgun that fits into a holster on his upper thigh. You also get a glorified cane… Yes, the main weapon, his sword, ends up looking less threatening than a blunt Bo-Staff. The sword sheath on his back is huge and then the blade ends up looking thin and brittle. It is the equivalent of Guts from Beserk using the huge sword sheath on his back to hold a walking stick. He also has no assault rifle which is a bit of a let-down. Even the Mattel one had that!
The packaging is your standard Clam-Shell packaging with a brief bio at the back and pictures of the other characters in the series. There is nothing fancy going on here, but even on display in the packaging this product will still shine.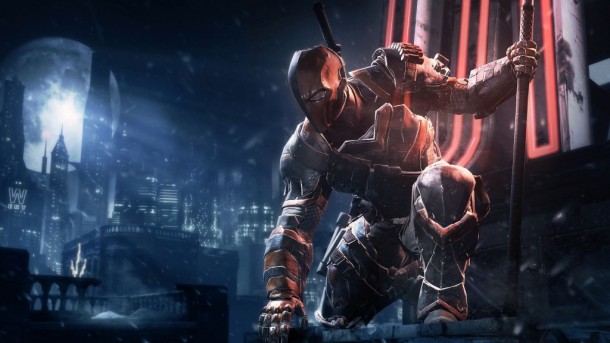 This is definitely a Deathstroke one should own. It is by far the most impressive piece in the series and one of the few to even come with notable accessories. This figure looks great, almost as if he snuck out of the screen to kick your display case into the next gear. His sculpt is tactical, functional and intricate separating toys from action figures!
Get your action figures from the awesome guys at Critters and Comics, they always have great, if not the greatest, prices on all Comic and Graphic Novel merchandise, visit www.crittersandcomics.co.za for more information.