The crew is back for more motoring madness! Watch Top Gear Season 30 on BBC Brit (DStv channel 120 in South Africa).
Top Gear returned to South Africa in late 2020 for Season 29. Unfortunately, the season was hampered due to quite significant changes to the original scheduling. However, the team and producers made the most of what they had. Sadly, this was a bit of a lull over the previous seasons, which introduced the trio of Paddy McGuinness, Freddie Flintoff and Chris Harris.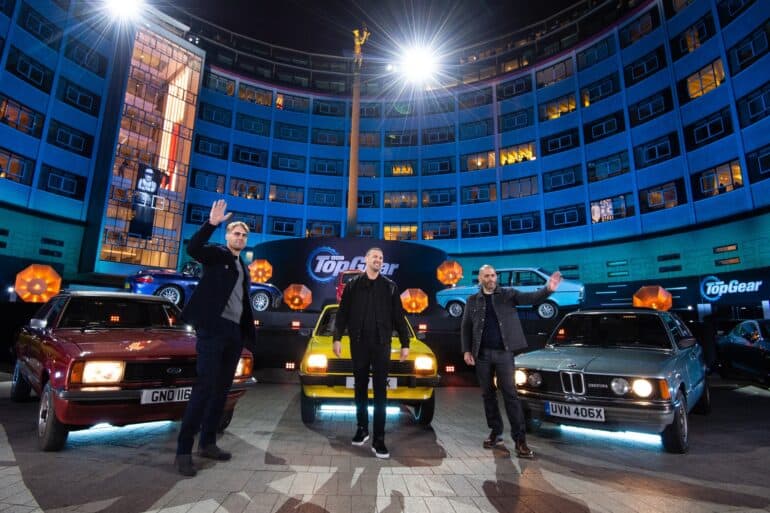 Now, Top Gear season 30 has arrived in South Africa, ushering in quite a bit of carnage.
In their fourth season together, the team hit the road again. Most of the filming does take place in Great Britain, but it's good to see a slight return to normality for the show. The team go "water skiing" on concrete, attempt to get their hands on Bond cars and dad cars, while also Jetpack racing, to name a few.
As is always the case on the show, a series of challenges are presented to the team in season 30 of Top Gear. Designed to push them and their cars to the limit, the aim is to 'try' give some good advice on the types of cars you could buy.
One of the favourites from Top Gear Season 30 is Paddy, Freddie and Chris living out their boyhood dreams of driving 007 cars. This includes the classic Aston Martin DB5, first seen in Goldfinger. It also extends to the decapitated Renault 11 Parisienne taxi Roger Moore piloted in A View To A Kill.
The four-part season includes the following episode guide:
Dad's Cars
The Supercapacitor Supercar
Episode Two
How to Buy a Bond Car
Extreme E vs Jet-Pack Man
Italian Stallions
Episode Three
Off-Roaders in Scotland
Under the Bonnet Spark Shoes
Episode Four
Midlife Crisis Cars
Harris in a Yaris
South African fans can catch Top Gear Season 30 every Thursday on BBC Brit (DStv channel 120). The series premiered at 8pm on 15 April 2021.