The online casino market moves quickly. There are new games being developed and released constantly, many of them utilising licensed intellectual properties from film and TV. Given the extraordinary popularity of superhero films today, it is hardly surprising that so many slot games are being released that are use themes from comic books.
Marvel and DC are both competing fiercely for audiences in the cinema, and this competition extends across all of the sectors in which these two titans compete. Whether it's selling merchandise or selling comics, both Marvel and DC are eager to score one over on their competitor. The online casino space might seem like the last place that these two businesses would be doing fierce battle, both are very eager to show that their offerings are superior.
Marvel has dominated the space so far, but DC are now looking to assert themselves. In this article, we will look at some of the best slot games that both sides have to offer, as well as what the future holds for comic inspired slot games.
Playtech Vs Cryptologic
Both Marvel and DC Comics had chosen to use different developers to produce casino slot games based on their intellectual properties. In 2005, Cryptologic began producing the first slot games based on Marvel properties, whereas DC hired Playtech in 2009 to develop their own range of themed slot games. In 2012, Cryptologic was bought out by Amaya Gaming. In 2014, Marvel struck a deal with Amaya Gaming which resulted in Playtech becoming the license holders. In 2017, Playtech's deal with Marvel expired.
This situation has meant that there are a number of highly-regarded online slot games based on both Marvel and DC properties. There are some noticeable differences between games produced by each developer. Let's look at some of the best examples.
But before we do, you should know that if you want to get the most bang for your buck out of these games, you should look beforehand at Gambling Metropolis to find free spins offers on slots. Most online casinos will offer new players free spins when they first join or make a deposit, and Gambling Metropolis enables you to take advantage of these.
Marvel Games
Cryptologic produced some of the best Marvel-themed slot games on the market. These titles were produced between 2005 and 2010. Among the best games from this period are:
Fantastic Four
Thor
Wolverine
Spiderman
The Punisher
The Incredible Hulk
Sub-Mariner
Unfortunately, financial difficulties meant that Cryptologic was forced to sell to Amaya, who handled production of the last titles made under the Cryptologic brand. Playtech started producing Marvel-themed games in 2010. It was around this time that the introduction of the progressive jackpot system sent the popularity of a number of titles through the roof.
Progressive jackpots are games in which all the players, no matter what online casino they are using, are playing on the same network. Whenever a game finished without a player winning, the overall jackpot increases in size. This continues until a player wins the jackpot, after which the process begins again.
Among the best Marvel slot games from this era are:
Iron Man 2
X-Men
Avengers Assemble
Spider-Man
Daredevil
While Marvel have had huge successes in this space, their buyout of Disney presented a dilemma. Disney's family-friendly image wasn't compatible with gambling and casinos. As a result, no new Marvel slot titles have been produced since 2017 and the majority of titles have now been withdrawn.
There is some speculation that Marvel could return to this space very soon. While Disney might want to maintain a family-friendly image, Marvel's adult IPs – Blade, Daredevil et al – are runaway successes. They also might decide that they don't want to concede any ground to DC…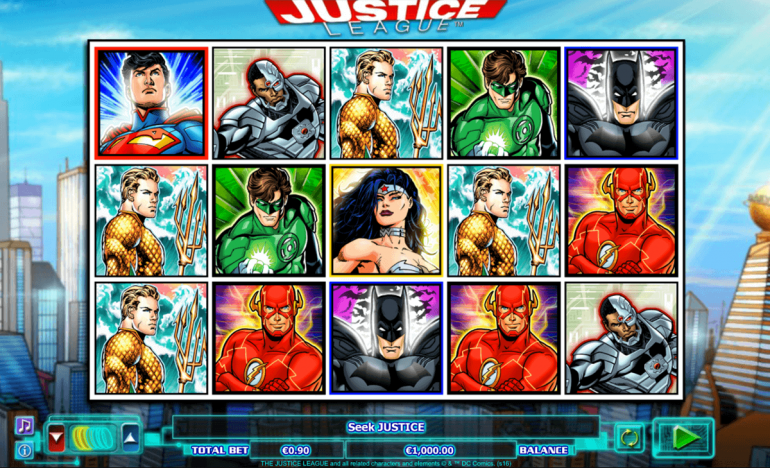 DC Comics to the Rescue!
Fortunately, there are still many high-quality comics inspired slot games on the market. This is because Amaya Gaming's contract with DC is still alive and well. Through Amaya, Playtech has produced some of the best online slot games ever made utilizing DC properties. Marvel's exit from the space has left a wide-open goal that DC are not going to allow to go to waste. Since striking a deal with Warner Bros in 2016, Playtech have been able to produce titles based on the Batman IP.
The Batman-themed slots that Playtech produce are among the best on the market, but they are not the only excellent DC-themed slot games that Playtech produce. For the foreseeable future, all new DC releases will have an accompanying slot game produced by Playtech.
Here are the best DC-themed slot games you will find on the market:
Batman and the Joker Jewels
Batman and the Batgirl Bonanza
Batman and the Penguin Prize
Batman and Mr Freeze's Fortune
Batman and Catwoman Cash
Superman 2
Superman: The Movie
Man of Steel
Aquaman
Green Lantern
Suicide Squad
Justice League
There are slot games out there based on just about any successful TV series or film ever made. Marvel's exit from the slot game space has left the landscape a little lopsided. Fortunately, DC and Playtech are continuing to produce excellent quality titles that any comic book fan will get a kick out of.