It was the early '90s that saw the beginning of the blogging era. Vlogging came into existence more than two decades later in the year 2005. Vlogging or video blogging is the best way to share your day-to-day experiences by creating a video and uploading it on Youtube. Vlogging has been dubbed as the new reality TV. The famous vloggers have a huge following on YouTube and are sweeping in high wages through ad revenues.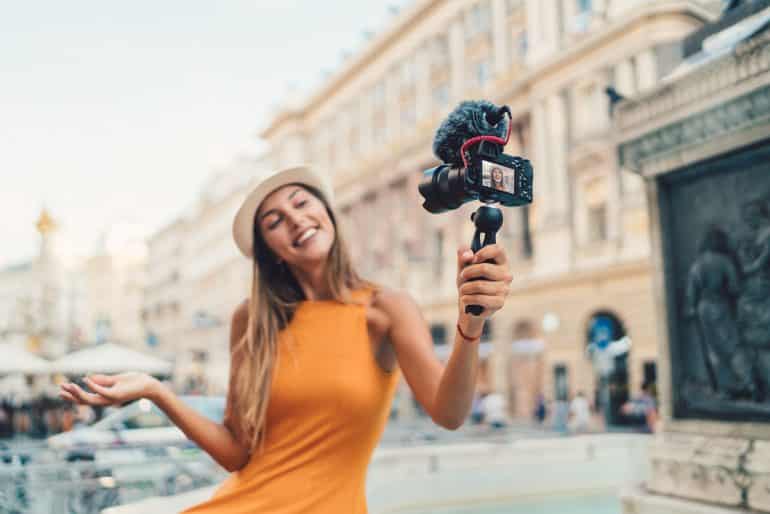 For creating a video just to share with friends and family, you can use your iPhone. However, if you wish the world to notice your vlog and attract a larger audience, you would need the right tools. To begin with, you would need to select the best vlogging camera to suit your requirements and to convert WebM to MP3. For this, the best option would be to select an easy to use online video converter.
Below we have listed the best six cameras you can choose to begin your journey as a vlogger.
1. Canon G7X Mk II
Compact, lightweight and reasonably priced, this is the best choice for someone who doesn't have much photography experience. Its flip-up facility allows you to see what you are filming. It has a built-in Wi-Fi and wind reduction feature. But remember it isn't waterproof and doesn't have removable lenses or 4K.
2. GoPro Hero7 Black
If you a travel vlogger and need steadying footage, even when you are jogging or are in a moving vehicle, then GoPro Hero7 Black is your pick. It comes with a redesigned microphone membrane for better quality audio. Its TimeWrap feature lets you Livestream on Facebook and YouTube.
3.Sony Cyber-shot RX100 Mk IV
Small and simple in appearance, the RX100 Mk IV has a built-in zoom lens. It is best for super-speed or stills shooting. It also comes with a flip-up facility. The only drawback is its price as it is one of the top priced after Canon EOS 80D.
4. Nikon D5600
The D5600 is compact and lightweight. It is among the top picks for travel vlogging. It is best suited when shooting movies because of its 'Pulse' autofocus motor. Here you have the advantage of silent and smooth focus transitions. However, it lacks phase-detection autofocus so it isn't suited for shooting moving objects.
5. Canon EOS 80D
A professional DSLR camera for shooting the best quality videos as it has options for setting manual focus and an external microphone. Its a top choice for some of the most famous vloggers. But it is best suited for indoor shooting because of its weight and size.
6. Panasonic Lumix G7
For a budding vlogger, Panasonic's Lumix G7 is the best pick. It has a flip-out LCD screen, 4K video capture, autofocus and microphone features. Its lens is made for capturing wider angle and it is one of the reasonably priced cameras from Panasonic's G-series.
Conclusion
Vlogging has a wide-range and choosing the best camera depends upon how you wish to use it. If you are a travel vlogger, into extreme or water sport then GoPro would suit you best. While Canon EO5 80D can be bought if you will be creating videos in an indoor setting. In any case, videos captured from these cameras can be easily converted using online video converter. Especially, to convert WebM to MP3 formats immediately.