Sports is a staple amongst many lives across the globe, with sports betting also playing a prime role in the cultural staple that is sports. There are literally hundreds of different companies in countries like the UK alone, and markets such as the US and Canada have seen a huge increase in the amount of people placing bets. Whilst there is an eclectic mix of sports films focusing on every sport from football to hockey, there is no shortage of representation when it comes to sports stars themselves.
However, sometimes as viewers, seeing parallels to ourselves visualised on the silver screen provides a sense of relatability and enjoyment.
Therefore, here are some fantastic sports betting films designed for avid fans.
The Color of Money
Martin Scorcese's 1986 film The Color of Money, boasts both Paul Newman and Tom Cruise starring in this stylish sequel to The Hustler. Telling the story of 'Fast' Eddie Felson (Paul Newman) takes young and upcoming pool star (Tom Cruise) under his wing in order to teach him how to navigate the pool scene and become a younger embodiment of Eddie by hustling his way through the country.
However, trouble arises when Vincent allows his ego to compromise his vision by frequently showcasing his skills, which ultimately drives other players away from the pool table and causes friction between him and Eddie over financial losses.
Whilst The Hustler is a fantastic standalone film, this sequel ensures that the true gritty spirit of the original is not compromised and instead takes on a more modern and sleek dynamic. If you enjoyed the first film, without a doubt The Color of Money will appeal to your tastes.
Mississippi Grind
Anna Boden and Ryan Fleck's collaborative effort on Mississippi Grind in 2015, is one that is often heavily underrated. Ben Mendelhosen (Gerry) co-starring alongside Ryan Reynolds (Curtis) as the two unite to try and rectify Gerry's financial hardships, after he sought out the young poker player to help him win back the money he lost.
As the pair set off on a road trip across the Southern states, the poignant bond between the two becomes a focal point and brotherhood runs throughout the narrative, as the pair intend to support each other.
Whilst the film focuses predominantly on interaction and detailed character development, Mississippi Grind also ensures to include interim cuts of action and is bound to draw any viewer into its twists and turns. If high stakes gambling and drama is your ideal watch, then Mississippi Grind is for you.
Hardball
Brain Robbins' 2001 film Hardball stars Keanu Reeves as Conor O'Neill, a man whose life has been wrecked following his battles with a gambling addiction, thus inhibiting his promising future. Through the repercussions leading to him spiralling into heavy drinking, petty crime, and into the grasp of loan sharks.
In order to try and get a loan, Conor stands in for his lawyer friend as a coach of a Chicago Little League baseball team. By becoming the team's sole role model, Conor feels motivated – yet his crushing debt problem looms after him.
If a humorous and tear-jerking tale of a man rediscovering himself after a complicated past sounds appealing – Hardball is the film for you.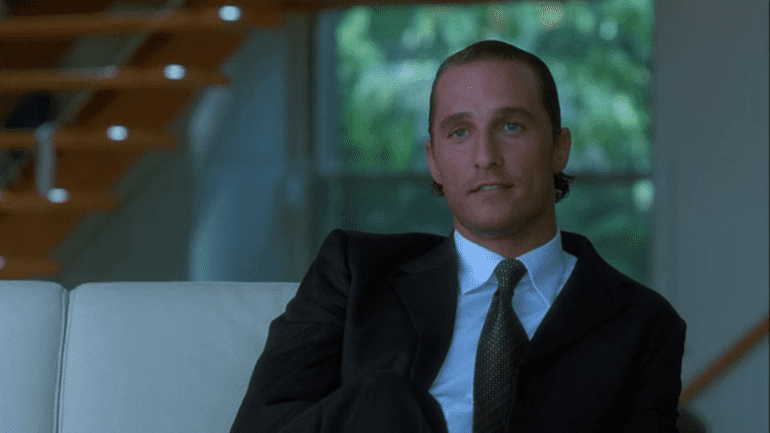 Two For The Money
D.J. Caruso's Two For The Money created in 2005, following Brandon Lang's (Matthew McConaughey) debilitating knee injury prevents him from entering pro league American Football, he discovers his aptitude for anticipating game outcomes due to his instincts as a quarterback. When times get hard, he relocates to Manhattan to work for Walter (Al Pacino) in advising gamblers.
Walter helps reform Brandon and remould him despite his mistakes and a father-son relationship dynamic blossoms. Yet when the business goes awry – Walter and Brandon are under scrutiny.
A high stakes, thrilling film that is bound to lure viewers into the immersive world of Walter and his escapades. A must watch for avid sports fans or even those who previously participated in sports.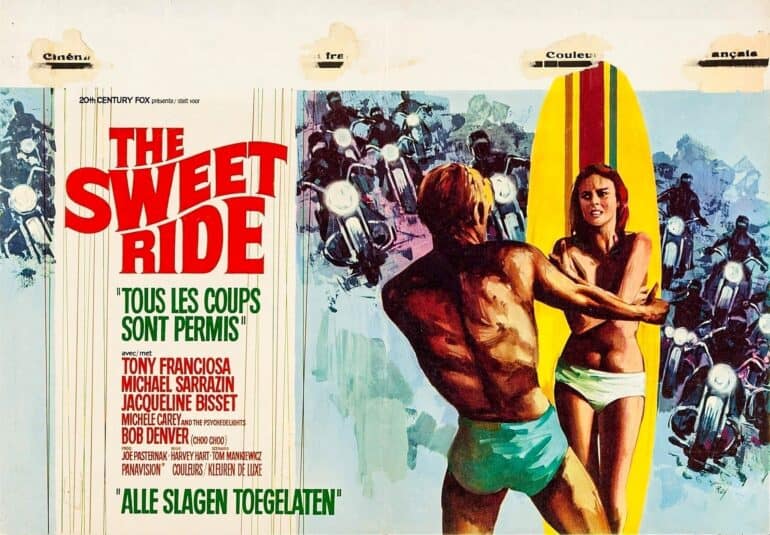 The Sweet Ride
Perhaps the oldest and most well-known film on this list, Harvey Hart's gritty and The Sweet Ride, first released in 1968, is the story of a tennis hustler (Tony Franciosa) who's long past his prime and two young proteges, a surfer (Michael Sarrazin) and a musician (Bob Denver) who all reside in a bachelor pad in Malibu.
After the young surfer falls for a woman (Jacqueline Bisset) who washes up, yet issues arise with her pimpish ex-lover and a vicious motorcycle gang, where the protagonists' pasts catch up with them and lead them to conflict.
Whilst this film is hilariously mismatched, for a film so typical of its time, it's relatively gritty, which subsequently creates a very balanced watch for those who prefer more classical sports films.