In the realm of Android gaming, are you on a quest for the most exceptional mobile games? Your search concludes here! Brace yourself as we unveil a meticulously curated compilation of the crème de la crème – the top 12 best mobile games for Android devices.
RELATED: Blizzard Cancels World Of Warcraft Mobile Game
For many, when they hear the term "gamer", they immediately think of someone gaming on a PC or console. However, avid gamers are not restricted to just these devices. While yes, consoles and gaming PCs are built specifically to play high-end games, there is another way to join the community. And that is through mobile gaming. Although this may come as a surprise, the mobile game community is already large and is ever-growing. Furthermore, mobile gaming is much more accessible than many other platforms, as gaining access to certain titles is as simple as opening Play Store and hitting the "download" button.
However, Android devices are known to have too many games available in Play Store to the point it can become overwhelming. And this means choosing a good game can prove to be quite challenging, as reviews are not always reliable. As such, we have taken it upon ourselves to put together a list of the best mobile games to try on your Android device. These will cover an array of genres to match individual preferences and include something for everyone. So, without further ado, let's take a look at twelve of the best mobile games for your Android devices. Naturally, this will not be a ranked list.
12. Clash of Clans
Developed by Supercell, this Finnish game developer brought us this fun mobile strategy game available on Android and IOS. This online multiplayer game is set in a fantasy world where players can either join or form communities called "clans". From here, you can train the troops in your communities and attack other players' clans to earn resources. There are four types of resources consisting of gold, elixir, dark elixir, and gems. If you are looking to upgrade your traps, defences, and buildings, then gold and elixir will work. To upgrade your spells and troops, then dark elixir will be used. The game's premium currency will consist of gems, so do use those wisely.
If you do not want to play the multiplayer mode, a single-player campaign is available in the game. However, since the game mainly focuses on team formation, this campaign is only suitable for earning more gold and elixir. You will attack fortified goblin villages on various levels, but it will not be as complex as the multiplayer campaigns. Regarding clans in multiplayer mode, the minimum number of players needed to form one is thirty. Overall, the game has positive reviews from critics. However, some did feel that players are heavily encouraged to purchase gems to continue upgrading their clans.
11. Call of Duty: Mobile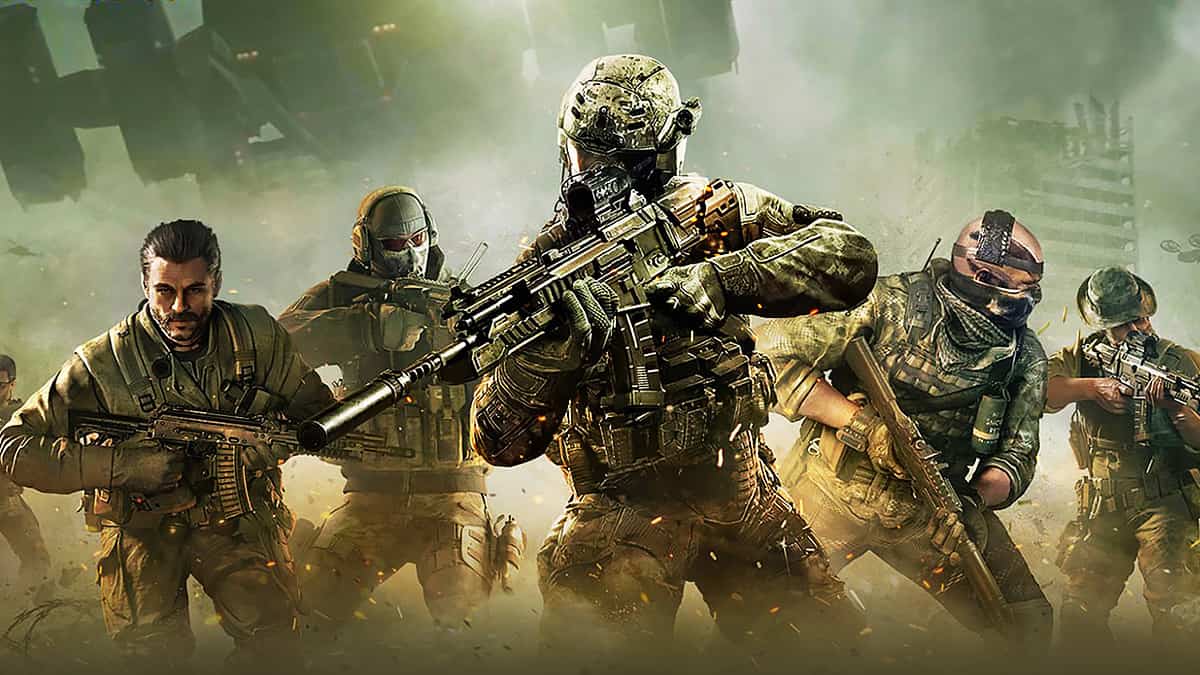 This FPS mobile game was brought to us by TiMi Studio Group, Tencent Games and Activision and is one of the biggest franchises in the gaming industry. So, it is only natural that we would get a free-to-play mobile version of the game for IOS and Android. Released in 2019, the game had over 270 million downloads a year later, which generated $480 million. Therefore, it should come as no surprise that this game has been included on the list. As a multiplayer game, there are various modes players can choose from, including ranked and non-ranked matches. Some of the more popular modes include Frontline, Search and Destroy, Domination, Hardpoint, Gunfight, and Team Deathmatch.
Other limited multiplayer and special modes allow for some exciting gameplay, including 2v2, Attack of the Undead, Prop Hunt and Rapid Fire. Furthermore, there is an option to participate in the Battle Royale mode, which includes up to 100 players. And a month after its release, we also got a Zombie mode playable in Endless Survival and Raid Mode. In terms of currency, you can earn "Credits" while playing through the campaigns, whereas "COD Points" need to be purchased from the in-game store. But, of course, purchasing COD Points are not a necessity.
10. Asphalt 9: Legends
You are probably very familiar with the Asphalt racing game franchise. And while there are many fun instalments, many will agree that Asphalt 9: Legends is the best in the franchise so far. Released by Gameloft in 2018, this game is available on all platforms, including consoles, Microsoft Windows, Android and IOS. As the fifteenth instalment, this version of the game has many updated features and better graphics than its predecessors. So this means while the overall gameplay is quite similar to what we experienced with previous Asphalt titles, we can see a significant change in the design and graphics. Furthermore, there is a total of 207 cars currently available in the game that came with the latest April 2023 update.
Similarly to its previous system, each car belongs to a specific class which details its performance and quality. D is the lowest class, with C being higher, followed by B, A, and S, which have the best and rarest cars in the game. All players begin with a D-class car which is the Mitsubishi Lancer Evolution X, and you can unlock more vehicles the further you progress. While it is primarily a single-player game, you do get access to an online multiplayer mode. Furthermore, you can choose to play the campaign or participate in the Club, Daily, and Seasonal Events. Each of these events will take you through a variety of smaller events.
9. PUBG Mobile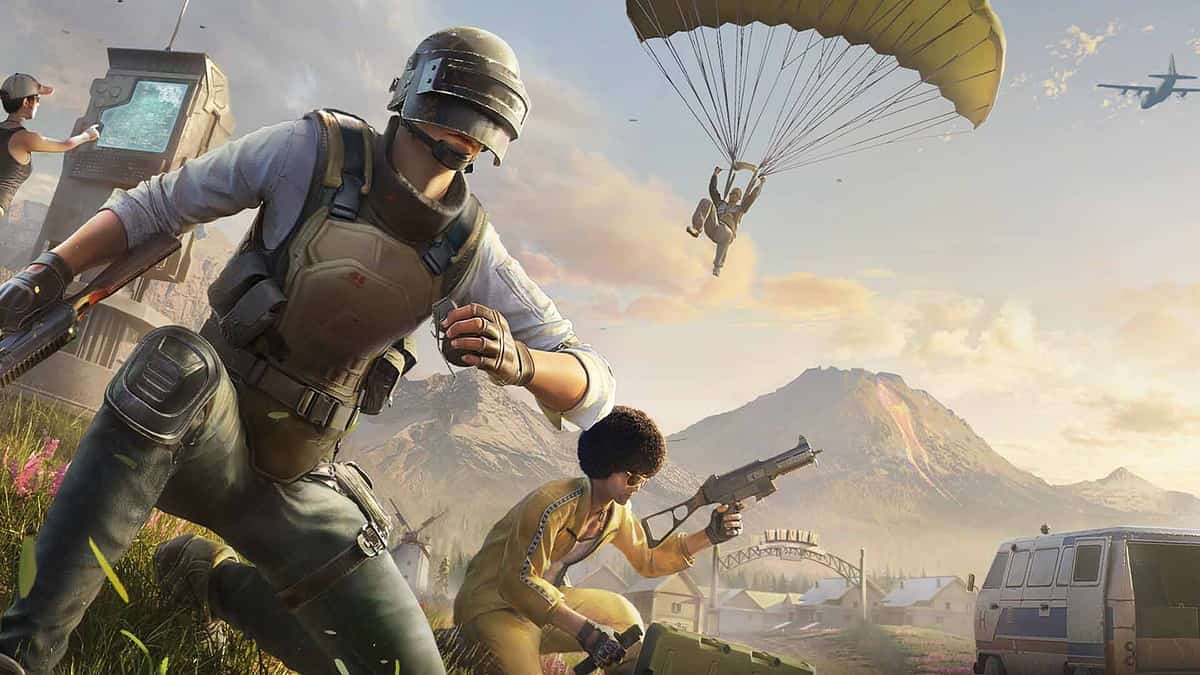 Brought to us by LightSpeed & Quantum Studio, this free-to-play battle royale mobile game is an adaptation of its console and PC counterpart, PUBG: Battlegrounds. As such, it is available on IOS and Android and ended up being the third highest-grossing mobile game in December 2022, when it accumulated over $9 billion and saw over 1 billion downloads. As the second most played mobile title, it is no surprise that the game has spawned New State Mobile, a separate game which takes place within the PUBG universe. The game took four months to develop, with teams of specialists from all over the world contributing to its success.
In terms of gameplay, we can expect something similar to PlayerUnknown Battlegrounds. Before beginning, players can either form teams of two or four or play alone. Furthermore, you can select your map and the specific game mode before beginning the match. From here, a plane will fly over the selected map, and players can choose where to parachute down. Once the game commences, it can last up to 33 minutes. Of course, you have no weapons and must find and secure them yourselves. Lastly, the perimeter of your safe zone (the blue zone) will shrink every few minutes, so keep an eye out, as you will steadily lose health if you are not within the perimeter.
8. Minecraft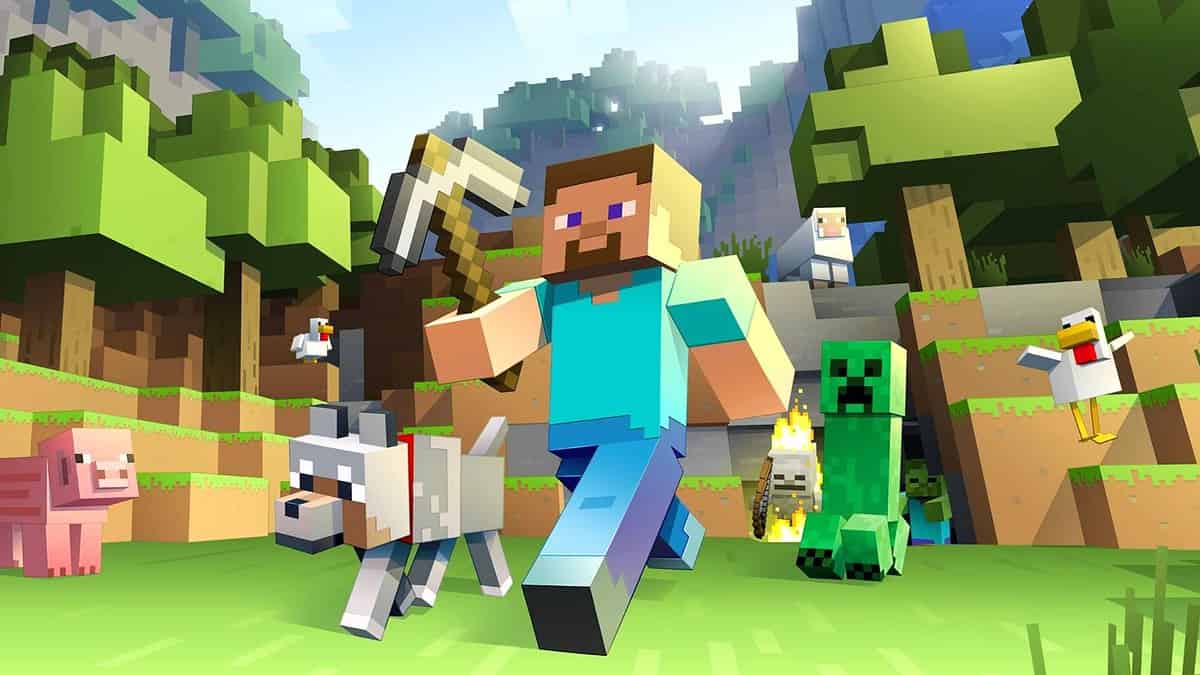 Although the game's mobile version is technically named the "Pocket Edition", as it is compatible with all touch screen devices. However, this was no longer required after the Bedrock Engine used to run the mobile version was ported to other platforms such as Microsoft Windows. So now all versions of the game go by the title of Minecraft. With that being said, Minecraft is the biggest video game in the world, and the mobile version works similarly to the console and PC editions. Essentially, players can build their own virtual reality in a sandbox environment. Furthermore, the mobile game also integrates survival elements such as hunger and brewing. This is in addition to the Nether and End dimensions.
Furthermore, there is an online multiplayer mode which cross-platform and available on any device with a touchscreen option. Essentially, if you can run the Pocket Edition, you can use the online multiplayer mode. It can be accessed via LAN, Pocket Realms, Xbox Live, and a user-created external server. Of course, features for the mobile version were revised, and players now have better visibility, crafting systems and menus. The game is one of the top-rated in Google Play's Top Charts and has sold over 40 million copies.
7. Hearthstone
If you enjoy collectable card games, then this free-to-play online mobile game is right up your alley. As the game was initially titled Heroes of Warcraft, Blizzard Entertainment brought us an extension of the Warcraft series. The game builds on the existing lore of the universe by including the same characters, relics, and other elements. Furthermore, Hearthstone is a cross-platformer, meaning one can play it on Microsoft Windows, macOS, IOS, and Android, as long as your device supports it. It is a single and multiplayer game, with a turn-based centred gameplay to give it a feel similar to its RPG predecessors.
With eleven classes full of heroes with unique cards and abilities, these powers help to define certain class archetypes. So, to begin, each player will select a hero from one of these eleven classes and then use a deck of up to 30 cards from their collection. The goal is to get their opponent's health down to zero. Your cards will consist of spells, weapons, minions, locations and hero cards and fall into categories based on their rarity. For example, the rarest would be Legendary and descends with Epic, Rare, Common and Basic. Various game modes include Arena, Tavern Brawls, Battlegrounds, Duels, Classic and Mercenaries.
RELATED: Mobile Innovations We Can't Wait to See
6. GRID Autosport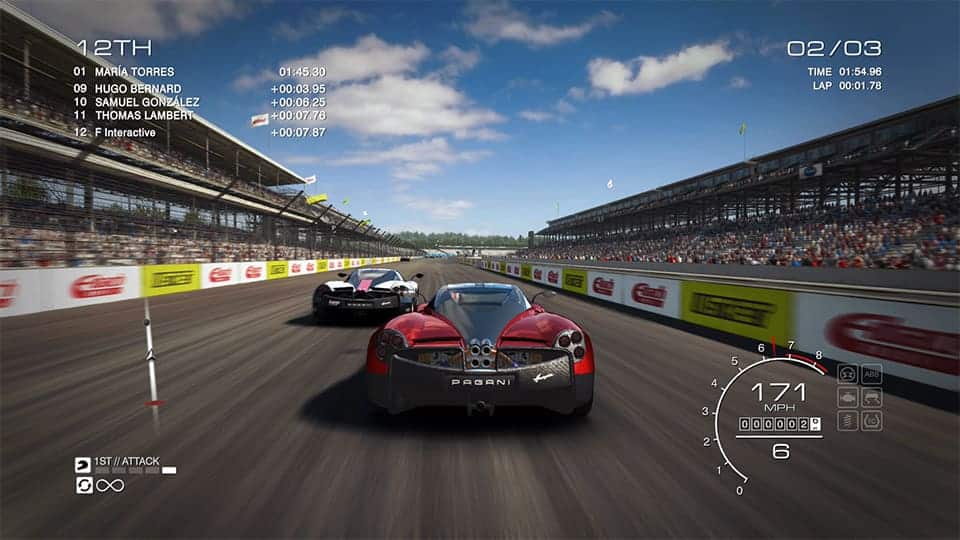 And yes, we are back with the racing games! Unlike Asphalt, this was a video game developed by Codemasters. It is available on multiple platforms, including Microsoft Windows, PlayStation, Xbox, and Android. This is the third game in the GRID series and results from a serious review of its predecessor, GRID 2. As Codemasters was unhappy with the previous game's reception, they made many modifications to the handling model, which resulted in a "race-first" design. Of course, their efforts did not go unnoticed, as critics praised the company for delivering a game which felt like it was returning to its roots as a franchise.
In-game, you act as a racer who has been given the opportunity to begin your racing career, which can be done via Career mode. However, you are given access to other modes, such as the Online mode, which serves as a multiplayer experience. The cars are divided into different categories based on their strengths, resulting in various tiers and classes. Overall, there are 103 cars in the game. The tracks are one of the best parts of the game as they are based on real-world circuits such as the Circuit of the Americas and the Red Bull Ring. However, there are other fictional circuits, with the game taking place in 28 locations.
5. Chrono Trigger
Initially released for the Super Nintendo Entertainment System, this RPG video game was developed and published by Square. While most of the game's soundtrack was composed by Yasunori Mitsuda, the Final Fantasy franchise composer, Nobuo Uematsu took over when Mitsuda fell ill. Of course, the game gained critical acclaim and was a commercial success. In fact, it was dubbed one of the greatest video games of all time. Chrono Trigger is available on multiple platforms, including Android, IOS, and Microsoft Windows. The plot follows a group of adventurers who must prevent a global catastrophe by travelling through time.
Regarding gameplay, Chrono Trigger has plenty to do and does not fail to keep you busy. You control the protagonist of the 2-D game alongside his companions. Although the world comprises various cities, forests, and dungeons, an overworld map helps you navigate. While you can interact with individuals to collect items, you are also tasked with solving puzzles, challenges and fighting enemies. Furthermore, you can attack enemies during a battle with physical or magical attacks while also healing and protecting yourself. Of course, each enemy has a different hit point that you must reduce.
4. Monument Valley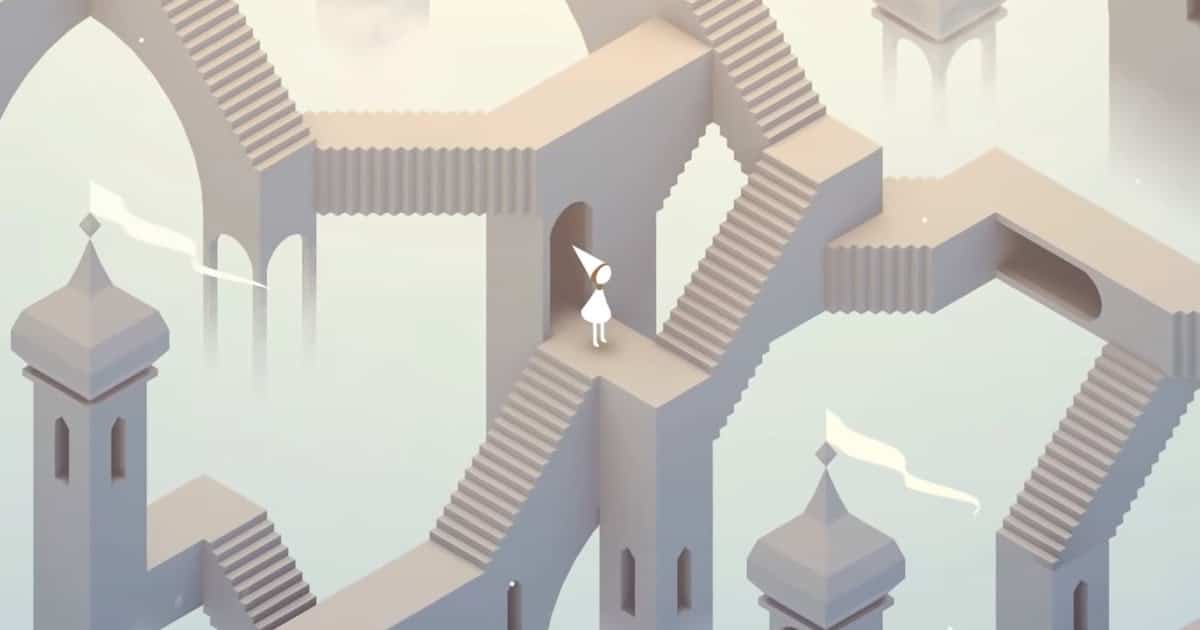 If you are a huge fan of puzzle games, then this indie puzzle platformer is perfect for you. Developed and published by Ustwo Games, the title is available on mobile devices such as Android, IOS, and Windows. It is also available on Microsoft Windows. Inspired by Japanese prints and minimalist sculptures, critics praised the game's beautiful art and sound design. Although the game is stunning, it is extremely short and is not as difficult as other puzzle platformers you may have tried before this. However, it has two expansion titles, Forgotten Shores and Ida's RED Dream, currently out, as well as a sequel titled Monument Valley 2, currently on the way.
The gameplay is very simple. You will control Princess Ida through ten levels, each with a different central mechanic. With an isometric view that adds to the optical illusions you have to journey through, you will also have to interact with the environment so you can find hidden passages that will allow you to progress to the next level. Finally, the game includes subtle cues that will send you in the right direction based on colour.
3. Raid: Shadow Legends
Brought to you by Israeli developer Plarium Games, Raid: Shadow Legends is a freemium RPG mobile game. This means that while you can play the game for free, in-app purchases will be required to access certain services and items. While the game is available on Android and IOS, it was ported to PC in 2020. This fantasy-themed RPG incorporates the gacha game mechanics. If you are unfamiliar with gacha, this means you will be encouraged to spend in-game currency to get a randomised in-game item.
You will play as an ancient Telerian Warrior in the fictional realm of Teleria, where the Dark Lord Siroth has taken control. Your task will be to defeat him and bring peace to the realm. You do so by assembling an army for battle in fortified settings, and as you play, you will accumulate Shards. The in-game currency consists of Silver and Gems, with the latter being much more difficult to come by. And to run campaigns, it will cost you Energy.
2. Apex Legends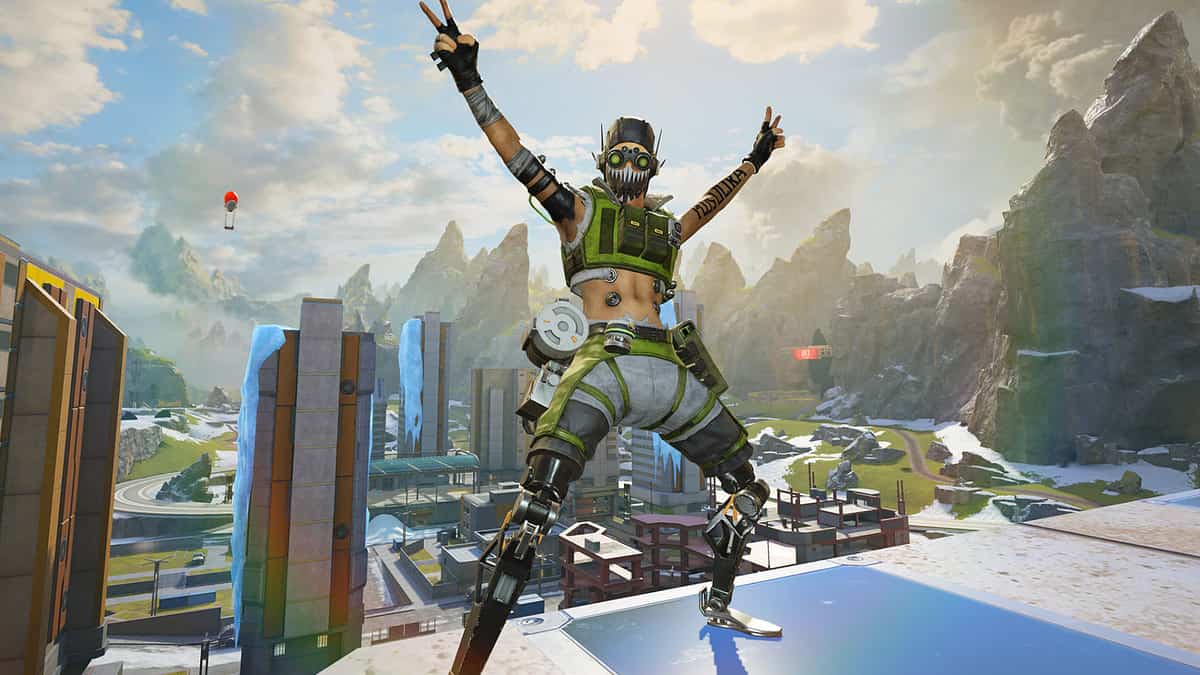 Similar to PUBG Mobile, Apex Legends is a cross-platformer developed by Respawn Entertainment and published by Electronic Arts. It was initially released on console and PC, but a mobile version was created so it could be compatible with touchscreen devices. So, it is available on IOS and Android. As this is an online multiplayer battle royale, you play as squads of three controlling characters with distinctive abilities. They are known as "Legends". However, alternate modes allow for single and two-player squads to go into battle.
Generally, each match will begin with twenty teams (where each consists of three-player squads). You can randomly match with players or go in with your friends as an established squad. After selecting one of the 23 playable characters each, you will be prompted to jump from an aircraft as it flies overhead the game map by your team's jumpmaster. First, of course, you will be expected to scavenge for armour, weapons and equipment, which will be scattered across the area.
1. Genshin Impact
Although this is not a ranked list, Genshin Impact certainly is the best mobile game out there. This action RPG was brought to us all the way from mainland China by miHoYo and HoYoverse, who developed, published, and distributed it worldwide. Available on Android, IOS, PlayStation 4 and Windows, the game utilises an action-based battle system which is dependent on elemental magic and allows you to switch characters. Although it is free to play, the game does feature the gacha mechanic, which will prompt you to make in-game purchases with in-game currency.
With an anime-style open-world feel, you can control a party of four wherein you can play as one interchangeable character at a time. Each character will have varying abilities that can be enhanced by levelling up and improving their weapons. While exploration of the world is an option, you may also complete various challenges to gain rewards. The story takes place in Teyvat, a fantasy world consisting of seven nations ruled by seven different gods with a specific element tied to it. The protagonist has lost their twin and travels across Teyvat to find them.
RELATED: Take Mobile Gaming To New Heights with the Samsung Galaxy A Series
What is your favourite mobile game?