The 2010s saw some truly amazing games, and as we head towards both a new decade and console generation, it seems only right to look back at the best of the best. The ten games on this list are often not only great games, they were often also trendsetters that influenced the gaming landscape as a whole.
Without further ado…
10. Assassin's Creed IV: Black Flag (2013)
Ubisoft is one of those developers that are very easy to poke fun at, with their ubiquitous "Ubisoft open-world formula," filled with towers to climb and map markers to activate. The thing is, despite quite a few misses (cough cough Watch Dogs cough cough), the Ubisoft formula for world-building can be amazing when it all comes together.
Few franchises have aimed for the stars in the way that the Assassin's Creed franchise has, and for that alone it should be commended. No other games have comparably let you explore historic recreations of fascinating times and places in quite the way as this franchise has. And while it suffered from the yearly release schedule that culminated in the not-ready-for-prime-time Unity in 2014, the series has since recovered with the most recent excellent additions of Origins and Odyssey.
The 2010s were very much the decade for Assassin's Creed as a whole, but rather than award this placement to the franchise in total, I've decided to go with Black Flag from 2013. This is where the classic gameplay of the AC franchise reached its pinnacle, and combined that with some of the best pirate simulation gameplay in video game history. Aside from perhaps AC1, all the instalments in this franchise remain very playable and fun even now, and perhaps none more so than when you are on the open oceans, listening to a sea shanty, on your way to your next swashbuckling adventure.
9. God of War (2018)
By 2018, Sony had developed a formula for cinematic storytelling in gaming that had already produced the memorable The Last of Us. They turned this gameplay design philosophy towards the most unlikely possible franchise they owned, one we never would have guessed and one that we never would have expected to have received a sequel at this time and in this manner.
God of War 2018 is a landmark case study of how to do a reimagining or reboot of your franchise correctly – learning from the past, honouring it, but moving forward to create something new and interesting with the IP that you own. GOW gave us an evolution of series protagonist Kratos, rather than a disrespectful recreation. The story carried on from the previous games but also stood alone, poised for a new franchise to continue from it. The gameplay was brutal, visceral, and exciting to the same extent as the older games, but framed with a new, fresh perspective.
Technically beautiful and gorgeous to look at as you play, the one-shot camera technique of the game also added a wonderful level of depth to the movement of the narrative and action as it progressed.
8. Hollow Knight (2017)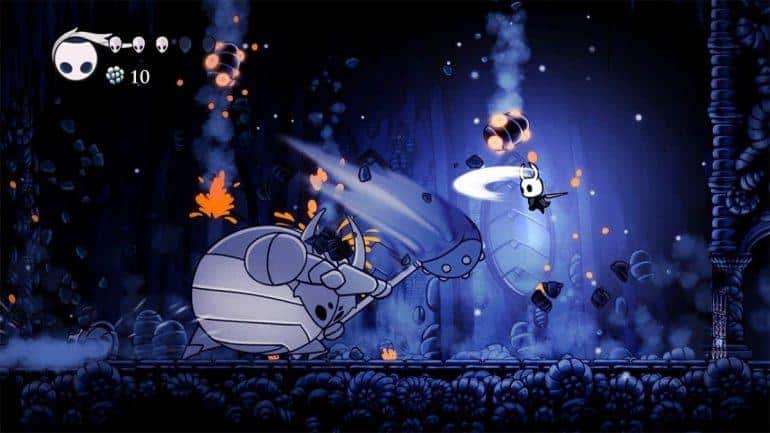 The 2010s were a remarkable time for the indie game scene, and to be honest, I could have put any number of them on this list as contenders. Celeste. Stardew Valley. Dear Esther. Journey. FTL. Shovel Knight. Undertale. Cuphead. Papers Please. We were truly spoiled for choice as indie game fans, as new and creative ways to play games were provided to us by small dev teams that often outshone their bigger budget contemporaries.
But if I had to pick one indie game and one alone, after much consideration, my choice goes to Hollow Knight. This game, created by about 3 people, is a pinnacle in the MetroidVania genre, with a stunning, unique aesthetic, deep combat and gameplay systems, hours upon hours of content in a world that just seems to go on and on, deep and fascinating lore…. Hollow Knight is everything you would want from a game, and is one of those experiences that you are often actually sad about when it comes to an end, as you wish you could stay in that world for just a little longer.
7. League of Legends (2009)
Okay, I'm cheating a little bit with this one, as 2009 is obviously a bit outside of 2010. But we had no idea in October 2009, when League of Legends launched with only 40 champions, how much it would come to dominate the gaming scene for the next decade, and how it would help popularise eSports as a whole.
Between 2009 and 2014, League of Legends was the most played game in the world, in terms of hours. Taking the popular DOTA map from Warcraft 3 and turning it into a new IP, the gameplay of League of Legends was easy to learn, hard to master, and extremely addictive, as any of us who sank hundreds of hours into it over the past decade can attest. Although more recent games like Fortnite and Overwatch have since stolen much of League of Legends's thunder in the eSports and streaming scenes, they too owe a debt of gratitude to what LoL did for creating online gaming communities on YouTube and such sites. Overwatch itself is pretty much the same formula as League of Legends, turned into an FPS instead.
The metric tons of user-created fan content and art about League of Legends and its characters demonstrate how much this game has been loved by people over the past decade, and all fans of modern eSports owe some gratitude to what LoL helped popularize and enable over the past ten years.
6. The Elder Scrolls V: Skyrim (2011)
Has it really been 8 years since Skyrim came and took over all of our lives? This game was everywhere at its height, bringing in new gamers of all kinds to join in and get lost in the world of Skyrim. We all knew who the Dragonborn was, and were all practising our Shouts on innocent family pets. Skyrim pervaded our popular culture in a way that few other games ever could or will do again, and that in itself is an achievement.
As a game though, it is still pretty decent to playthrough. Although outshone by more recent RPGs, and not being as in-depth or hardcore as earlier Elder Scrolls titles, Skyrim still provided a dense and action-packed world for you to explore and adventure into your heart's content. The modding scene has provided hours upon hours of more content to play with since launch, and in many ways, Skyrim has become more of a sandbox or play area for testing mods than anything else.
Bethesda may never reach the heights of Skyrim ever again, but never fear, we can always buy it again on the next gen consoles when it gets inevitably ported there next year.
5. The Witcher 3: Wild Hunt (2015)
If Skyrim was the height of "blank canvas-create your own adventurer" RPGs, then its counterpoint came four years later, with the height of the Open World RPG that used a pre-existing character.
Millions of people were enthralled by the dark fantasy world of The Witcher, where you stepped into the boots of Geralt of Rivia. With a dense world providing tens of hours of content, you could contend with vicious monsters, evil politicians, and play the role of saviour to all, or remain the detached wanderer. That's before we even mention how Gwent is the best card-based side game of all time, sucking away plenty of my life on its own (too bad Triple Triad).
And if that wasn't enough, The Witcher 3 had two of the most impressive DLC content packs in recent memory, each adding enough to be considered games in their own rights. CD Projekt Red cemented themselves in RPG history this decade with the love and care they paid towards this fantastic release.
4. Red Dead Redemption (2010)
It was a great decade for Rockstar, and almost all of their games could earn a place on this list. But I'm going with my personal darling, Red Dead Redemption.
Although its sequel this past year was an amazing follow-up, a follow up it was, and it was never going to be as breathtakingly distinct as its predecessors. GTA V was also an impressive release, but its cynical take on modern urban life could never stand up to the heartfelt, emotive, and meaningful story of Red Dead Redemption.
Red Dead Redemption was not just a fantastic cowboy simulator with an open world, that had hours upon hours of content, it had something to say with its story. A love letter to the Old West, both as a place and a media genre, Red Dead Redemption was a fantastic blend of video game mechanisms, cinematic storytelling, and a haunting musical score and soundtrack.
3. The Legend of Zelda: Breath of the Wild (2017)
The 2010s was a decade dominated by the Open World sandbox, which reached its absolute pinnacle with Breath of the Wild. A bold new direction for the Zelda franchise, Breath of the Wild is one of those games that you start exploring and really cannot believe the scale of what has been achieved.
The world just goes on and on, with a stunning level of detail and terrain to explore, never before has it been truer that you could see a mountain in the distance and know that you could climb it if you really wanted to. Added to that was one of the most mature storylines in Zelda history, and the courage to be different and try new things compared to the other entries in the franchise.
While the shrine system may not have been implemented as well as it was intended to, with too much padding, BOTW remains one of the crowning achievements of this decade. If Nintendo learns from it for their sequel, then that title will be one of the best games of the 2020s too.
2. Minecraft (2011)
Ah, Minecraft, the little game that could. Minecraft is a game that eschews fancy things like graphics and soundtracks for pure, gaming bliss. You get given a world and can make of it what you want. And seeing what people have made in Minecraft reveals both the best and worst of humanity as a whole.
With the possible exception of League of Legends, Minecraft dominates the online fan community space on places like YouTube, with thousands of channels and videos and millions of fans devoted to keeping up with what was being done and achieved in the game.
Minecraft is one of the purest kinds of gaming experiences ever made, where you are told to go and have fun however you please in the space provided to you. Minecraft influenced the creation of a genre of building and crafting games, a retro aesthetic in 3D games, and remains infinitely imitable, although few games have reached anywhere close to the success of this plucky upstart.
See Kojima, this is how you make a new genre of game, not with a postal delivery simulator.
1. Dark Souls (2011)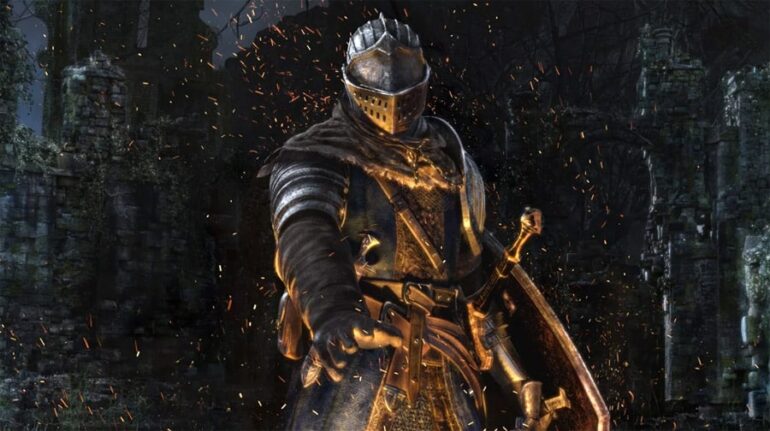 I would argue that no other game this decade has been as copied, parodied, over-analysed, used as inspiration, and pervaded the gaming landscape as Dark Souls has. It has spawned multiple imitations, inspirations, genres, and aesthetics of its own.
Initially famed for its difficulty, Dark Souls became a touchstone or reference point for a certain kind of difficulty being encouraged in games. "The Dark Souls of Shooters" was used to market one game, or "The Dark Souls of Platformers" was used to market another. While this sometimes reached the point of parody ("The Dark Souls of Cheeseburgers"), this spoke to the wide-reaching influence this title had on the gaming landscape.
There were direct clones, like Lords of the Fallen or The Surge. There were games that used the formula in a different way, or with a different focus, like Nioh or Remnant: From the Ashes. There were games that borrowed gameplay elements or aesthetics, like Hollow Knight, Blasphemy, or Salt and Sanctuary. Dark Souls, and Souls-like games, have been pervasive over this past decade.
But what of the game itself? Well, it remains a damn fine game, one still replayable. Although Demons Souls set the tone in 2009, it was Dark Souls that brought in the open, connected world that became a hallmark of the franchise and gameplay style going forward. The world of Lordran felt huge, imposing, scary, and bewildering. You were a tiny, powerless being, thrust into a world that was much stronger than you and which didn't care for you. And yet, you were encouraged to persevere. To never give up, and to try one more time against your foes. The feeling of finally beating a boss in Dark Souls after struggling against it remains one of the finest moments in gaming as a whole.
Added to that was the deep world-building, the lore, the way you engaged with a post-apocalyptic dark fantasy setting. You had so many different options for weapons and builds that you could experiment for tens of hours over multiple playthroughs. The online system was distinct and enhanced the single-player experience.
Although Dark Souls is not a perfect game, with a final third that is noticeably a drop in quality, it remains my top game of this decade. Its sequels, Dark Souls 2 and 3, and different variations like Bloodborne and Sekiro, all focused and refined certain parts of this gameplay formula in better ways, but they all ultimately derived from Dark Souls.
What game of the past decade did you think deserved to be on this list? Share your thoughts with us in the comments below.