Playmate Toys has unveiled the greatest idea in the history of humanity: Teenage Mutant Ninja Turtles vs Cobra Kai action figures. Released in two-packs, these six-inch figures allow you to have the Heroes in a Half Shell square off against the kings of the leg sweep. But what if this idea went further and morphed into a TMNT vs Cobra Kai comic book series?
If you think about it, both franchises share a lot of common traits. They're about teenagers obsessed with martial arts and mentors, while their respective origin stories began in the '80s. So, it isn't too difficult to see how they might have overlapping fanbases as well.
Both TMNT and Cobra Kai have experienced resurgences in popularity in recent times. The Turtles have never really gone away, but there seems to be even more media focus on them after the release of The Rise of the Teenage Mutant Ninja Turtles TV show and The Last Ronin comic book miniseries. A new generation of fans are realising how pivotal these four green dudes were to pop culture and developing a deep affection towards them as well.
Similarly, Cobra Kai built upon the legacy and goodwill of The Karate Kid series and found the perfect home at Netflix. The show might've had a start-stop start because of its original debut on YouTube Red, but with Season 4 on the way, there's no doubt that it's a show with longevity and lasting appeal.
By combining these two franchises, Playmate Toys has done something special and created a new universe of opportunity and spinoffs. And a comic book miniseries should be at the top of the to-do list.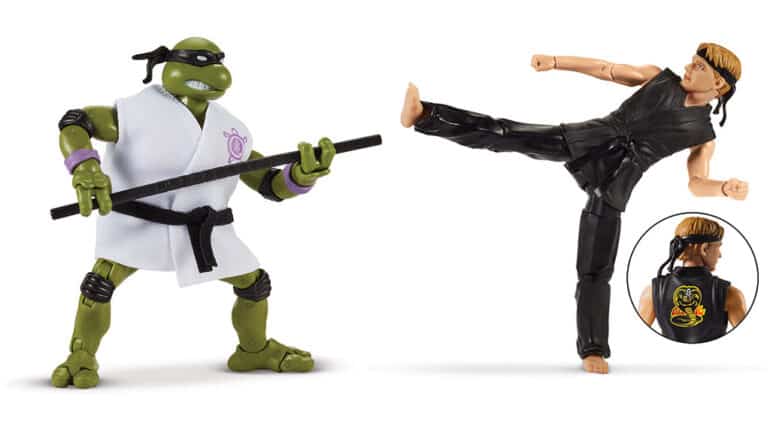 Considering how both TMNT and Cobra Kai have their respective books released through IDW, the comics rights to both properties are housed under the same company. This is good news since it'll make any planned projects much easier to execute. They're part of the same stable, so why can't this dream pairing happen?
A TMNT vs Cobra Kai comic book could be like a mini–Mortal Kombat where the different characters are matched against each other to determine who really is the best fighter. Alternatively, it could see the Turtles and the dojo's students teaming up to put a stop to John Kreese and the Shredder. The possibilities are endless here.
More importantly, TMNT vs Cobra Kai could be fun. It's the type of comic book event that would get even the casual fans talking and debating who'd win the matchups. Honestly, it's a no-brainer and someone needs to just announce it already.
Tell us, would you read a TMNT vs Cobra Kai comic book? Let us know in the comments section.