Get ready to leap and bash your way through the streets (and sewers) of Manhattan because our favourite pizza-eating turtle teens are ready to be the stars of their own side-scrolling beat-em-up video game once more! That's right, Leonardo, Raphael, Michelangelo, and Donatello are back in action in a brand new retro-style game titled TMNT: Shredder's Revenge.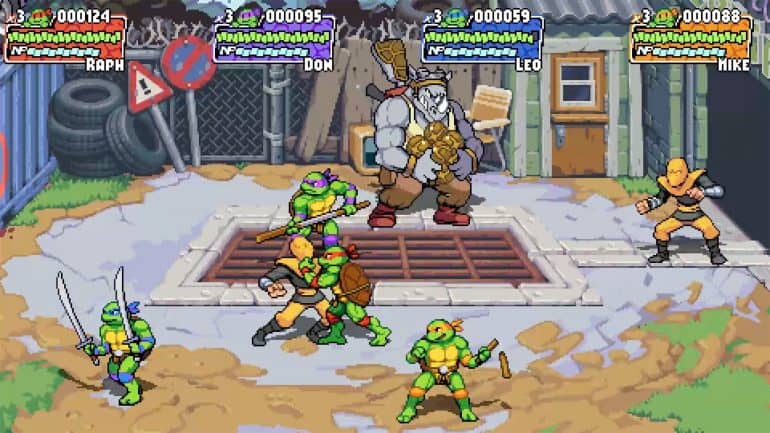 Classic '80s & '90s Fun
Most of us have fond memories of the original TMNT games such as Teenage Mutant Ninja Turtles: Turtles in Time.
I remember watching my brothers and their friends play for what felt like hours on end. Of course, I would nag to join in and occasionally they would let me, but I was honestly terrible! My entire fighting strategy consisted of pressing a whole bunch of random buttons at once, hoping that I'd somehow make it through the fight alive (ashamedly, this is still my go-to play for most combat games).
Despite my obvious lack of skills, there was still so much fun to be had beating up baddies as a group of four – most likely because they were carrying all the heavyweight.
TMNT Nostalgia
Now Dotemu (Windjammers 2) and Tribute Games (Panzer Paladin) are giving TMNT fans a chance to relive all the nostalgia of the '90s games (gameplay and visuals) with the addition of some much needed modern enhancements, and I am 100% here for it!
Check out the teaser trailer below to see the half-shelled heroes kicking butt to the sweet sounds of Faith No More's Mike Patton singing their classic theme song.
TMNT: Shredder's Revenge allows up to four players to team up as the beloved turtle bros in an attempt to stop familiar foes like the Foot Clan, Bebop, and Rocksteady from assisting Krang and Shredder in their latest evil scheme. Each Turtle will have their own signature weapon (of course) as well as their very own skills and moves making each run unique.
When Will TMNT: Shredder's Revenge Release?
Details for TMNT: Shredder's Revenge have not yet been finalised — there is still no release date attached nor are there any specific console platforms named for its release— but at least we do know that the retro throwback TMNT game will be coming to both PC and unspecified consoles.
If you are hoping to find out more about the upcoming game or perhaps you are just wanting to chat with likeminded fans about the game, Tribute has invited all TMNT fans to join the game's Discord server.
What are your first impressions of TMNT: Shredder's Revenge? Are you looking forward to hours upon hours of beat 'em up fun once the TMNT game is released? Also, feel free to share some of your own TMNT gaming memories with us in the comments below.