It's no secret that Titans was always one of the more darker DC TV shows around. After all, who could ever forget Robin's infamous "f**k Batman* line?! However, Titans Season 3 takes the darkness to a whole new level, which is surprising considering one of the producers of the show.
It's no secret that Geoff Johns and Zack Snyder didn't see eye to eye on what constitutes a good movie. Johns was supposed to be DC's answer to Marvel Studios' Kevin Feige, steering the ship towards unimaginable riches and goodwill. Instead, the Frankenstein monster known as Justice League happened, causing irreparable damage to the DCEU and ensuring that Johns was no longer the captain of that enterprise.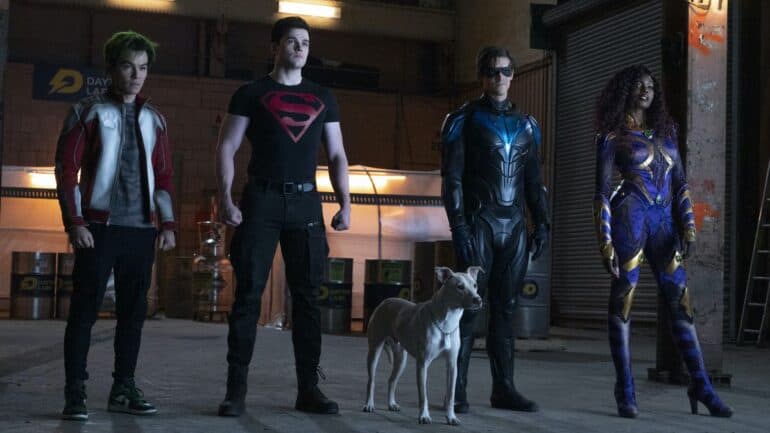 One look at Titans Season 3, though, and you wonder if the writers, editors, and directors locked Johns out of all the boardrooms. How did the guy who said Batman V Superman and Justice League were too dark and violent agree to all of this?
Loosely adapting Batman: Under the Hood by Judd Winick and Doug Mahnke, this season is meant to serve as Red Hood's (Curran Walters) introduction, making him the Titans' newest adversary. Well, it certainly does that and then some.
Unlike the comics where Bruce Wayne struggles after Jason Todd's passing, this Batman (Iain Glen) straight up murders the Joker with one crowbar strike to the head. He doesn't play around and pretend like there's any justice to be served here, deciding now's the time to end their little war that's torn apart the city and Bat-Family.
Then, there's the part where the Gotham City Police Department work with Jonathan Crane (Vincent Kartheiser), aka the Scarecrow, to solve crimes. It's not too difficult to see that this is a Hannibal Lecter-type of relationship where the villain recoils and waits like a snake to strike. In fact, don't be surprised if this entire season is revealed as some bad nightmare hallucination induced by his infamous fear gas.
If that wasn't shocking enough, well, the Red Hood might be the biggest villain ever seen in DC TV. Jason was always a little jerk in the previous seasons, but as the Red Hood, he's now calculating, dangerous, and maniacal. Maybe the name has inspired him to take on a few of the Joker's qualities on, but the way he planned Hawk's (Alan Ritchson) death and made Dove (Minka Kelly) be the one to kill him was total evil.
Make no mistake about it, Titans Season 3 is absolutely riveting. It shows that you don't always need to follow the source material and comic book shows can be for adults. What doesn't make sense is how Johns would allow more brutality and darkness here, while he wanted to turn Justice League into an Avengers-lite. Ah, Hollywood makes no sense at all, does it?
Tell us, what do you think of Titans Season 3? Drop your thoughts in the comments section below.
https://www.youtube.com/watch?v=2kHl5a4vscw